Ottawa Explosion Day 3: Mikey Erg, Mike Krol, Screaming Females, Dad Jokes, The Worriers and more
The weather keeps getting nicer and nicer as Ottawa Explosion Weekend keeps rolling along into day 3.
Unfortunately Shellshag had van trouble and couldn't make it. Lucky for us that meant that we got an early Mike Krol show as he stepped up to fill in. Krol, from LA, took to the stage joined by a band of local burglars (Steve Adamyk, Johnny O, Davey and Pat Johnston) all dressed up. Krol was clearly the leader considering he was wearing a cap. The music was rocking, how could it not be with those boys supporting him, but what really makes Krol stand out are the really cool effects on his vocals. What was most impressive is that this was only the second time they play together, having practiced once this week prior to the set. It did't show at all, they were super tight. Krol walked around into the crowd, behind the stage, off to the side and anywhere in between while never missing and beat and bringing his trusted tambourine around for the rid. He mentioned that explosion launched his career in 2013 as he had released two albums that he gave away but didn't tour. Then Emmanuel asked him to play explosion so he created a tour to justify the trip and was so happy to be back.
Up next was Cincinnati's Vacation. This is the fourth time these gentlemen play the festival. The lead singer and guitarist said "I have played this festival more years than I have been to college if you know what I mean." Chris Cook pointed out to me that he believes that every time we have seen this band they have been playing different instruments, the current lead vocals and guitar used to sing and play the drums. No matter if they switch around or not, the band can really play and impress me every year. Live they kind of have a punk rock Nirvana vibe to them thanks to grunge elements and the particular rasp of the singer's voice. They have some super infectious and catchy songs like "Decaying" and "Like Shit," which had people singing a long at the top of their lungs and pumping their fists. I love when the first two acts get the crowd so into it.
We then shifted our intention inside to The Drearies and their ongoing Skechers Shapeups commercial. "Once again this set is brought to you by Skechers Shapeups," they said to kick off the set. They shared many fun facts about Skechers, like how a lot of homeless people in Vancouver wear them thanks to rich women buying them, realizing they don't work and donating them and how you can buy 18 hole laced up boot versions… very strange. The four-piece from Vancouver were a lot of fun and I don't think we could have wiped the smile off their faces if you tried. The track that really stuck out to me was "Scooter Gang." Yet the most memorable part of the set was when the lead singer announced that "We made tapes but forgot them," and then they got pelted by empty cans and plastic cups by their friends.
As day changed into night Brooklyn's The Worriers took to the stage. This was there first time in Ottawa, and you could tell people were excited as the outside courtyard was absolutely packed. Mikey Erg plays drums and its shows that he has been doing it a while, as he was sipping on beer and playing at the same time with ease. Lead vocals and guitarist Lauren Denitzio was so grateful and thanked us all "for being so rad, we really needed this considering what's going on," most likely referencing the atrocities of Orlando and the ongoing hate in the USA. Their set was really solid, filled with songs off of their latest release Imaginary Life, which was produced by Laura Jane Grace (Against Me). Their song "They/Them/Theirs" is about how there is no need for gender binary as it hurts so many people was my favourite and really stud out above the rest. I am a little ashamed to mention that I had somehow never heard of this band before, but they made a fan of me real quickly.
I was very excited to shift back inside to see Strange Attractor play and I was not alone as we were all crammed into SAW like sardines. I mean how can you not love a band that has a song called "Fuck Shit Up." The boys from Sudbury may have played the most songs in one set considering that I doubt they have a single song over 2 minutes long. They plow through songs and keep you on your toes, while wasting very little time between songs. Great set by some great guys from a not so great place…so I am told.
Once we unpacked from sticky and sweaty SAW Gallery we were treated to the Screaming Females, or Screamales to some. The three piece, from New Brunswick, NJ, led by Marissa Paternoster always impresses. Paternoster can really play the guitar, and I mean she is shockingly good. I'm generally not a huge fan of solos by they meld them in seamlessly and it just works. I was so stoked that they opened with "Bell" off their 2009 album Power Move, as that was the album that made me fall in love with them. They also played great tracks off their latest album Rose Mountain, including "Ripe."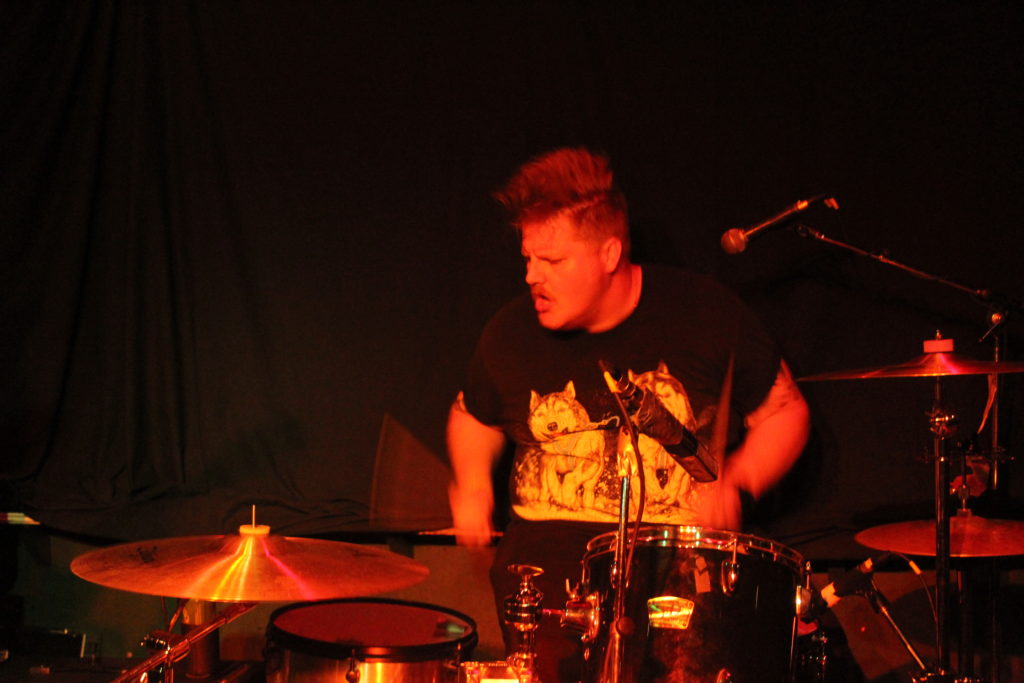 My night then took me to the Dominion Tavern for three more acts. First up was Dad Jokes, all the way from New Zealand. Anyone who knows me knows that there is no more attractive band name for me, as I am constantly saying dad jokes. The two piece, guitar and drums, were awesome, and didn't really tell any lame jokes either. They did however remind us all to get cards for our dad's for Father's Day on Sunday. This was the last stop of their Canadian tour, and they must really like it up as they dedicated a new song they had never played for anyone yet to local band Average Times. It is a solid track to boot.
Mike Krol took and his band of burglars dazzled us again, this time though he had a much rowdier crowd to play too. Never under estimate the power of a man in a cape rocking out on a tambourine. The band, now playing together for a third time, were just as good if not better than their earlier performance. Krol was still up to the same antics, jumping into the crowd and moving around all over the stage. He is quite the entertainer. I said it before, but the effects on his vocals thanks to a couple of pedals is really quite cool. I am still singing "This is the News" almost 12 hours later.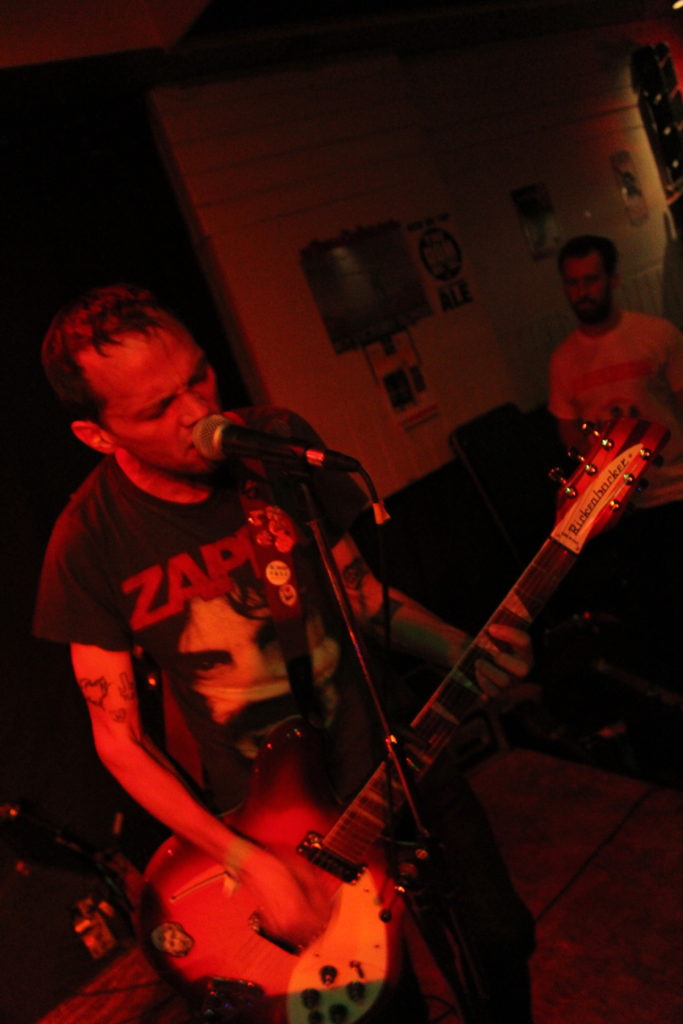 Last but not least it was Mike Erg from the infamous The Ergs!. This was the first time he toured with a full band since The Ergs broke up, and it happened to be two members of The Worriers on bass and drums. Erg is a prolific talent that has been at it for years under several different monikers and with a variety of band. Erg dedicated a song to Mike Krol and said "I'm so excited we are playing the same show because his album is my favorite of the year." He later played a killer track called "Apart Time" with the lyrics "Crank up the volume, you don't love me anymore," from his upcoming album Tentative Decisions set to be released later this month.He closed out with two more songs off Tentative Decisions, including "1001 Smashed Motel Room" which had a Bob Mould/Perfect sound to it to me and lastly "NyQuil and Sudafed." And on that note it was time to bike my butt home to bed to be ready for round 4.