BB Cream Says Goodbye with Telecomo and Cheap Whine
Ottawa three-piece BB Cream called it quits last week in front of their friends at a jam packed Pressed.
"In the words of Sleater Kinney – 'why do good things never want to stay" is the first thing lead singer and guitarist Alanna Why said to the crowd. I am pretty sure they played their first show at Pressed and came back their for their send off.
BB Cream's pop-punk and emo style is a lot of fun and is infectious. Alanna has been a staple of the scene for quite some time now but had always been looking up at the stage not on it. BB Cream was that opportunity for Alanna to create and really immerse into the scene on the other side. "I always wanted to be in a band as a teenager and it took some time but I'm so happy it finally happened," said Alanna. "Thanks for being here."
As expected, they wowed us all with their set. When it seemed as though they were done, the riled up crowd would have nothing of it and demanded an encore. The band huddled up, discussed, and delivered. The band switched up instruments, moving the drummer Kurt Grunsky to guitar and vocals, and Alanna to drums. They then played the song "Shit Hole" about how much music sucks. The crowd continued to chant for more after every song. Alanna said they would trade water for another song and once the water arrived the instrument musical chairs continued. Alanna jumped on the bass and Jon Brownlee jumped on the drums to rock out one more track. The crowd was insatiable and kept asking for more even after two encores. Safe to say Ottawa will miss BB Cream and I hope the members who are sticking around town to continue to make music.
The other very interesting part of the show is how two Ottawa "super groups," Cheap Whine and Telecomo who opened up the night could also have headlined. This made for quite an awesome week night show.
First up was Cheap Whine, which is made up of Eric Neurotic from Feral Trash, Steve Adamyk of Steve Adamyk Band, and Jordy Bell of The Creeps and Crusades. The band obviously really rips considering the combined experience of its members. Early on, they dedicated the track "Little Change" to BB Cream. After the song Eric said "sucks you're breaking up glad we got to play one show together." A few songs later he broke his B string on his guitar. Following the song Eric laughingly said "don't worry it's not one if the punk strings." I've now seen Cheap Whine play a few times and I think I speak for everyone who has seen them play, we need some recorded music stat.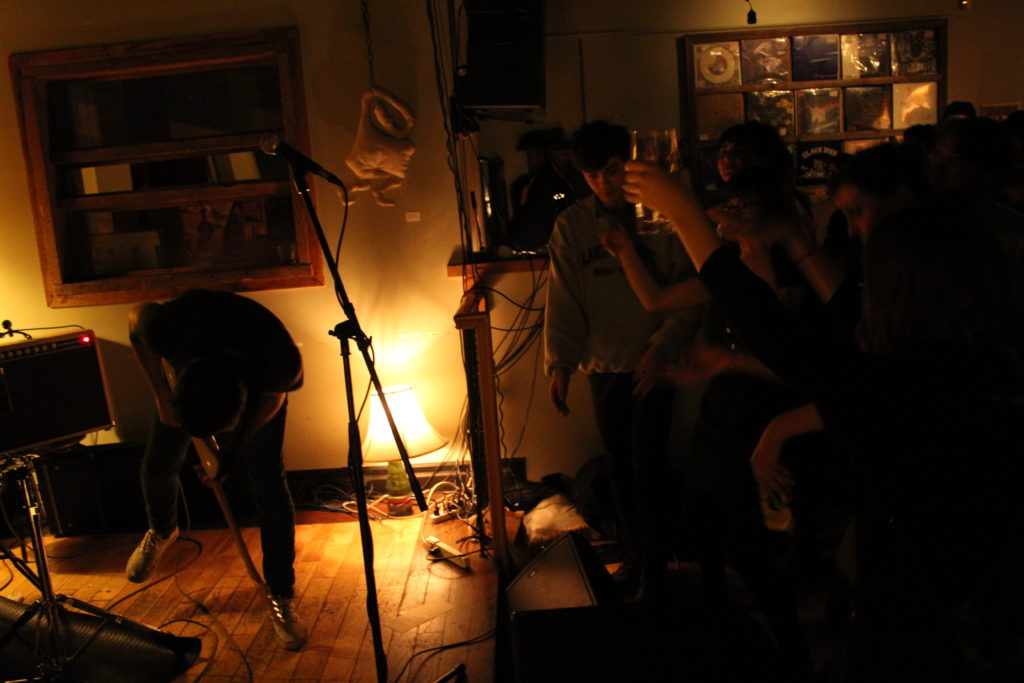 Between Cheap Wine and BB Cream, was Telecomo. They features members The Acorn, Silkken Lauman and Bondar. Lead singer and guitarist is Adam Saikaley, a man who seemingly plays in every style of band around. Case in point, he was playing piano in a jazz trio the next night. Adam also took the time to pay tribute to BB Cream, but focused on lead singer Alanna. "My favourite memory of BB Cream was on Alanna's birthday when we invited her on stage to play a guitar solo and she looked me right in the eyes and said go fuck yourself Adam," he said. Oh, Ottawa love.
I don't know how this was the first time I saw Telecomo, but glad I finally did. I loved the EP they released earlier this year and was blown away live, especially watching Adam during is frenetic shredding moments. Is there anything the man can't do? Also very entertaining was watching bass player Gary Franks strut around and play about half the set from in the crowd watching Adam. He never stopped moving around. They promised us that a full length is coming out in the winter time. They also played the first track off that upcoming album, and let me tell you – we're in for a treat.