Interview: ONFIILM redefine the live performance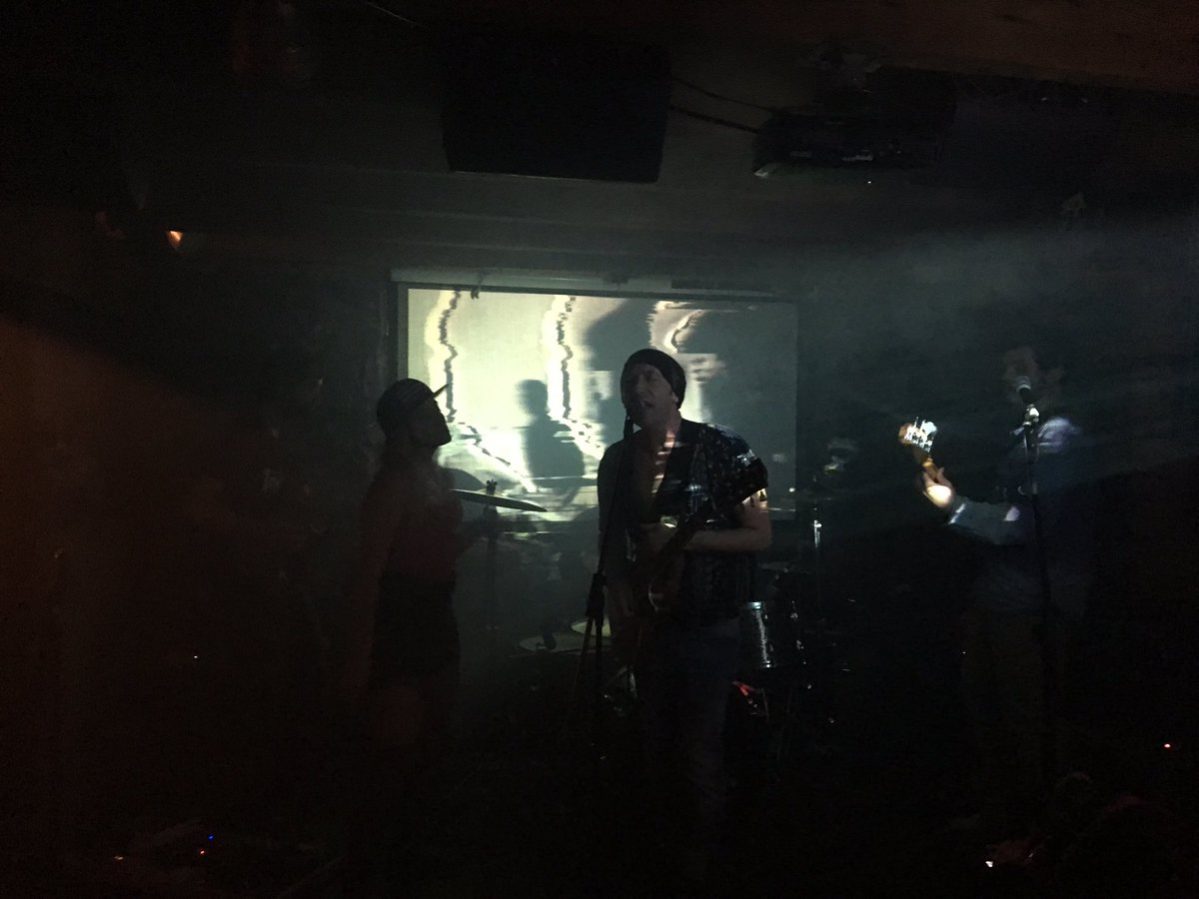 ONFIILM at POP Montreal. Photo by Jeff Kilgour. 
We caught up with Jordan Craig, the lead singer and guitarist ONFIILM ahead of their show this week. We had a great chat about the band, their sound, their live show and much more. Check it out:
I know you don't like using a genre to describe ONFILM's sound, I also hate genres but sort of get stuck with them as a writer. Can you please describe your band's sound without defaulting to genres?
J:    The band's sound to me is a mix of all the madness, sadness, vulnerability and other exotic feelings that I feel when I' m at home. All of our music is written and recorded right here. My best friends, and the most talented people I know are in the band, and we share a common love for sound and light. We are all in love with beautiful delicate tones, juxtaposed  against pulverizing beats and mad, mad guitars. Colin Wolfson's lead guitar is genius level, really bringing the sparkling intergalactic feel. Ryan Farrell holds down the bass without over complicating, and is always mesmerizing. I like to give the rhythm and chords (The fewer the better!) a chance to breathe, and enchant the listener just before we close the hatch and blast off. We take them to space, then bring them back home again.
How would you best describe how that sound translates live?
J:  Every piece of the live show is designed to take the audience into our world. Maybe more specifically my world. It 's pretty much a recreation of my life and what's going on in my head. An expression of personal freedom. I want to show everyone through our video, music and dancing that whatever or whoever they are can be pushed to the limit. Our dancers interpret the music, while our glitch videos play over us and our instruments. The superimposed glitches break us apart, scramble us. It's crazy.
Love the sound of the video/visual addition. Where did the idea come from?
J:    It was a pretty natural thing for me to add visuals to our stage show. I've been a pro photographer for 15 years, and I'm from a family of visual artists. I first became enamoured with glitch video when I saw a movie called "Until the end of the world" by Wim Wenders. In this movie they record peoples dreams, and the result was beautiful. Wim Wenders is also an accomplished photographer, and I've always been interested in his methods. The other inspiration was the cover art for Renegade Soundwave's album "Sound Clash." A sexy figure with a whip, probably shot on a tv screen. That image is never far from my mind.
Who are the dancers? Are they at every show? What do you think they add?
J: The dancers are currently Tess Giberson and Zoë Menne. We are super lucky to have them at pretty much every show, although sometimes we have other dancers when we are on the road, or if one of them can't make it. For instance,  Tess was arrested for working at a marijuana dispensary and pointlessly thrown in jail on the night of our gig a few months ago. They are a wonderful and kind person, and it was shocking and horrible that they were treated this way. Zoë is an unbelievably talented visual artist in their own right, and I'm actually a big fan. Back when the band first started, I didn't even have a drummer or bass player, so I felt that I needed more movement onstage. They worked out so well that I've kept that aspect of the show going even now that ONFIILM is a full band.
In your band's bio you are listed as "a doctor of divinity," care to explain?
J: Yes, I have an honorary Doctorate of Divinity from the Universal Life Church in Medesto, California. I am an Atheist, and I believe that everyone's beliefs are just as valid as anyone else's, as long as they don't impose on others. I use this bit of paper to illustrate the absurdity of the whole idea of organized religion. Dr. Hunter S. Thompson had a Doctorate from the same place, so I'm in good company. ONFIILM and our fans are the Congregation, and our live show is the service. We are also federal tax exempt in the United States.
Very interesting. I also see you list two drummers, do you ever have two live?
J: Yes, ONFIILM is fortunate to have two ridiculously talented drummers, but not both on stage at the same time. Wes Leigh is our main drummer, but when he is not available Matt Sobb kindly fills in for him. They both have very different playing styles and bring more to the table than I could have imagined. Matt also plays in the Juno award winning band MonkeyJunk. I'm very proud to be working with both of these drummers, as they are both very accomplished dedicated musicians.
If so, how does that play out and what do the sound techs think? If not, why not?
J: It has certainly crossed my mind. I'm a big fan of the Allman Brothers, so two drummers is something that is not out of the question for me in the future. RIP Butch Trucks. Actually, the live sound engineer from the Allman Brothers Band came to the studio for a visit a few months ago. Got some really good live sound tips!
What do you know about the venue you are playing, The Dominion Tavern?
J: When you first walk into the Dominion Tavern, look up towards the ceiling, you'll notice the bashed up mangled side of an old stock car. I was actually at the speedway that day long ago, and watched the damn thing race. A guy named Stu, who used to work there was driving. It was like a rolling version of the Dominion Tavern. A bit louder, and bit rougher than the other cars. Didn't win the race, but had the best crowd.
Anything else you would like to add?
J: We are super excited that ONFIILM's music is being used in an upcoming documentary series by VICE called "FUNNY: HOW?" . It's a series about different comedy scenes around the world. Not much more I can say about it yet, as I don't want to give anything else away. VICE has been great to work with, and they really understand ONFIILM's feel, and leave us to our own devices to come up with music. We will make the songs for this series available for fans to download after it has aired.
We also working on our full length LP coming out later this year. I'd like to thank everyone involved in ONFIILM, and it's a thrill to experiment every day.
Thank you.
Catch ONFIILM this Wednesday night at the Dominion Tavern as they open for the most excellent Heat from Montreal, info here.