New Music: Graven – Jaybird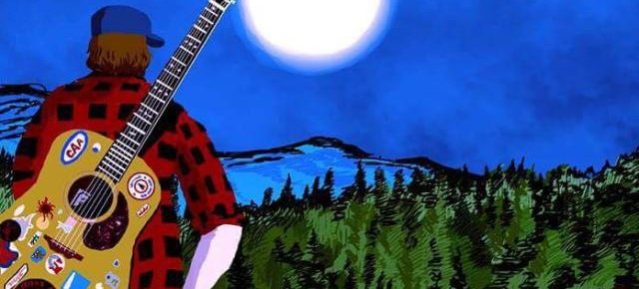 If you were to delve into Graven's most recent record Jaybird, you might find yourself feeling a sense of nostalgia. Graven is the ongoing alt-country/folk project of Matt McKechnie, a long-time musician, journalist, videographer… and whatever else it is he is really good at. He is supported by his band, The Dirty Hustle, who added some gritty layers and rounded out a lot of the songs on Jaybird. We walk the finely woven web of McKechnie's memories and musings, reflections that translated into a concept for an album. Jaybird is the culmination of those efforts, and it's a finely composed collection of folk songs that range from the delicate and solitary to the hopeful and anthemic. There is a search for meaning that lingers throughout, which is hinged to the impetus of this album – the transient nature of moments, the inescapable reality that all things in life are impermanent. The bird flies through one's field of view long enough to create a snapshot in time, if only in the mind, and then it's gone.
McKechnie's stories are true Canadiana – those of longing, connection to the wild, solitude, and the ties that bind. The first track, "All Roads," is a shackle-breaking start to the record which would be most suitable on a cross-country drive soundtrack. This energy and spirit continues through tracks such as "Edmonton Eyes", "Big Lake, Sky Summer," and "In The Woods of Me" which offer irresistible guitar twangs and steady, driving percussion as the heartbeat of the album.
The last half of the album's energy takes a turn, toning things down and bringing the listener in close. "O Little Plum" is a brief yet heart-warming ode to a newborn child, taking pause to appreciate the beauty of bringing a life into the world in spite of all its cruelties and hardships. As McKechnie takes us to the end with "Lone," we're left to reflect on his words and compositions. That's how this album hooks you – it is pensive and raw, untethered from the harnesses emotional apprehension. That is the power of a good song, or in this case, a good album. It draws the listener in and takes them on a journey through it all.
I spoke with McKechnie around the time of Jaybird's release in April. Be sure listen to the album stream below and catch Graven at The Black Sheep Inn on June 15 supporting Slow Leaves and Colleen Brown. Tickets and information here.
---
Interview with Matt McKechnie of Graven
How did you get into music? What drove you to start making your own music and performing?
I started making music in my teens and played in various basement grunge and alt-rock bands with a rotating chorus of friends like Jeff Dixon, Brian Macdonald, Mark Richardson, and many more. But I was always a background player and never wrote much original stuff – and I wasn't really that good at bass or guitar in my teens. I could slide my fingers around and hit good notes (most of the time).
I stuck with guitar, though, and eventually, after playing somewhat seriously with a band in the Kitchener/Waterloo area (after going to school at Guelph), I was getting into my early twenties and coming up with song ideas of my own. I was always fascinated with words and poetry at a young age, and I went to university for English, so I kept using words like weapons. They could help me describe what I was feeling or thinking at the time, but mostly, I wanted to be Billy Corgan. He was one of my songwriting/musical idols for many years.
Tell me a bit about your life growing up
My background is pretty normal, really. Born in Nepean. I grew up in a white, Christian family in Trend Arlington. I spent a lot of time playing Atari, and biking around my neighbourhood with baseball cards in my spokes while taking trips to Macs Milk on Greenbank, and to the Leslie Park pavilion for lik-a-maid and big league chew. My next door neighbour and best friend Bri had a swimming pool. I pretty much had it made.
How has your music and approach to making music changed over the years?
I think my approach to music has basically stayed the same. I really just like working on the songs and getting better and almost having no agenda. I have a lot of music that I like and love and there are many songs that have wowed or moved me. At some point, in my late teens or twenties, I remember thinking that I wanted to get songs out into the world, too – just to see what would happen if people beyond my family and friends could hear them. But I've never been on any carved or shaped road, in terms of a success plan with music. I just really want to keep getting better at writing songs. How did you get together with your band The Dirty Hustle? The Dirty Hustle were all mutual friends from the Kemptville area who played in another friend's band called Brad Sucks. Brad is mostly a successful solo artist with a huge online following, but when he plays live, they are the backbone of the sound. Ben Mullin (the guitarist) and I became friends, and he started playing guitar with me in a duo setting at some fun shows. Eventually we started jamming with Steve Gaw (bass) and Justin Purvis (drums) in Steve's rock n'roll lair of a basement, and it all seemed to work.
Have you toured extensively?
I have toured across Canada on a few occasions. I toured once as a solo songwriter with two old camp friends (JD Edwards and Trish Jamieson), and two other times as Ali McCormick's side-guitarist and vocalist. The road is the real-life epic journey of being a songwriter and a performer. If there's any way to push you out of you comfort zone, touring is the real test of your mettle. You meet some weird and amazing and beautiful people on the road, and you learn to appreciate your home a lot more. You also learn to enjoy playing to a room of three people who are really listening to your songs, or a room of 200 loud, brawling drinking Calgarians. It's all part of the story.
I don't plan on touring anywhere until my three and a bit month old daughter is a wee bit more grown up. I'm currently looking more into building into my Ottawa community, and supporting other songwriters and creators in the area.
What's the story behind Jaybird?
The album that loomed weightily in my mind, consciousness, soul and in the dusty sound-hole of my Sigma for almost two and a half years is finally ready for public consumption. These songs are about a very specific period in my life, and for nearly a year, I struggled with my desire to even make this album happen. Many of the songs were based on a concept that was linked to real life.
In the spring of 2013, I traveled alongside Matt Mays and his band for a few shows to film some social media videos. After 3 shows in southern Ontario, I headed back to work for my dad's accounting company in Ottawa, and the band headed west to Alberta. 4 days after I left the band, Jay Smith (a guitarist and epicentre of the group) was found dead in his hotel room in Edmonton, Alberta. It was hard to know what to think or feel, and many of musical friends from Halifax and the greater music community were shredded. But I sort of went through that process as an outsider – as I only knew Jay for a couple of days, and we only had one real conversation about a mutual east coast friend.
In that short time, though, I saw that he affected many people in a heavy sense. It was shortly after this happened that I also separated from my ex-wife, and knew that my life needed some massive changes. And so, in the upheaval of such a mass-traumatic event, I was enduring personal traumas of my own. People seemed to be dying all around me. A great friend of my brother's passed away that summer from cancer, along with my friend Dan's father, and a kind man and accountant from my dad's company. The songs of Jaybird aren't really about Jay or any specific person – although that event is a flashpoint for the theme of the album.
In 2015, my friend Paul Myers (a longtime journalist and musician) posted a photo that he took with an iPhone app in Singapore. The photo is of a bird flying away from him, as he views it from behind – and I realized that Jaybird was about that very momentary idea. People can bring such colour and beauty and brilliance and power and creativity and inspiration and laughter and love to our lives – and in another instant, they can be gone. I started to see this truth also become evident in the seasonal nature of friendships, and how the good ones will last through storms – but the ones that weren't very rooted or worth much weight can dissipate in the smallest spring shower. But despite the deluge, Jaybird is ready to be let out of doors from its dark, cabin basement dwelling to see the unrelenting and hopeful light of day.
15 songs were first tracked by Tom Brown and Steve Gaw in August on 2015 in Steve Gaw's basement. Tom captured a great overall sound for the beginning of the record, and Steve recorded one of the most sonorous tracks of the record with two microphones on one take. And after this pivotal point of making the first dent, I began to see another bird – one that was flying to me. After many years of searching and waiting, I found Jillian in the fall of 2015 (October), and we clicked instantaneously and started a beautiful love relationship. And in the spring of 2016 (May), our daughter Sloan started winging her way into the world and joined us on December 24, 2016.
The song "O Little Plum" is the spark of new things amidst the sorrow, and a breaking point in a long night. My super-talented band (The Dirty Hustle) definitely added master strokes to this record. Steve Gaw (bass, keys) and Justin Purvis (drums) played on nearly half the tunes, and Ben Mullin (guitar) was able to get on one, but in the end, I ended up rounding out the majority of this work on my own. My old camp friend Jason Germain (of Jason Germain Mastering in Nashville, TN) added some incredibly skillful fine-tune brush strokes to the main meat and edges of the sound, and he really put forth a powerhouse effort to get these songs finished. I hope you find some solace in Jaybird, or at least a tiny awakening. It did that for me. May it find you well – wherever you are.