Bluesfest Day 10: Rise Against, Three Days Grace, Dear Rouge, The Jerry Cans and Animal Confession
On Bluesfest Day 10, I arrived super early to the "doors" and waited in line, in the non-bag line. There were about 8 people ahead of me, until a security guard came over and made more lanes for the metal detectors so now I was first in line in one lane. I wanted to be up front center for the last day of Bluesfest since Rise Against is a band I use to listen to growing up.
The security finally let us go through the gates at around 3:20 pm, a crowd of about 30 people (15-ish were from the bag line) speed walked or walked casually towards the main stage, or beer tent. As I was going towards the stage I caught a whiff of what smelled like cow manure… The smell stayed in the air the entire day, but lessened throughout thankfully.
The first band that played was called Animal Confession, They are a 3-piece Ottawa hard rock band. I had never heard of them before, but they were pretty damn good! It's really great that Ottawa Bluesfest supports local bands and doesn't just try to go for what's already "popular." The group seemed very happy to play at Ottawa Bluesfest, even with the small-sized crowd that was there super early. I think the lead singer even mentioned it was their first time playing Bluesfest, so it's definitely something to be proud of. If you ever get the chance to see Animal Confession I would definitely recommend it—they're a great sounding local Ottawa band!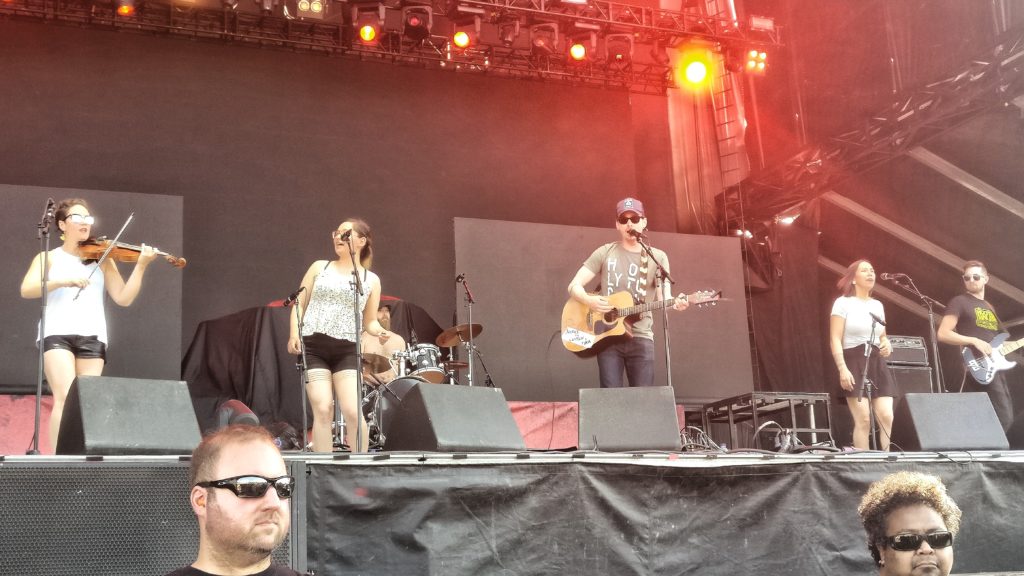 The Jerry Cans were the second band of the day for the City Stage. The crowd had grown a bit more by now. The Jerry Cans are an Inuktitut rock n' roll band that combine folk and country music with throat singing. The Jerry Cans—also known as, ᐸᐃ ᒑᓚᖃᐅᑎᒃᑯᑦ (Pai Gaalaqautikkut)—are from Iqaluit, Nunavut. This band was definitely something special and unique. Most of their songs are sung in the beautiful Inuktitut language, combined with traditional throat singing. They talked about how life is different where they are from, up north, where they deal with problems such as high suicide rates and depression. One of the members even mentioned how they lost a loved one about two weeks ago to suicide. The band talked about the meaning of their songs and what each one is about, songs about encouraging young ones to live life and to be happy. It was truly moving. The Jerry Cans also played cheerful and happy songs to dance to, even teaching us some phrases and words in Inuktitut! Traditional throat singing, which I had never really heard before, was actually really interesting and beautiful. If The Jerry Cans are ever playing a show near you, I highly recommend you go check them out—they're awesome.
The third band of the day for the big stage was Dear Rouge. Now this was a band I've heard of and seen before. The crowd had grown significantly by this point, a large crowd.  Last time I saw Dear Rouge was in 2016 at HOPE Volleyball, I didn't know who they were back then as I was waiting to see Hey Rosetta! but I don't remember much from that day anymore.  Dear Rouge is a pop/rock group from Vancouver. The band started to play the beginning of a song and Danielle, the lead singer, walked onto stage with this flashy large-sequin dress and ready to rock.
The band played three songs and everyone was having a good time, they start the 4th song and about half-way through we hear a pop noise and then silence from the stage, shortly followed by the digital displays turning off. The stage lost power! All the band members looked puzzled with Danielle not knowing what to do, holding out her hands in confusion. Danielle then decides to hop down off stage while tech scramble to try to figure out the problem and solve it. Danielle walked up to the front of the crowd in the media pit and then down the catwalk greeting and thanking people for coming. People were saying things like "I love you" to her and she replied with "I love you too," I found it funny but also sweet. Since I was at the very front I heard a security guard talking to someone from the crowd saying "I thought it was a weird way to end a song so suddenly, and then I started to see puzzled looks on people's faces and turned around to see the band just as confused!"
Danielle finally made her way to where I was to give people handshakes and high-fives, instead we gave an awkward hand-grab since I didn't know which hand she was going to use—I chose poorly. Danielle then left backstage while we waited for the problem to be sorted with the power, the same security guard from before made a joke along the lines of "What a bad time to forget to pay the electricity bill!". We then see the drummer come onto stage to test the drums and see if the power is back but alas it is not yet, the crowd then starts to chant "drum solo". The drummer hears and then begins to drum the start of the 20th Century Fox intro theme and then points to the crowd when it comes to the brass instrumental part and the crowd sang the rest of the tune with their mouths and the drummer drumming along.
A couple more minutes passed by and then the bassist came onto the stage and it seemed like they've fixed the power now. The bassist starts to play "Seven Nation Army" by The White Stripes with the drummer joining him, this goes on for about 15 seconds or so until they quit, and Danielle and Drew rejoin them on stage ready to start rocking again. Danielle later takes out a purple smoke bomb with a good amount of smoke blowing into Drews face, while shes dancing and singing on stage. Dear Rouge's performance was definitely an unforgettable one with so much stuff happening. I would recommend seeing Dear Rouge whenever possible, they are a fun band, and definitely kick ass!
The fourth band of the day hit the stage, and oh boy did the crowd grow in numbers! Three Days Grace is a rock band from Norwood, Ontario. To be honest, I never really listened to any of their music but definitely heard of them before, and of course heard a few songs here and there without knowing who it was. I only found out at the show that the previous lead singer (Adam Gontier) left the band in 2013, and a different guy (Matt Walst) from a band called "My Darkest Days" filled Adam's position. Knowing this, I wondered how the crowd would receive this new guy, especially for old classics by Adam. Everyone seemed to love the new guy as he was very energetic. The band had roughly 50 guitar picks, most of them white and a small amount were red, on the microphone stands of the 3 guitarists. No they do not shred guitar picks so fast that they constantly need new ones, they throw all of them into the crowd at fans throughout the show.
The members were a bit far away from the crowd due to the large gap created by the big media pit being, so a good number of the picks thrown didn't make it into into the crowd right away, and security had to pick them up and give them to us or throw them further into the crowd. I managed to get one of the many guitar picks, its white with a very quick and rough doodle of a guitar one one side and "Three Days Grace" in fancy script writing. During the show Matt got two mosh pits going on both sides of the crowd (we were separated in the center by a catwalk). Matt was full of energy and it was to fun watch him running around and singing, I even saw some of the security guards at the front mouthing the words to some of the older songs such as "The Good Life," which was pretty cool. I would see Three Days Grace again if they came back, but next time I'll be sure to learn the songs so I can sing along!
Rise Against, rocked the final night for Ottawa Bluesfest 2018 with a 17-song set. Rise Against is a punk rock band from Chicago, the only non-Canadian band to play the main stage on the final day. When I was younger I used to listen to Rise Against a lot as I would listen to whatever music my father liked and had in his collection, but over time I haven't listened to them as much. I hadn't listened to their newest album Wolves at all before going to the show, so I was kind of excited to hear some new stuff (to me), they ended up playing three tracks off the album.
My father once told me that he saw Rise Against at Bluesfest before, and when they finished they headed over to the merchandise tent for signing stuff and meeting the fans, according to my father they had a really large line and they didn't leave until the entire line was gone. They were loyal to their fans and made sure everyone was happy, that's something that I felt when I saw them. The members of Rise Against seemed like very kind and genuine guys, they were here to share a good time and make memories, and not play just for money and go home. This was my first time ever seeing Rise Against, and hopefully not my last. During the song "Megaphone," the lead singer Tim McIlrath was singing with a megaphone in his hand. The crowd got crazy whenever they played their classic songs, and crazy again when Tim was in the crowd singing with everyone.
The band played fast songs but also some slow songs, it was a good ratio. Tim played three songs on the acoustic guitar for a little acoustic intermission, and everyone was suddenly more calm and things slowed down, well for a little bit. I think the crowd was most boistrous during the song "Saviour," which is one of my favourites and one of their most popular ones. During the show I noticed that even more of the security guards at the front were singing along with the words to the songs, I think just about everyone was having an awesome night, an amazing way to end Bluesfest 2018.
When Rise Against finished, they threw more guitar picks, drumsticks, and stuck their taped setlists to water bottles to throw into the crowd. They also threw some of what appeared to be rolled up t-shirts into the crowd! If you ever get the chance to see Rise Against, do it, they're an awesome punk rock band! 11/10 would see again.
Gallery