Frank Turner swung through Ottawa on his No Man's Land tour on Wednesday night playing two sets at the Algonquin Commons Theater.
Opening the night was Kayleigh Goldsworthy, founding member of the Syracuse Indie Rock sextet The Scarlet Ending, performing solo on stage just her, hey guitar and her branded mustard jumpsuit. "As it's just me and you, let's just be friends, ok? It makes it a lot easier for me. I'm going to sing personal details about myself and I hope you'll find enjoyment in it." That is just a little taste of Goldsworthy's engaging stage personality, which complements very approachable and relatable lyrical content. Unfortunately her guitar and vocals weren't balanced so some were robbed of those great lines. Another example of her fun personality was her explaining how she dedicated her EP All These Miles, to here trusted 2007 Honda Civic who had been through a lot together, or how after playing a cover of Concrete Blonde's classic "Joey" she explained when talking to her dad about playing that cover on the road he said "You never played that when you lived with me."
"That is weird right, like as if we were roommates or something. My roomie, dad. Goldsworthy played a mix of songs from All These Miles and her first full-length album Burrower, highlights for me were "Tennessee," "Red," and the rocking "Cursed to Wander." If you like clever and real lyrics, a voice that is almost more of an instrument than her guitar and a fun personality on stage, Goldsworthy is a must.
Following a short 15 minute break, Frank Turner took to the stage by himself to play songs off of his somewhat controversial new album No Man's Land. The new album is a concept album which Turner said he the goal of drawing attention to the lives of fascinating women whose amazing lives were overlooked due to their gender. Now some people and publications have seen this as a white cis male making money mansplaining the story of women. Frank addressed this before playing his song "Sister Rosetta," who people like Elvis and Johnny Cash attribute with their sound, where he said that he recognizes that he is a white guy playing rock n' roll music and singing about Rosetta while mentioning that white men made their living off of her beginnings and got all the credit. His perspective is the least he can do his honour the people who paved the way for him and tell their stories to those who may never hear it otherwise. Frank also happens to be a self-proclaimed history nerd, and therefore much of the songs are about women in history who have nothing to do with music.
I will be the first to admit that after a few listens through of the album I wasn't its biggest fan. But let me tell you, in true Frank Turner fashion, he really takes it up a notch live. I also really liked the storytelling aspect where Frank dove a little deeper into why he wrote the song or the story behind it. Always fun to learn something while also enjoying great tunes, because as we all know knowledge is power. Particular standouts live compared to the record were "The Graveyard of the Outcast Dead, " "The Hymn of Kassiani" and the fun he had with the crowd about his lack of ability to perform guitar solos then nearly sticking it during "The Death of Dora Hand." On album and live, "The Lioness" absolutely rocks so of course his solo rendering of it was great as well, and was the perfect closer to the set.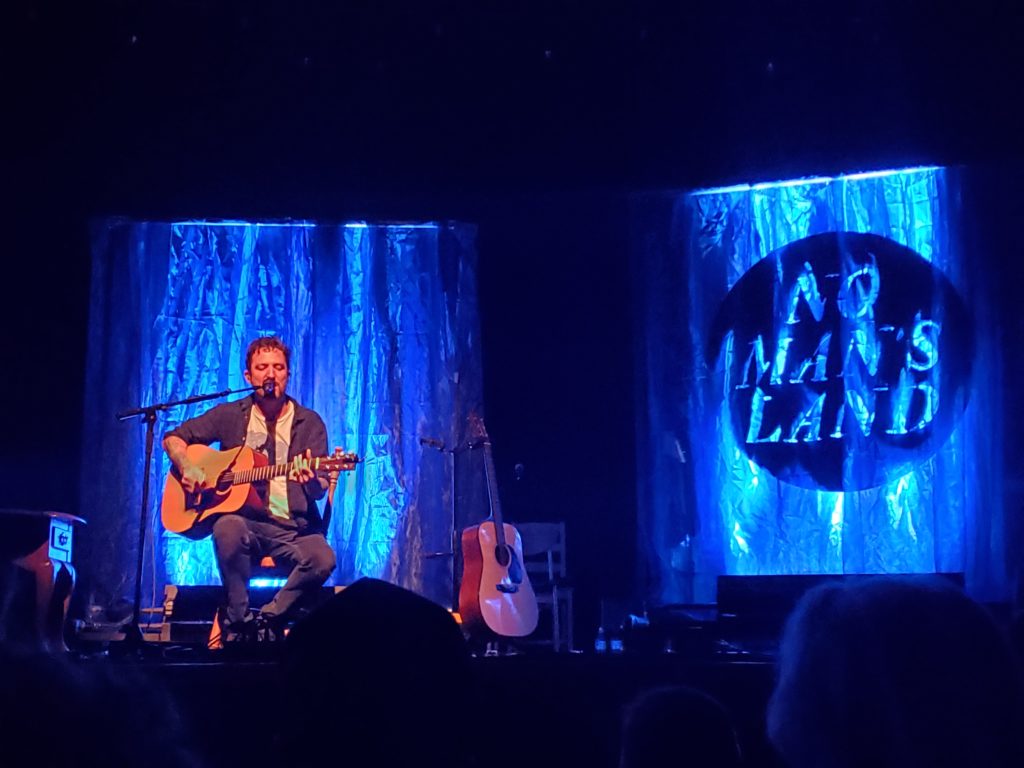 After about 15 minutes, Frank Turner returned to the stage, but this time accompanied by his full band, The Sleeping Souls. This was show 2394, which is a long time and a long way from home from his first show at 16 years-old 21 years ago. He clearly isn't getting tired or slowing down though, as they played for nearly two hours, after Frank played a 45 minute solo set…they say work is easy when you love the work you do. They did however perform sitting down which was a little strange given the energy they usually bring to the stage which anyone who has seen Frank Turner and the Sleeping Souls perform before can attest to, but it also made it feel more intimate like he was in my living room performing just for me and some of my closest friends. 
They opened the set with "The Ballad of Me and My Friends" with a spoken word intro and then "I Knew Prufrock Before He Got Famous" which had me quite excited from the get go, given that a) I love the song, and b) they have released a lot of music since 2008 so you never know what you are going to get any more. The set went on to feature songs from much of his extensive discography, but did focus a little more on most recent releases such as Be More Kind (2018), Positive Songs for Negative People (2015) and Tape Deck Heart (2013). That said they did also perform "Wanderlust" from England Keep My Bones for only the second time ever live as a band, the first being the night before in Montreal.
In keeping with the the storytelling theme, Frank did take the time between songs to provide background and paint the picture of the story behind the song. He brought us through a couple of trilogies, one about Amy (a partially really person/partially a self-reflection) with songs "Reasons Not to Be an Idiot," "I Am Disappear," and "Tell Tale Sings." The second about Isabel which is "One Foot Before the Other," "The Way I Tend To Be" and capping it off with the apology song " The Opening Act of Spring." It was really fascinating to have him walk us through the trilogies that spanned over a decade of albums and growth musically and personally.
As Frank's music progresses, for better or for worse depending on your perspective, one thing is abundantly clear, his live performance will always rock and his message will remain that we really need to be there for each other, lend a helping hand when we can and be more kind—just as his latest album suggests. He mentioned that the world needs it now maybe more than ever, both at a micro and macro level, so it was only fitting for them to close out nearly two hour set with "Be More Kind."