Photo by Neil Torres/Facebook
Combining the sounds of R&B, soul, '70s funk, punk and big-band music with traditional hip-hop, BLAKDENIM offers Ottawa audiophiles powerful lyrics packaged with an eclectic beat.
The National-Capital-based octet came thundering onto the Ottawa music scene in 2013 as finalists in the Live 88.5 Big Money Shot radio competition. In 2014, their first independent album hit the shelfs when they released Vanguard(en). Since then, the band has released two more records—Complexus in 2016 and Usual Suspects: Season III on July 3, 2020.
The latest album tackles difficult subjects like systemic racism and police brutality with raw emotion.
They've incorporated eight instruments such as drums and horns, as well as more classic hip-hop staples like turntables in what they call a "marriage of instruments".
Although even the savviest ear may not catch the brief cameo from a violin, one thing listeners will note are the vocal stylings of a memorable character from the annals of hip-hop history. None other than Darryl "DMC" McDaniels of Run-D.M.C. lends his voice to "Sharks," the twelfth and final track on the album.
Kenny Creole, the band's MC, says McDaniels helped tie the whole song together, and his participation was validating.
"This pandemic kind of threw a wrench in like, everybody's lives, you know," said Kenny. "But like it was definitely an important moment for us and […] to have a hall-of-famer and one of the pioneers of hip-hop to be like, 'Yo, I'm jumping on this…' Stay humble, stay hungry."
Kenny hinted that there could be future collaborations in the works with McDaniels.
"Sharks" concludes a Herculean album—for no insignificant reason. Not only does it boast star power, it carries an important and timely message.
The song opens by declaring, "Schools ain't teaching all the material, do you know about Emmett Till?"
Till was a 14-year-old African-American boy from Chicago. He was murdered in August of 1955 while visiting family in Money, Mississippi.
Till had purchased bubble gum at a local shop, where it was reported by some kids in his company that he had winked at the shop owner's wife, Carolyn Bryant.
"Like he whistled just to say, 'Hey, what's up?' and she didn't like it," said Carl. "And she went to say that she got assaulted by a Black man."
Four days later, Till was kidnapped by relatives of Bryant from the family home where he was staying. He was brutally beaten, shot and drowned.
Years after Till's death, Bryant admitted he had never whistled at her.
One of BLAKDENIM's members, Carl, compares what happened to Till with recent incidents of police violence close to home.
The 2016 police-involved manslaughter of Abdi, a 37-year-old Somali-Canadian man with mental health struggles, sparked outrage among the Black community in Ottawa. It was reported that Abdi had sexually harassed several women at a downtown Bridgehead café before being pursued to his apartment, where he died in a lethal encounter with police.
"He [Abdi] had to die in the hands of cops, and there was no accountability or responsibility for that," said Kenny. "We could turn our eyes or turn our head, but this stuff is happening, and it's been happening for centuries."
The injustices they see happening in their own city are what drives this band to continue making their lyrically powerful music.
BLAKDENIM's music is born from a unique method of songwriting. With eight people in the room—or most recently, Zoom call—the process looks like one big jam session.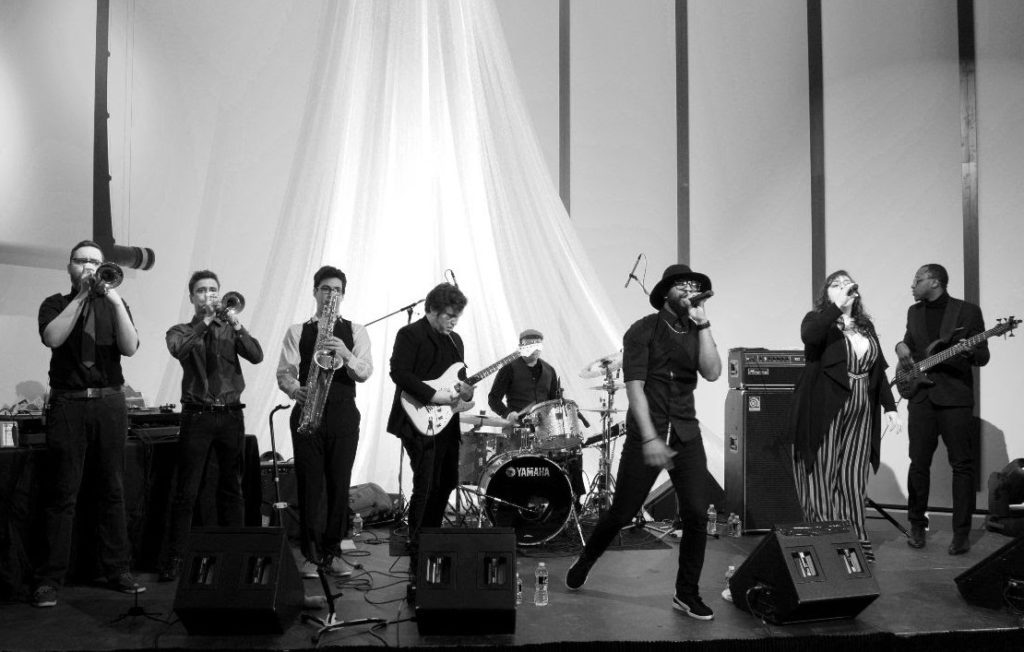 "There are moments in our jamming sessions when we just really feel it," said Carl. "It's almost like a transfer of energy between us and, you know, vibes—vibrations."
"We'll just be all in the room […] and we'll be jamming, and all of a sudden we'll be like, 'I think we have something,' right?" said Kenny. "So it's kinda like all these styles kinda meet all at once in that jam and then we throw some vocal phrases on it. Not necessarily jamming to find a song but we're kinda just jamming and sometimes a song will come out of it."
The MC says it's the most organic approach to songwriting the group has found, and it's how they're most comfortable making music.
"Definitely an organic experience," added Crystalena. "We always have fun, we always vibe off each other."
Poignantly prosed, "Sharks" is a track with teeth. It packs a punch with lyrics that speak volumes about police brutality and the state of society—particularly for Black folks and people of colour.
"You still catch these incidents happening," said Kenny. "'I'm sorry, that's not who I am, to my core, I'm not a racist.' […] Some people say sorry, and they get to go back to their regular life. Being Black, that's everyday."
BLAKDENIM has never been afraid to get political, and Sharks is no exception. If you pay attention it's easy to identify certain themes within the lyrics coincide with George Floyd's death in late May 2020—an event which galvanized the world. However, the band says the album was written nearly a year before this happened—it was simply "on time without trying to be on time."
Band members warned of corporations jumping on the "woke" bandwagon to make a quick buck.
"I saw, like, on Amazon there's this company that was selling baby onesies, right?" said Kenny. "And a baby onesie said 'Black Lives Matter', but […] that same person selling that 'Black Lives Matter' has an 'All Lives Matter' one, or a 'White Lives Matter' one."
Carl added, "It's a trend in the sense of, you know, everybody put on T-shirts, and everybody says it, but who actually feels it?"
The members of BLAKDENIM have words of advice for anybody offering support as an ally.
"The real allyship lies in having those conversations with your elderly family members or those who may not have access to the internet or those who may not know the history," said Crystalena.
"So the real allyship to me, being a white person is to make sure that you're supporting Black communities, supporting your friends who are starting their own businesses, who you need to donate to. Making those recurring donations happen. Committing to having the hard conversations. Just making sure that you're creating change for the next generation and to make sure that what is happening for the last 500 years doesn't continue to happen."
Usual Suspects: Season III features another big track—"James Brown's Cape"—which was released in collaboration with The Battle of Ottogatz, a comic book following three young Black superheroes with sickle cell disease.
"We're talking about three little superheroes that are battling diseases," said Carl.
"James Brown was known for his cape. His cape was his superpower—there was a moment when he had it on, he was vulnerable, but also felt like a superhero."
Carl says they liked the idea of kids fighting a disease to become their own superheroes, and it was also something new and different from what they were used to doing.
"There's a lot of Black kids that are going through this," Carl added. "It's hard to find money for research, so it also brings a voice, and some eyes to the disease."
To learn more about BLAKDENIM, listen to their music and more, visit www.blakdenim.com.