Hypnotic Brass Ensemble at the OLG After Dark Series on June 28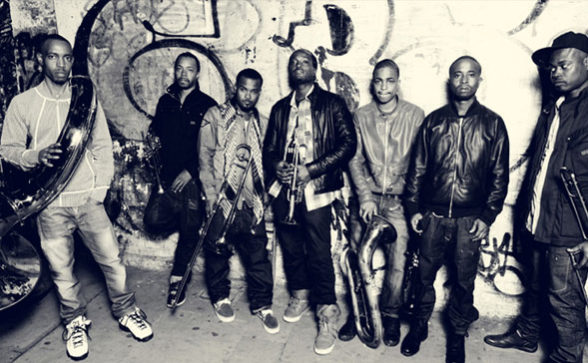 It's not often an eight-piece band comes along that fuses different rhythms and styles and genres of music with interchangeable instrumental roles. Not to mention a band that consists of eight brothers, all of whom grew up playing music together as kids.
The Hypnotic Brass Ensemble form Chicago, IL is one of those musical anomalies. I'm not going to go as far as directly comparing them to The Jackson 5, but the parallel is hard to resist. HBE consists of the eight sons of jazz trumpeter Phil Cohran, and they are all frighteningly talented. They gained recognition in the late 1990s by playing in the cavernous depths of Chicago's subway stations, showing off their talents and strikingly distinctive sound to those who passed by. Since their first recorded project Flipside in 2004, they have quickly become regarded as one of the most innovative, dynamic groups on the circuit today and have played many corners of the earth. Not only have they shared the stage with the likes of Mos Def, Wu Tang Clan, De La Soul, Prince, Femi Kuti, and Gorillaz, they have recorded with such artists as Erykah Badu, Ghostface Killah, Childish Gambino, Maxwell, Flea, and many more. Needless to say, this band was a huge addition to the TD Ottawa Jazz Festival lineup this year. 
Their set at the Laurier Avenue Canadian Music Stage attracted a crowd of old and young, many of whom probably experiencing HBE for the first time. People seemed a little hesitant at first, maybe not knowing how to react to a group that plays trumpets, baritone, sousaphone, and trombones on top of rapping and soul/funk/jazz-inspired rhythms. However, that didn't last long. Even lots of folks who brought their lawn chairs into the area inevitably got up and started moving their bodies to the music they were hearing. I even tried my hand at dancing meringue, which ultimately ended up being horribly embarrassing.
The band got the crowd involved by getting the right side and left side to battle for loudest part of the audience, as well as getting the ladies and gentlemen to yell back and forth. This helped to electrify the people, giving the guys on stage even more energy. By playing songs such as "War" and "Party Started," HBE provided me with the perfect soundtrack for drowning away my sorrows after my World Cup team, Chile, lost a heartbreaking game to Brazil which led to their elimination. The pain went away, if only for the duration of their set.
Those of us lucky enough to have caught HBE at TD Ottawa Jazzfest this year were given much more than our money's worth. They're performance alone was on par with David Byrne and St. Vincent at last year's Jazzfest, not to mention how good the music sounded. As things come to a close, HBE was a highlight not only of the OLG After Dark Series, but of the festival as a whole.