Throwback Thursday: The Summer of '88 — The Stand GT @ One Step Beyond in Ottawa
By Chris Page
The Stand GT didn't play Ottawa much in our early days.
It wasn't that we weren't shown any love in the nation's capital. It had more to do with our proximity to Montreal, being from the rural county of Glengarry. We were very connected with that scene and were fortunate to be playing shows with legendary Montreal bands like The Gruesomes, Deja Voodoo, Jerry Jerry, and of course our touring pals Ripcordz.
Our first show in Ottawa was at the Downstairs Club on Rideau Street, which became Lucky Ron's, then The Hi-Fi and is now a Beer Store. We opened for scene vets Fluid Waffle (who later became Furnaceface) and I would have met Dave Dudley (Dave's Drum Shop), Slo' Tom Stewart (Spaceman Music) and Patrick Banister for the first time that night — great guys who I've been friends with ever since. But my memory of that evening is pretty hazy over 25 years on.
I do remember two things from that show: Fluid Waffle covered the place in exploding bags of white flour during their set and, not related, the members of The Stand GT were barred from the Downstairs Club for life.
Whatever. It was a trumped-up charge that didn't take.
The road trip for our second Ottawa show is slightly more memorable.
We were psyched to get a show at an all-ages club called One Step Beyond and this time around we were endorsed on the poster by The Gruesomes very own John Davis. Getting kudos from a bonafide Canadian indie star was a major coup for a young garage band from the sticks.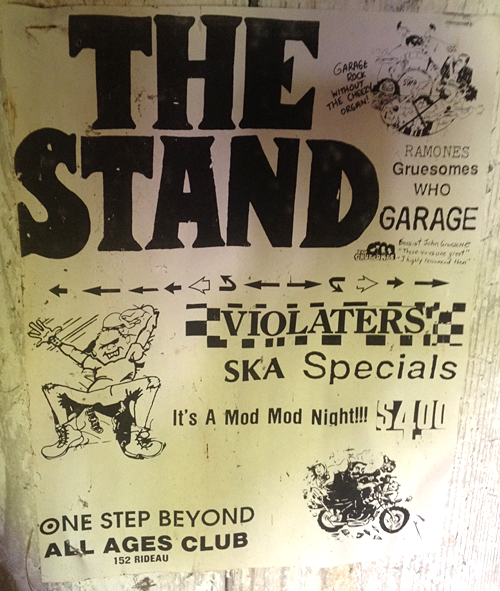 One Step Beyond was an all ages club on Rideau Street that existed from 1986 to 1988. As Tom Stewart says in a great write-up here, for such an important venue in the Ottawa underground scene, "…in hindsight, it's a miracle the club survived as long as it did, considering it was trying to pay the rent from the sale of soft drinks and fruit juice."
I don't remember the exact year of The Stand GT's show at OSB, but I think it was the Summer of '88. We all lived in Glengarry at the time and were still attending high school. A buddy (affectionately nicknamed "Happy") graciously offered to drive us to Ottawa in one of his company trucks. Friends with access to trucks or vans to haul our gear to shows were extremely hard to come by. And in those days, an offer of free beer was the main currency in The Stand GT's barter system.
The day of the show we met at Doug's family farm early in the afternoon and waited for Happy to show up. It wasn't long before I realized we'd be travelling in a refrigerated vegetable delivery transport truck with a 20 foot cargo-hold box. To give perspective on its size, it was about half the length of an 18-wheeler.
I'm not sure who agreed to the plan for all of us to ride in the back because, of course, there were no seats, let alone seat belts.
Without letting common sense get in the way, youthful exuberance prevailed and the loading began: drums, amps, guitars, two-fours of Labatt's Blue and bags of chips. The ride to Ottawa was about two hours from Glengarry, so sustenance was required. If memory serves, there were six of us back there with two up front in the cab.
Once loaded, we climbed up into the cargo hold to test our pal's generous road trip accommodations.
I can still remember my surprise and concern when they closed the big hinged doors on the back of the truck. It was pitch black in there.
With our eyes fighting to adjust from bright sunshine to extreme darkness, I remember focusing on a tiny rust hole emitting the only natural light in the back of the truck. The hole wasn't big enough to poke a finger through and we knew we needed a better solution to our lighting situation.
Soon we were banging on the doors to climb out and rustle some flashlights from Doug's dad who was shaking his head at us from the back porch of the farmhouse.

Another thought soon crossed my mind: refrigerated truck would probably mean "air tight" cargo hold, correct? What if we ran out of oxygen on the trip? With six of us in there, surely fresh air wouldn't last long.
Doug and I put our heads together and quickly came up with a MacGyver-worthy solution to build a rudimentary messaging system to our driver should we start to lose air out on the open road.
We tied strings of bailer twine (used for making hay bales) and secured one end from the steering wheel in the cab. We ran the twine out the drivers side window, over the top of the truck and down into the cargo hold, through those big back doors. No air? Simply, pull on the rope. I relaxed knowing Happy would feel a little tug on the steering wheel and pull over to save us from suffocating.
With our comfort secured, the road trip to Ottawa began.
The back of that truck had the feel of a rolling, low-budget discotheque. The flashlights illuminated the anticipation on our faces and we started to sway down the road. The portable cassette player was cranked as we passed around bottles of Labatt's Blue.
Doug balanced two beer bottles between his stretched out legs as he sat on the floor of the truck with his back against one of the side walls. I remember the flashlight dangling, hung around his neck while he changed the strings on his guitar.
Wally sat on a case of beer, his own flashlight beaming up from a shirt pocket, creating a creepy effect on his face as he chugged beers. It was a look that would do Lux Interior proud.
Though the refrigeration unit was off, there was enough oxygen and the concerns over lack of air were soon forgotten. We were rolling down the highway with that hard-to-describe feeling of freedom and youthful excitement. This was a trip that would see our young band play a big show in a big city that night. And we were amped up by the fact none of us had a care in the world.
Until someone had to pee.
Little did I know my emergency twine concoction would be used to request a toilet break as opposed to being the instrument of a desperate plea for air. When I nonchalantly reached to pull the twine, my smugness turned to a sinking feeling which I'm sure no one noticed in the flashlight ambiance of the steerage discotheque.
The twine was completely pinched in those big metal doors. There was no way to reach the driver.
Of course, at the realization of this turn of events, an overwhelming feeling came over us: we all had to pee.
After a short, frantic and semi-drunk discussion, our friend Zimmy was the first to suggest a plan that involved an empty chip bag and the aforementioned small rust hole at the bottom of the doors. The hole may not have been large enough to put your finger through, but it was certainly large enough to empty a chip bag, filled with liquid, out onto Highway 417.
The rest of that evening is a blur. Happy did get lost on the way into Ottawa so we spent about 3 hours in the flashlight disco. I wish I could remember what was on the cassette player back there: the soundtrack for an experience none of us will forget, but still can't remember.
I do remember One Step Beyond was a cool venue and we made many new friends that night. One of those pals was Alan Wright (R.I.P.), an underground music lover from Kingston, then Seattle, who had a terrific fanzine and who would become a huge champion for the band in the many years to come.
The ride home was a much more relaxed and comfortable affair for specific reasons I won't mention here. But you can ask any of us about the rest of the story sometime. All in all, that Ottawa trip led to an incredible chain of events that would take The Stand GT on an amazing journey, lasting many years.
For more information on One Step Beyond, there's a fantastic write up about the Nation's capital punk/alt/hardcore history by Ottawa legend Slo' Tom Stewart on the Ottawa Explosion site. Of course, you should also listen to and purchase The Stand GT.
We'd love it if you did.