Ottawa Explosion: Day 1 — June 17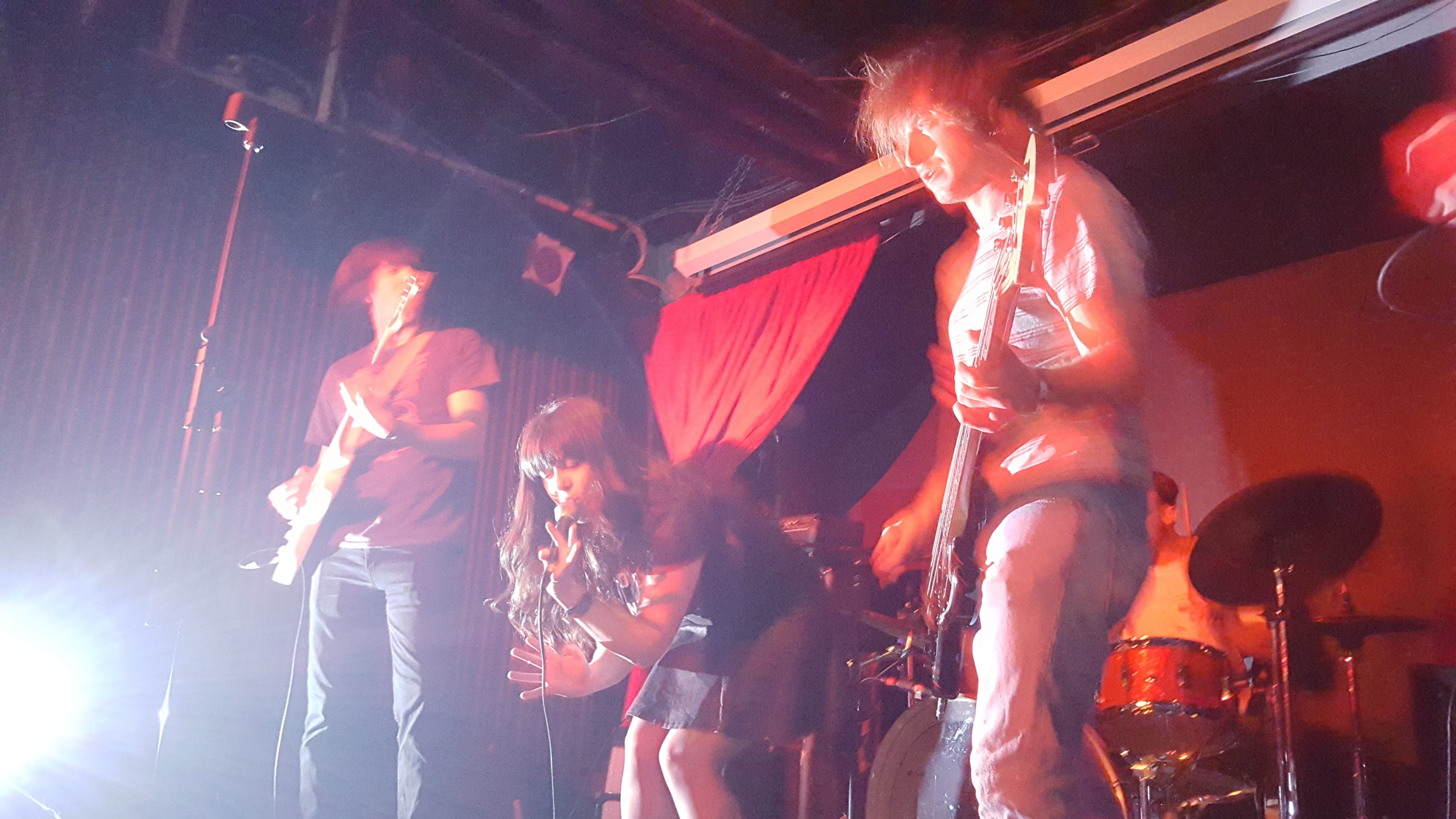 It has finally arrived! Yes, Ottawa Explosion Weekend officially began yesterday, June 17th, at Club SAW and Mugshots.
Sailor Jupiter had the honour of being this year's first band. The three-piece garage group from Ottawa are one of my favourite newer local bands and are always a treat to see perform on stage. They played great tracks off their self-tilted debut like "Jesus Freak" and the droney "Dead to Me". They closed with an unrecorded song that was loud, filled with yelling and most excellent. They just keep getting better every time I see them.
Changing things up was Tough Age, with more of a pop punk and dance rock sound. The band from Vancouver not only played great tunes, but gave out good advice. After struggling with hair in his face, the lead singer and guitarist said, "Don't get cool hair cuts, get safe hair cuts… Great advice my dad once gave me." The band announced the exciting news that a new album is on the way and played us a track off it called "New Orleans Square." Tough Age closed out with their sweet song "Heart of Julie Jones."
Not only was I bouncing from stage to stage between SAW and Mugshots, but it also felt like the genre of music changed up every time which kept things interesting. After listening to west coast pop punk, it was now time for east coast rockers Monomyth from Halifax. These guys took me on a journey through soundscapes with their stoner rock. It felt really appropriate as they named themselves after the narrative pattern for the 12 stages of the hero's journey. These maritimers' music is perfect for meditating or for peaceful sailing on the open waters. Really dug it.
Playing the final set outside of SAW for the evening were the up-tempo and lively Guantanamo Baywatch from Portland, Oregon. They teleported us to a '60s or '70s beach party worthy of bright Hawaiian shirts and people doing the Twist. Their music was so much fun and finally got the crowd moving. You need not look any further than the first track, "Barbacoa" off their latest album Chest Crawl, to understand why people where loving it. The instrumental surf medley makes you want to jump up and dance. They are one of, if not the, tightest surf rock group I have ever seen. A real treat.
It was now time to move inside SAW for the final four acts. Kicking things off were Kappa Chow. If anyone there didn't know the band's name, they learned it quickly as the lead singer often yells out "KAPPA…" and waits for the crowd to say "CHOW!" You know the band from Sackville, New Brunswick, is something a little different right away as the drummer stood up and set up in the crowd-facing the stage. With the singer channelling his inner young Iggy Pop and not being able to either keep his shirt on or stay out of the crowd — he is a natural entertainer. Later on during the set he got up on the monitor and standing nice and tall mooned us all. Never forget that Kappa… CHOW is "Punk as Fuck."
Up next was Nap Eyes from Halifax, NS. If Kappa was Iggy, Nap Eyes was Lou Reed in all the right ways. They play a very interesting psych folk music and performed a number of great tracks including the eerie "Dark Creedence", which sounds like it could have been an outtake from Velvet Underground & Nico. Like the song "Heroine", "Dark Creedence" begins with a happy-sounding chord progression and crescendos near the end with a screechy, uncontrolled sound from the guitar that makes the listener feel slightly uncomfortable.
The band with the greatest name of the night, SOCAN Billionaires, shared their musical riches with us as we closed in on midnight. Led by Mike Dubue, they were essentially Hilotrons without Adam Saikaley. They played a number of upbeat, catchy tunes and ripped through their set. A highlight was when the band slowed things down a bit and got their dub on, playing Hilotrons' "A New Town" from their new album To Trip with Terpsichore. The thing I love about Dubue is how he does not shy away from his Talking Heads influence. Their performance felt like Ottawa's answer to Stop Making Sense but with the punk edge of being in a small dimly lit venue. They powered through technical difficulties with Dubue's keyboard, but with his energy and the band's amazing musicianship it could almost go unnoticed.
Now well past midnight it was time for the Ouija rocking The Yips to peer into what was left of our souls. The Yips were the perfect choice to end the night, maintaining the energy of the room and keeping the late mid-week party going. The local act puts on such a great show and they have amazing on stage chemistry. As per usual, the band did not disappoint the still pretty large crowd of late-night partiers. A few highlights of the set were just how spot on they nailed their track "Repeater" and that they played a new song I had never heard before. Teasing us that late at night felt somewhat unfair… but I liked it. Let's all hope that means another Yips EP is on the way sooner rather than later.
Day one is officially in the books and it was most excellent. Five more days of fun, sun and punk rock left to go!
---
Homebody Review by Anthony Cardozo
So I walked into the Mugshots courtyard just after the Denver, Colorado, three-piece had started their set, and I immediately notice the drummer playing with a maraca in one hand. Ok, that's cool, score one for Homebody. Next song, the two guitarists trade instruments, also cool. Then I notice the instrument that one guy is playing: it looks like a guitar but a bit bigger, and it sounds like a bass. It has 6 strings, but he's plucking them individually, not playing chords. This whacky thing is called a Bass VI, and is just a small-scale 6-string bass guitar. I'd never seen it played in a band, and I'm not sure I fully understand it. So Homebody is rackin' up some points!
These guys are mixing psychedelic vibes with a kind of Mac DeMarco-esque jangly pop, and some occasional weird time signatures. The rotating projections on the tall courtyard walls looked like something you'd see through a microscope, and coupled with the music, made the setting feel like a science experiment, as if we were under the microscope and Homebody was the spaced-out soundtrack to our examination. Weird. And awesome.
The weekend is young, so let's go! OXW Day 2!!!