RBC Bluesfest Day 8: Fet.Nat, Hilotrons & Mother Mother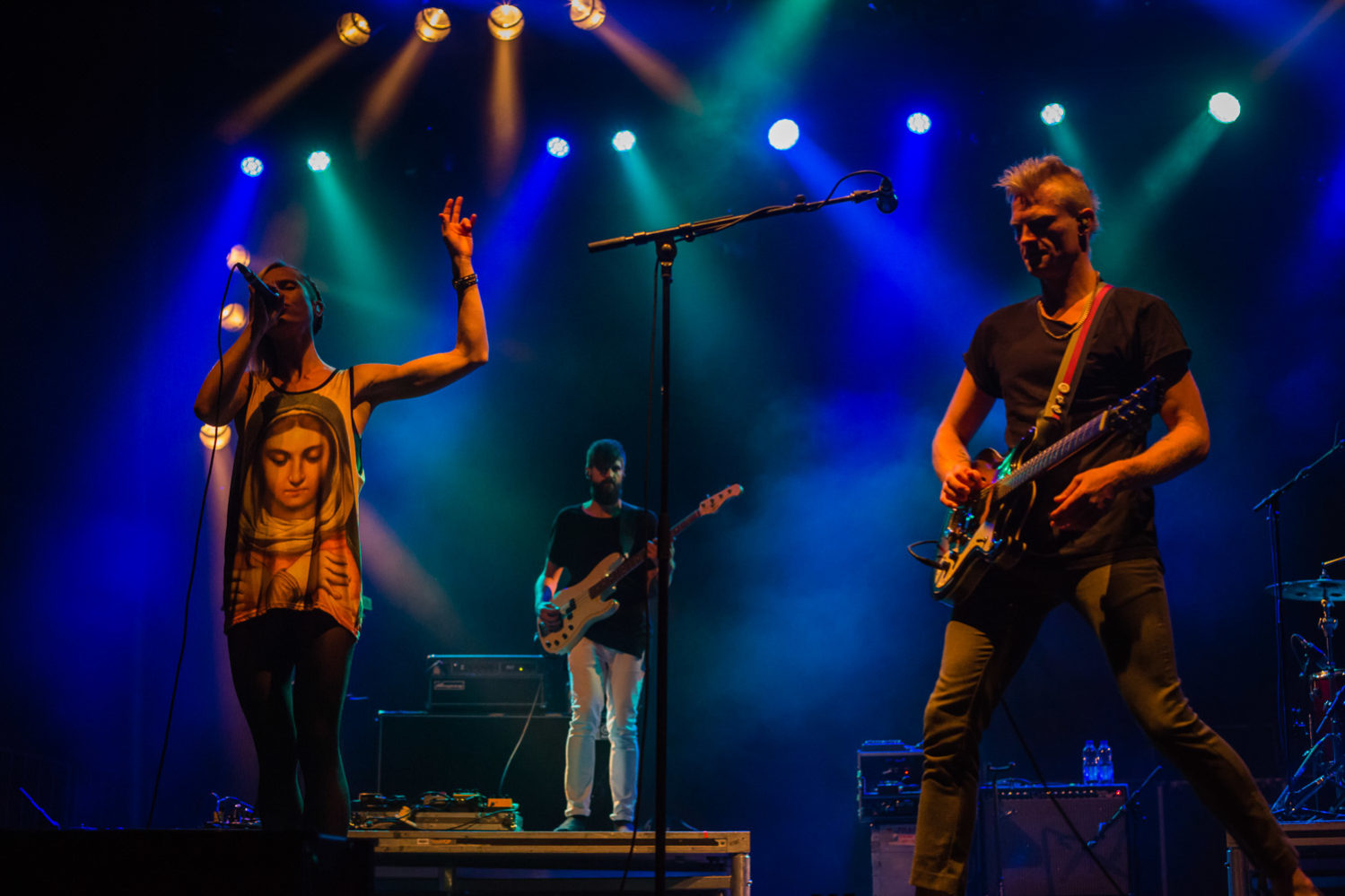 RBC Bluesfest Press Images PHOTO/Scott Penner
As soon as I got on the bus to make my way to the Flats for day 8 of the Fest, I knew. Cowboy boots…cowboy hats…a sea of flannel…tonight was a Country Night. Witnessing how intense this city gets about country music is an experience for sure, but I decided to stick to the Canadian stage for some local favourites and BC alt-rockers Mother Mother later on.
First up: fet.nat, one of my favourite live experimental acts. They opened up to a small crowd with a frenetic saxophone solo leading into slam-style francophone vocals and jarring rhythms. Lead vocalist JF No brought the usual antics: hips gyrating wildly, holding up a wire cutter and pretending to chop the giant electrical cords on stage, attempting to make eye contact with the stoic security guards on either end of the stage and imitating their stance, and watering giant fake flowers with a very real giant watering can that he later threw off the stage ("Hey! You wanna help me out? Here, grab ahold of this!") I think my favourite JF moment was when he addressed a young man looking bored near the front of the crowd (arms crossed and unmoving) and asked, "are you happy?" and when this failed to produce a response turned to the rest of us and said "this guy is blocking my way to his heart." Awww. I've seen this band many times before but I'm so used to being right beside the saxophone in a sweaty, dingy bar that it was refreshing to be able to hear their complete sound so clearly. The set was fantastic. Bonus: on my way back to the stage later to see Hilotrons, I overheard someone in the crowd ask a friend "is it that crazy band still?" Nailed it, fet.nat.
Hilotrons on the same stage later in the night delivered a stellar hour-long set of layered rhythms and intensely delivered lyrics from lead singer (and poet) Mike Dubue, who has the best forehead in Ottawa alternative music. Foot-tapping weird pop. Good stuff, great show.
Mother Mother rounded out the night for me with a polished, fun, energetic glam alt pop set that included a mix of newer, more dance-y tracks and older favourites like "O My Heart." Brother-sister vocal duo Ryan and Molly Guldemond have an unmistakable and deeply satisfying harmony to their voices that really sets them apart from other Canadian indie pop bands. What's even more impressive is it's just as wonderful live as recorded. The lighting set up was fun, the performance was seamless, the crowd was stoked—they delivered.
A good night overall—and on my way out I passed two different couples slow-dancing to Keith Urban in the distance. Pretty cute. Good vibes. Thanks, Ottawa.