Switches and Expanda Fuzz @ Bar Robo
Switches and Expanda Fuzz brought the garage to Bar Robo Thursday night.
Local garage rock duo, Expanda Fuzz, opened the night playing songs off their new debut album Bleuets which they released on beautiful wax that night. Expanda Fuzz are a very interesting combination of drone and garage sound with pop lyrics that will make you swoon. This duo, equipped with a drum machine was only playing their second show ever, having first played at Ottawa Explosion. Their second track, the lead song off of Bleuets, "Flavour: Zombie" is such a great song and gets me from the first note. One half of the band is Chris Page of such bands as The Stand GT, Camp Radio and his great solo work. Page is one of the nicest people ever, I promise just talk to him and try to tell me different, and has an ageless voice that has simply become part of the capital region's sound. They mostly played songs off of their new album, most notably "It's Your Glow, UFO" where the other half of Expanda Fuzz, Niki Nine Doors' voice shines. They ended their set playing "Devil Town" by Daniel Johnston. They may be a new band, but on stage they look like they have been doing it for years.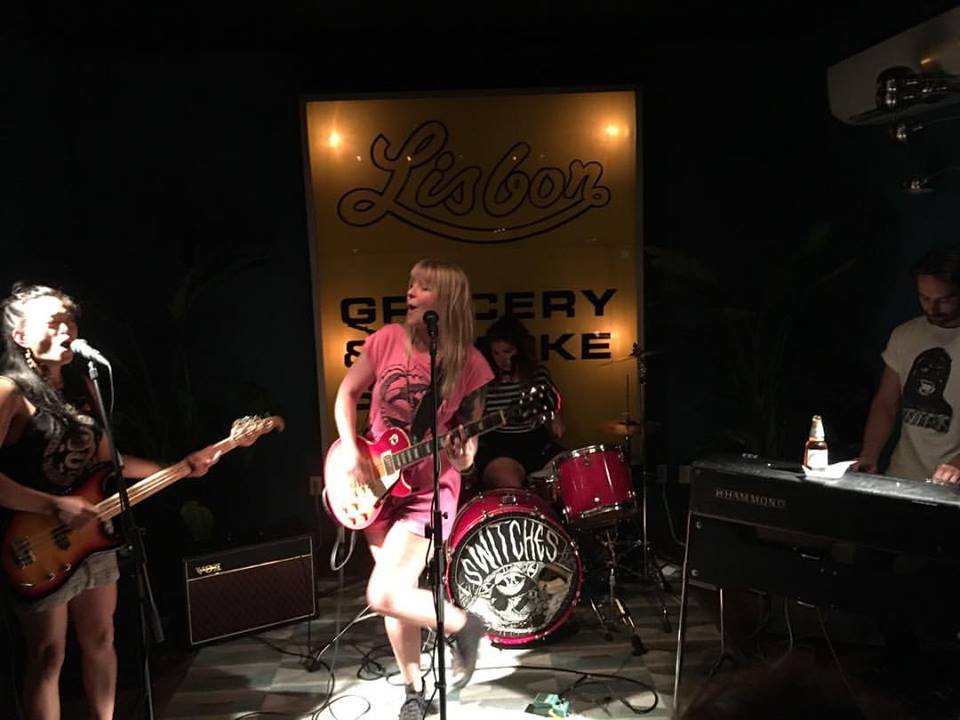 Headlining was Switches from Edmonton. "We are very excited to be here, its our first time in Ottawa and we are going to play some songs for you," were the first words out of their mouth. This female fronted punk band with a hint of synth where a delight. I had listened to them a few time online, but Tara's vocals live just have that extra oomph which is then complimented by both other female vocals. Switches also happened to play my favourite "15 Beers" off of their LP "i just wanna" as their second song, a new theme maybe? Take note bands playing Ottawa, hahaha. I was loving the set and didn't think it could get much better, when all of a sudden Tara took to the mic and said, "We are going to do a Tracy Chapman cover now. Can anyone guess which one?" We all screamed "Fast Cars" and were very pleased to be right. Yes you read that correctly, everyone in attendance last night got to see a 80's punk synth rendition of "Fast Cars." It was a total game changer. And just for good measure after a couple more of their own great songs, they also covered Shangri-Las. You know that American pop girl group from the 1960's, oh what a treat. Switches closed with "Push Pull" and the absolutely rocking "Spinning Out" from their new EP All My Darlings.
Switches reminded me of a female fronted version of The Sedatives with a little more bite and I say that as a massive compliment. Heck, they should play together next time they are in the same city. They have four dates left on their tour, Quebec City, Montreal, Peterborough and Toronto (more info here). I strongly urge you to go check them out then and next time they are near.