Top Ten Beau's Oktoberfest Moments
We think we have finally recovered from another amazing two days out in Vankleek Hill for this year's Beau's Oktoberfest. This was my fourth year attending Oktoberfest and once again it did not disappoint. So much happens during these jam-packed two days. Here are the highlights from this year:
Competing in the team challenge
Every year I go watch the team challenge and every year I write about how much fun it looks and how cool it is to see so many people competing while raising money for charity. In years past, this joy was saved for organizations and businesses that signed up well ahead of time. This year, for the first time, they opened the team challenge up to the public. Obviously I jumped all over this and entered a team. And when the dust settled from the malt sack race, beer soaked sponge slingshots and tug of war, and after the total donations were counted, our team – The Empty Steins – were victorious. Big shout out to the other teams, the organizers and everyone who cheered loudly.
The Black Forest Stage
The Black Forest Stage made it's debut last year and was back in fine form this year. The stage mostly features punk and garage rock and is hosted by Antique Skate, House of TARG, Vans, Pouzza Fest, and Ottawa Explosion. Once again this year it was the place to be with an absolutely killer line up featuring the likes of Steve Adamyk Bank, Solids, Lost Love, Camp Radio, Audio Visceral, Pale Lips, Wasted Potential, Brutal Youth and more. The stage also hosted an early morning Saturday Folkin' Wake Up with some acoustic stuff to start you off slow. The highlights from this stage have to be Waste Potential bring up up Jordy Bell from The Creeps to play "Wait a Minute" and then Dave Williams from Crusades to play a track. Pretty awesome seeing the local bands getting that kind of respect. Also worth noting was the bloody blast that was Brutal Youth's performance. I simply don't know of many bands that have that much energy live.
The Skateboarders
In the shadow of the Black Forest Stage lies a halfpipe where many skateboarders entertain all weekend. You can find them hanging out and riding rather casually most of the time, but at a few very specific moments they let it all hang out. Whether it is during their "Gladiator" style combat where you must stay on your board while trying to remove others from theirs or when they pushed each other to the limits during a sort of best trick competition, the skaters are a sight to be seen. One thing I love about it is when people see something they like they are encouraged to throw beer tokens into the halfpipe for the skaters, I even saw some people throwing in a few bills. A photo album with some of the skateboarding I took in will follow soon.
The Main Stage Headliners
Between the team challenge, the Black Forest Stage and the Craft Haus, I didn't have much time to check out the main stage this year. However I did watch the headliners both nights, and even though both have hyphens in their names, I was impressed for very different reasons. On the Friday it was a trip down memory lane to watch 54-40. Leading up to the show I spoke with friends about how I knew I liked 54-40, but couldn't really think of that many of their songs. Once the band started playing I found myself singing along to every song except the new ones and having a great time. On Saturday night it was time for Beau's collaborator K-Os to wow the stage. He played his hits and was great with the crowd, but my favourite part was when he went off freestyling, especially when he took a shot at Drake. From Canadian alt rock one night to Canadian hip-hop the next, the headliners closed out each night in style.
Remi Royale and the mystery of his stolen belt
This is not so much a highlight but more of an important event. Ottawa's beloved punk rock crooner Remi Royale had his infamous hot dog championship belt stolen from the side of the Black Forest Stage. Royale was providing MC duties and singing a few songs in between bands, just doing what he does. Unfortunately some miscreant took off with his beloved belt, the item that harnesses all his special powers. If anyone knows anything that could help get the belt back, please email us at music@ottawashowbox.com and I am sure we can hook you up with a pretty sweet reward.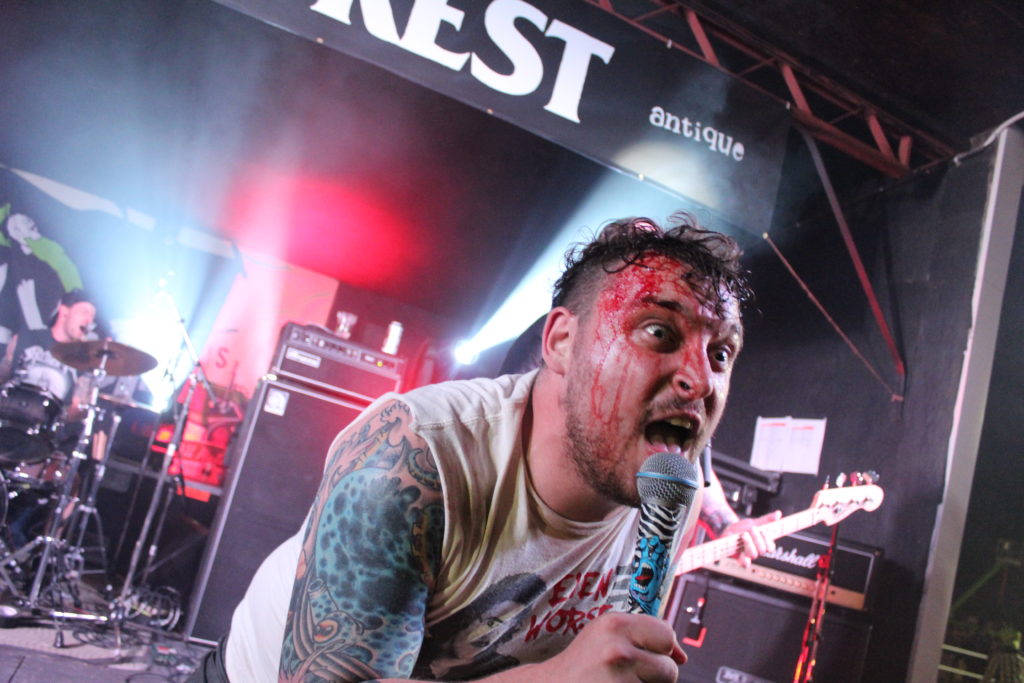 The Food Selection and Quality
Every year I am amazed at the selection and quality of the food vendors we have to choose from on the festival grounds. There are so many inventive options, like chicken and waffles in a cone, bugger balls stuffed with smoked bacon and cheese, perogies, many kinds of schnitzel and so much more. My food highlight was Pure Kitchen's tempeh Bavarian meatballs with roasted onion gravy served with potato hash topped with leeks, sauerkraut, pickled beets and apple sauce. Oh man am I ever hungry now.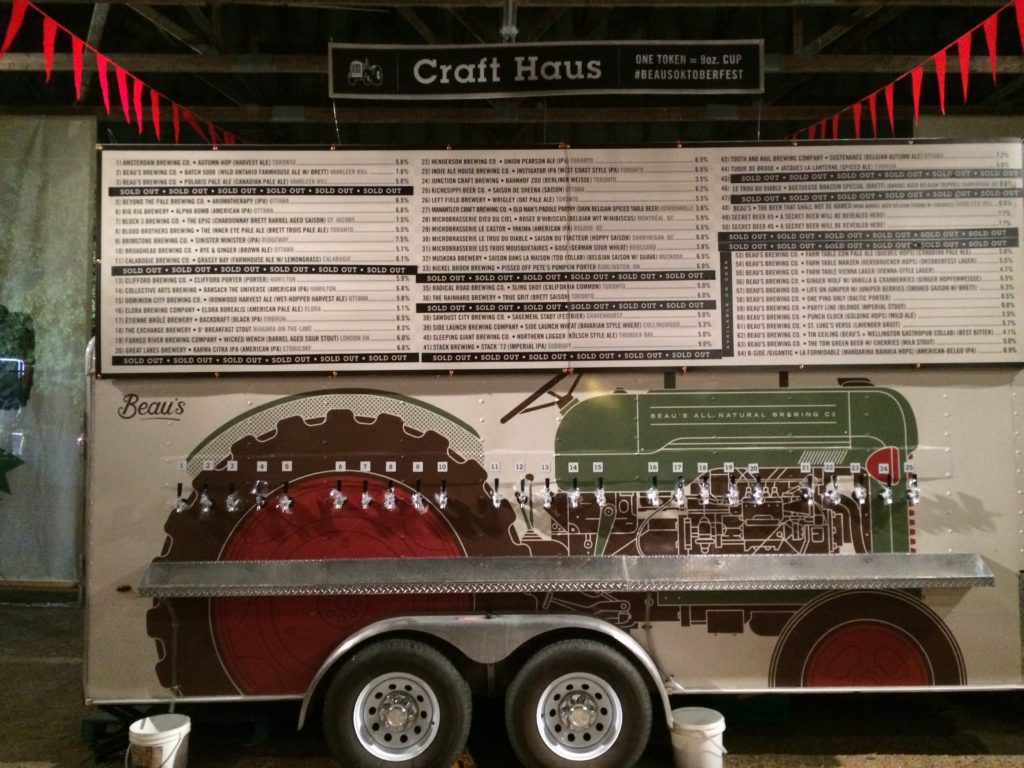 The Craft Haus
The Craft Haus is the very special tent beside the main stage where one can taste a plethora of delicious beers from many breweries. Beau's special releases at Oktoberfest are great, Life on Juniper is one of the tastiest beers I have ever tried, and available in the other beer tents, but there is just something so special about the choices and different flavour and finishes within the Craft Haus. One of the most interesting beers was Forked River Brewing Company's Wicked Wench which is a barrel aged sour stout. Order this beer if you ever really want to confuse your pallet. I could go on and one about all the really great beers I sampled in the Craft Haus, like Stack Brewing's Stack '72 an imperial IPA or Block 3 Brewing Co.'s The Epic, a chardonnay brett barrel aged saison, but instead of reading about it, just make sure not to miss out next year.
Camping
I encourage everyone, every year, to camp. I commend Beau's for coordinating shuttle services in hopes of eliminating anyone's urge to drink and drive, but I would much rather camp over night than have to cram into a yellow school bus with no washrooms all the way back to town. Not only do you not have to suffer through that bus ride, the party keeps on going as this year's camping featured late night movies (Beerfest and Strange Brew), popcorn and canteen open early and late. Camping is also a great way to meet people as it is a little less noisy and rambunctious as one the festival grounds. Now if only they could find a way to have the campground licensed…
Staff and volunbeers
I think I mention this every year, but everyone I interact with, from Beau's staff members to volunbeers, are so very nice and excited to be there. Whether it was coordinating media passes, participation in the team challenge, volunbeers serving me a drink or the ones walking around answering questions, everyone was just so positive and play an integral role in making Beau's Oktoberfest so wunderbar.
The Oktoberfest crowd
One thing that really impresses me is the behaviour of all those in attendance. When you consider that you have thousand of people displacing themselves in order to consume alcohol, I didn't witness a single fight or any sort of misbehaviour. It is very refreshing to attend an event of this nature and see so many people having a great time and not experiencing any real problems.