Spotlight Series: Black Squirrel Books & Espresso Bar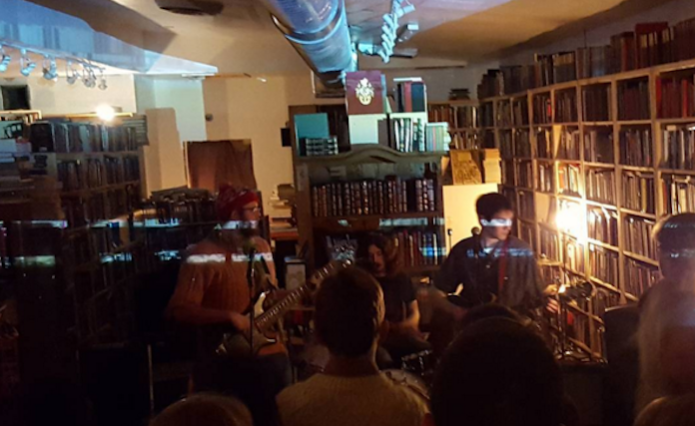 Some of the best things come unexpectedly, and grow to hold an importance you wouldn't have expected. That's how I feel about Black Squirrel Books and Espresso Bar, and I think the owners of the all-encompassing arts hub would agree with me. Started in 2011 by two recent graduates, the shop has gone from a few packed shelves to a two-floor, boundless collection of literature, as well as being one of the city's most treasured independent music venues.
I first came across Black Squirrel when it was nestled at Bank and Arlington Street, and wasn't much more than four walls. Nonetheless, it boasted an impressive collection of academic writing, as well as graphic novels, classic literature and modern non-fiction. This location was actually its second – Black Squirrel began as Bibliocracy in Chinatown, in what co-owner Vaughn MacDonald calls "the smallest, cheapest piece of real estate that we could find."
Evidently, the shop has gone through a number of changes, all which seemed to happen organically- one being its shift to a music and arts venue. MacDonald explains they started to host shows "here and there, by request by local bands." Over time they became more frequent, and the shop now hosts a few events each month, ranging from concerts of all genres to book signings and community art projects. The store also has work from local artists on display at all times. "We never really made any systematic effort to make it part of our business plan," says MacDonald. "It just sort of came our way. It's flattering to have someone want to play in your space."
Not long after its debut on Bank street, Black Squirrel's tiny space could no longer contain its expanding business. The store relocated, again, to an expansive location at Bank and Sunnyside, in the warm neighbourhood of Old Ottawa South. Soon after, the store's cafe extension was introduced, offering local coffee, tea, and baked goods (courtesy of Equator Coffee and Strawberry Blonde Bakery, among others). They also debuted a modest line of merch, including mugs and tote bags featuring the store's simple black and white logo – a sign of budding popularity and customer loyalty for the shop.
The increased space allowed for more comfortable concerts and provided more daytime seating for shoppers, creating a unique ambiance that no other local bookstore can claim. Vintage and antique furnishings snug between bookshelves provide a space that maintains the warmth of a used bookstore within the practicality of a coffee shop. Gary Franks, who overlooks the cafe, cites Ottawa's growing "coffee culture" as an important aspect he'll be tapping into as the shop's cafe continues to expand.
Black Squirrel's versatile model is a perfect example of the unique, multitasking venues appearing in Ottawa. Most are cafes (such as Cafe Alt, Bar Robo, Pressed, and Cafe Nostalgica), offering an inexpensive and approachable alternative for small bands. To Franks, a local musician, these low-pressure venues are necessary to support up-and-coming artists and to maintain growth in the local scene.
"A lot of bars stopped wanting live music," he says, attributing this to a preference for DJ performances instead. "The bands and artists have to look into other places. For a while, the popular thing was house shows, and then cafes saw the opening."
MacDonald agrees that the cafe-venue model in Ottawa has proven to be successful for both artists and venue owners. "Daily Grind proved you could do really small scale, intimate shows, and do it consistently," he says, "and that there was an unending reservoir of talent out there that you can fill it up with. I think if we're getting more and more small venues, that's a great thing. It's artistic supply and demand."
A crucial aspect of the new cafe-venue hybrid is the opportunity to provide all-ages show in a city that has a history of systematically excluding young audiences. Franks praises the more open approach small venues have taken by incorporating more all-ages shows: "Either having a [serving] licence or not, suddenly you had this birth of people who'd go see a show that didn't have to be at a house," he says. "Everything that would be happening at a conventional bar that anyone 18 and under couldnt go to." As well as create a space for wider audiences, all-age venues provide opportunities for young bands to play. "I've personally seen so many new bands that seem like kids to me, which is amazing," he says. "It's an intense energy."
MacDonald agrees that providing all-ages shows is an important element to Black Squirrel. "As a bookstore, we already appeal to people of all ages. Its great to be able to invite anyone to come to our shows… being able to welcome anyone. We'll always be all ages, which I think is key for opening up the city."
As a venue, Black Squirrel has already proven its versatility. While local artists and low-tech sets seem to be most common, the store has also brought in musicians from across the globe, varying in genre from punk to jazz. "We deal with all kinds of different music," says MacDonald. "We've been very lucky with the talent we've been able to draw."
For the future, growth is expected for all aspects of Black Squirrel. The store recently introduced the addition of a basement level, featuring thousands of more books varying in content. They've also secured a liquor license, an aspect they plan to expand on slowly, as they continue to curate both floors of the space in the future. "They'll be very different beasts," says MacDonald. "Upstairs will be targeted towards the cafe experience," with the basement providing a more "conventional" evening space. For now, the basement provides an extensive collection of literature in genres much more detailed than before, as well as additions to the store's graphic novels, comics, and French literature.
Black Squirrel's community involvement in the arts scene has also grown exponentially. The store supported Ottawa's Rock Camp for Girls, was a part of CityFolk's Marvest and Ottawa Explosion, and hopes to remain involved with other local events.
As a venue and supporter of local artists, they've provided an accessible space to promote one's work. Their growing clientele, which is mainly university students, are an important part of the equation. Not only are students purchasing books, they also sell them back to Black Squirrel, frequent their cafe space, and attend their concerts and art events. The shop has become a beneficial cycle for all; supporting the students and young adults of Ottawa, their favourite musicians, and the Black Squirrel team. The shop's south-central location has also helped to secure a wide customer demographic, with their extensive collection attracting fans of all genres of literature.  
Despite Black Squirrel's almost accidental success in the music scene, it is both well deserved for its owners and embraced by its customers. Its multifaceted, ever-growing business model is refreshing; providing a space that welcomes art in its many forms and remains genuinely independent in a corporate city. It's clear that Black Squirrel is a business that gives back to its customers, growing alongside its clientele and strengthening as a store, music venue, and community space. When asked about the future of Black Squirrel, MacDonald only proves this, saying: "We'd love to support a lot more local groups and foster talent, in any way possible. And get people reading more books."