The Great Hunt for The Arkells Pop-Up Secret Show hosted by CBCq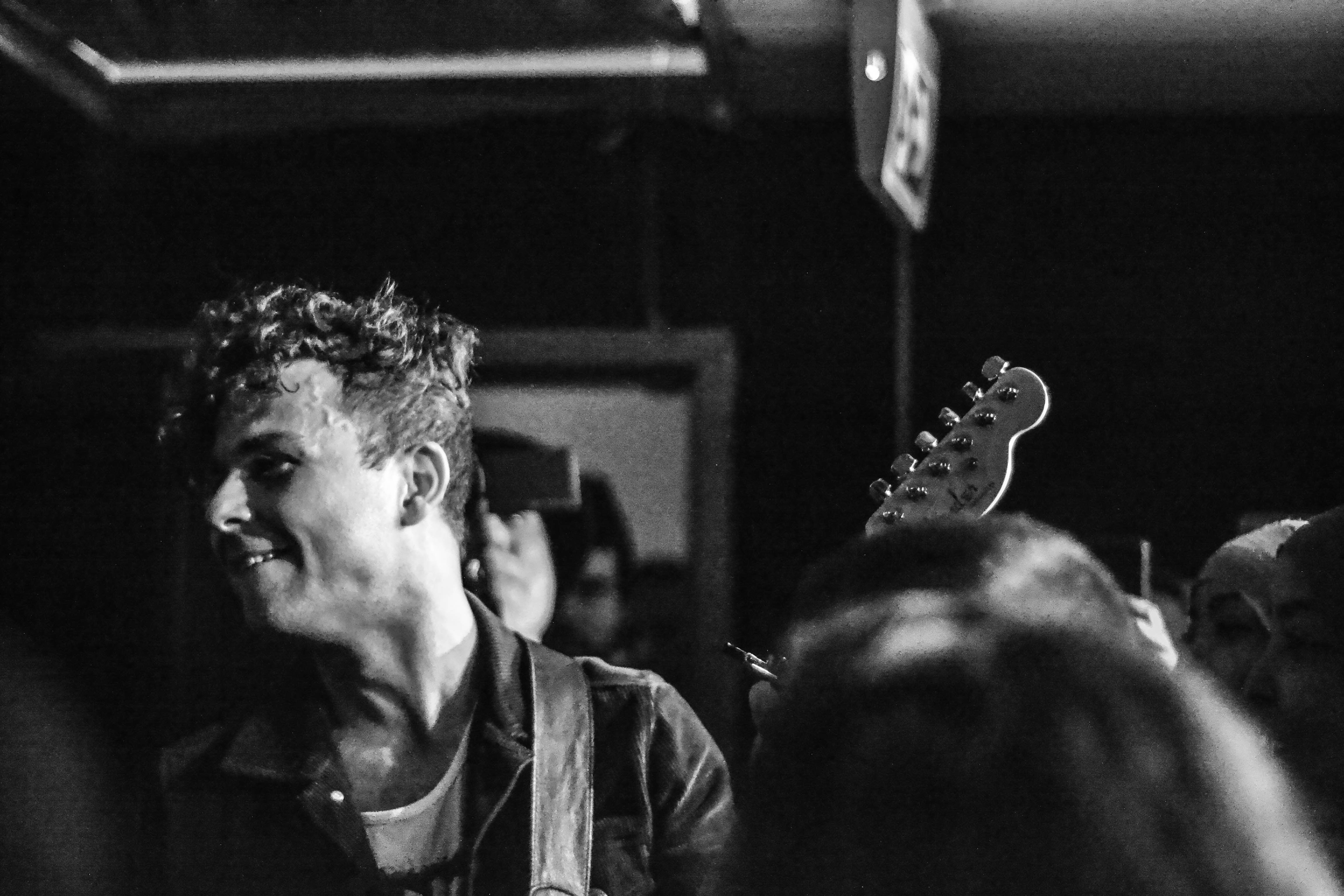 All photos by Els Durnford
Standing in the Westin picking up Juno Awards media passes, my phone buzzed. A screenshot from a friend of a tweet saying there was a pop-up Arkells show at a *secret* location, hosted by CBCq and Tom Power. What the hell is that, you ask? Pop-up show? Secret location? Challenge accepted. So, The Great Hunt for The Arkells Pop-Up Secret Show hosted by CBCq began.
---
As we left the hotel we made a plan. It was 1:30pm, the show was at 4pm. Start the clock.
1:32PM – We narrowed down possible venues for such an event in Ottawa. The tweet said that the first 50 people who emailed CBCq would get access to the show. We knew it would be small.
1:37PM – We hauled ass to the car, snow flying down everywhere, and decided first stop would be at the source. Off to CBC we went. Once we parked and found our way around the the entrance that actually let us in (harder than you'd think, there's like five doors to that place). The security guards were quick to stop us, we showed them the tweet and I'm pretty sure they thought we were off our rockers. Thankfully, one gentleman didn't think we were completely loony and offered to help us out by introducing us to the CBC host he was waiting to meet. Amazingly enough, the host he was waiting for also happened to be the moderator from the morning's panel discussion on Ottawa As A Music City. Though he also had no idea what we were talking about he was nice enough to wish us luck as we left on The Great Hunt for The Arkells Pop-Up Secret Show hosted by CBCq
2:05PM –  Next we tried to think logically. CBCq hosted an event at the Bronson Centre the day before. Perhaps they were holding all their gear there for the broadcast. So once again, off we went.  We got inside only to have the person behind the desk look at us like we have eight heads. This was becoming a theme. We thought this was a logical choice, but failed to consider the size of the Bronson Centre, and how it could fit many more than 50 people.
2:30PM – Though we didn't admit defeat, we decided that CBC probably knew a thing or two about keeping secrets. We carried on with our day.
3PM – Out for lunch where I ended up with a full pint of beer in my lap and ate perogies that would later nearly kill me (that's a story for another time).
3:45PM – *Phone buzz.* What's the line up outside LIVE on Elgin? We once again hauled ass to the car.
4:05PM – Late for the 4PM start time, we parked, j-walked and carefully knocked on the door of the venue. Security opens the door and quickly starts questioning. We got a quick no, and a door close.
4:07PM – Some parts of this story need to remain a mystery, right?
4:10PM – WE GOT IN! The Great Hunt for The Arkells Pop-Up Secret Show hosted by CBCq was a success!!! We quickly stripped off coats, rigged up cameras with lens, and flew like the wind towards the stage. Arkells were going full tilt, we started shooting. Max flew everywhere through the crowd. He was dancing, throwing his mic stand around, finally just took the glasses straight off my face. Insanity. Private School, Drakes Dad, Happy Birthday, Jackson Five.
4:50PM – Post show CBC Host Tom Power striked up a conversation with us. We hesitantly told him details of The Great Hunt for The Arkells Pop-Up Secret Show hosted by CBCq, unsure of the response we would receive. He got a laugh, seemed impressed, all was fine, the end.
4:55PM – Still losing our shit, we went on with our day. The rest of The Juno Awards awaited us, little did we know there was much more in store for the weekend. Check out the full photo gallery for more of what I got up to throughout Juno Weekend.
---
Join us next time as I tell the story about how I puke outside Petrocan before meeting another CBC radio host.
[Best_Wordpress_Gallery id="38″ gal_title="Juno secret Arkells show"]