Sam Coffey & the Iron Lungs, Saint Clare & Mushy Gushy at The Dom
Photos by Eric Scharf
Sam Coffey & the Iron Lungs headlined a great show at the Dominion Tavern Wednesday night which featured opening sets by locals Saint Clare and Mushy Gushy.
Sam took to the stage wearing his standard issue jean vest with Sam Coffey & the Iron Lung patch on the back over a a bedazzled jumpsuit, which I later learned was actually part of an Ace Frehley costume. The band is touring celebrating the release of their new self-titled album which they released after signing with Dine Alone Records.
They opened with two tracks off the excellent new record, "Ragnarock" and "Judy." I love the new stuff, I really do, but was very glad to see they didn't forget about their first album and the song that made me fall in love with them a few year ago, "Gates of Hell." The track is a kick-ass rock n' roll song with a sprinkle of old school, some claps and sing-a-longs, it is the near-perfect song.
Another highlight of their set was their song "Voicemail," which is about Ottawa's very own Gary Voicemail aka Ian Manhire of such great bands as The White Wires, The Sedatives, and more. If you have never seen these guys, shame on you. They are a great rock n' roll band through and through and even better guys.
Setting the stage and filling the stage was Saint Clare, a 7-piece band from Ottawa. The band has been making waves in Ottawa with their energetic live performance and great releases. They have such a dynamic horn section (sax and trombone) which adds so much to their music, especially on their 2016 single "Cheatin'." And I don't know about you guys, but I just love watching a trombone player strum along like a guitar when they aren't playing.
Taking the importance of the horns even further is their physical arrangement on stage, which had the brass right next to the singer/guitarist, one on each side, putting them at the forefront. I don't know if I've ever seen that anywhere else. The band as a whole is great and I love what they are doing, but I must say the brass really makes them stand out in the crowded rock n' roll world. There were definitely some new songs during their set so hopefully we will get something new soon to sink our ears into.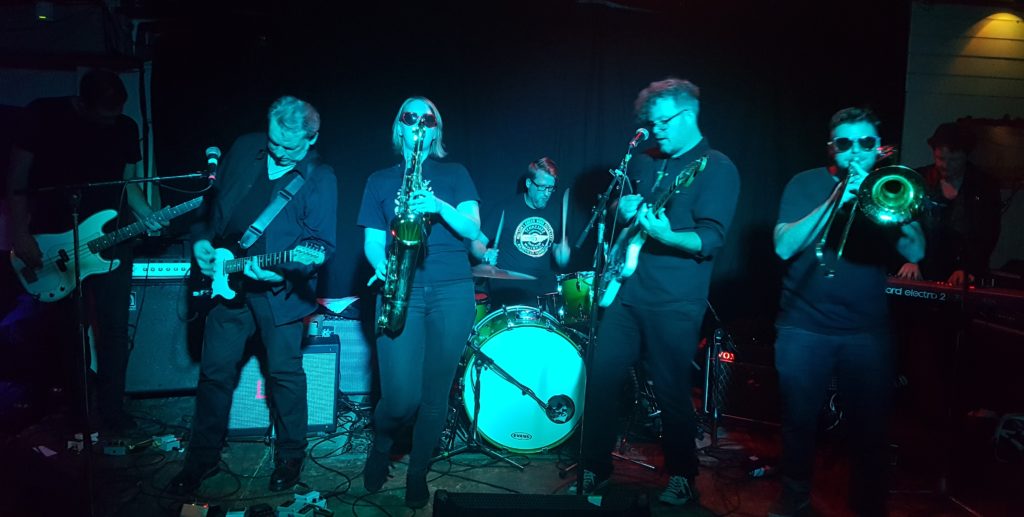 Opening the night was Mushy Gushy, a four-piece butt-rock band who are also from Ottawa. I'll never truly know what butt rock is but Mushy Gushy make you want to bob and dance on every track. I mean this as a compliment—they were the perfect opening band and got the energy pumping. They did not waste any time playing three songs straight without breaks to get everyone in the zone. They then took a very quick break to say who they were and plug their new tape called More Butter and then quickly got back to business playing the wicked track "Trap" off of said tape. Not a lot of talk and a lot of good rock is key when opening a show. Also it is hard to go wrong with songs named "Fucking Awesome" and "Bodybreak." Eat your heart out Joanne McLeod and Hal Johnson.