When you spend the day racing dragon boats up and down the Rideau Canal all weekend, it helps to know you can look forward to spending your nights listening to some fantastic live music.

Ottawa's Ice Dragon Boat Festival, part of the city's ongoing Winterlude festivities, held a pair of free concerts February 8th and 9th to help warm up the contestants after a long day out on the ice. With lineups like Jacquie Neville opening for Bedouin Soundclash on Friday and Jeremy Fisher opening for Dear Rouge on Saturday, it was easy to forget the frightful weather outside.

Jacquie Neville, former lead singer of Ottawa's very own alternative-trio The Balconies, is back with a new solo career just a little over a year after The Balconies played their final show. Neville may have taken a break from music for a while, but when you are as talented as she as at songwriting, it's only a matter of time before it pulls you back in.

Armed with only a guitar, a loop pedal, and her own voice, Neville took the stage first to help de-thaw the crowd Friday night. Neville may be on her own on stage now, but her voice has more than enough range and versatility to fill the stage and room all on its own. Neville finished her set with a double encore, including a performance of her new single "Lead the Way," a song that really lets her put that vocal range and power on full display.

If there is a theme to this review, it's how bone-chillingly cold it was outside of the venue, and if the goal of these concerts was to make people forget about the freezing conditions for even a little while, Bedouin Soundclash is one of the best choices I can think of. Play any single off of Street Gospels and tell me it doesn't start to feel like summer just a little. Nearly 12 years after that album was released, they sounded as good as I remember them.

Maybe it's because it's almost impossible not to dance to reggae-influenced music, maybe it was the trophies filled with Waterloo beer, or maybe it was the confidence of the very tall man in the turquoise polo who first started dancing, but after about the third or fourth song, the tired and passive crowd surged with energy and got on their feet and ready to dance.

If there is one major difference between Friday night and Saturday night, it would be the crowd's energy and size. Friday night began with a more relaxed lounge bar energy which fit Jacquie Neville's style perfectly, while on Saturday night before Jeremy Fisher had even taken the stage, every seat was filled, and standing room was sparse.

Sometimes, unfortunately, a crowd's energy is a bad match for a performer, and it feels like Jeremy Fisher suffered from a bit of that Saturday night. I don't completely blame Fisher, however, because for the people actually listening, he's a very entertaining and engaging performer. Fisher performed his own "Mother Truckin* Birthday" song (*edited because it's a family show) and even featured a guest harmonica solo from a random audience member that went so well I thought it might have been a trick-harmonica. The problem is Fisher's entire performance had to compete with a bar crowd that was far more interested in their own loud conversations.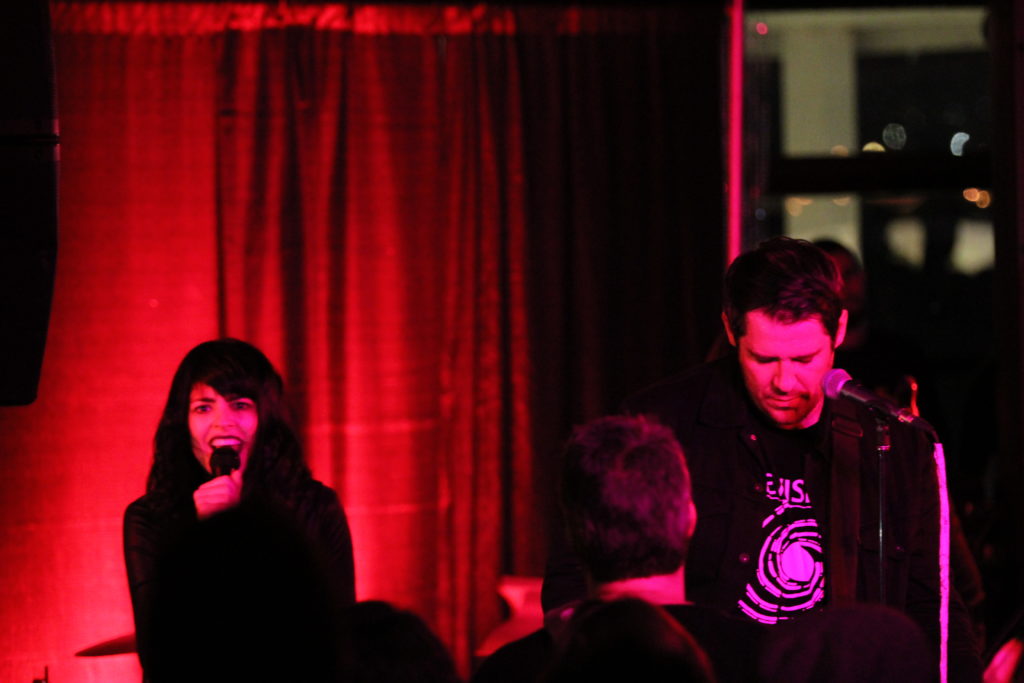 That kind of behavior wasn't going to fly when Dear Rouge took the stage, however. Theirs is a live show that demands your attention and full participation without even asking. Danielle McTaggart is an incredibly dynamic and charismatic performer and engages with her audience with incredible ease.

One cannot, however, overlook the chemistry Danielle, Drew, and the rest of the band share when you credit how good their live show is. Dear Rouge is what live rock music should sound— incredible vocals, heavy on the guitar, and heavy on the drums, a healthy serving of keyboard, and a dash of tambourine for flavour.
Gallery