The final day of 2019's Megaphono festival was packed with shows and panels all over town. My first stop was Vimy Brewing Company, an appropriately legion-esque building located in a semi-industrial block on the edge of Hintonburg. The lineup at Vimy was diverse, as was the crowd. Some afternoon brewery hoppers seemed confused and disoriented by the festivities, but some accepted the pay-what-you-can offer and enjoyed some live music with the rest of the crowd.
First up was Ottawa's Empty Nesters, the project of songwriter Eric Liao. This group has been around for a few years now, and I've always been a fan of Liao's music. His approach is simple, usually recording from his bedroom and keeping it lo-fi. But each release of his is a little different—he experiments with tones and structures, and the new album Tired and Bored is no exception. Their set included some new songs which the trio had down pat, and the reverb-laden swells burst through the crunchy, overdriven instrumentation. Liao's vocals tend to have a calming effect, and the smooth verses from him tied it all together during their set. The growing crowd took it all in and I wouldn't be surprised if Empty Nesters gained a few new fans from their strong showing.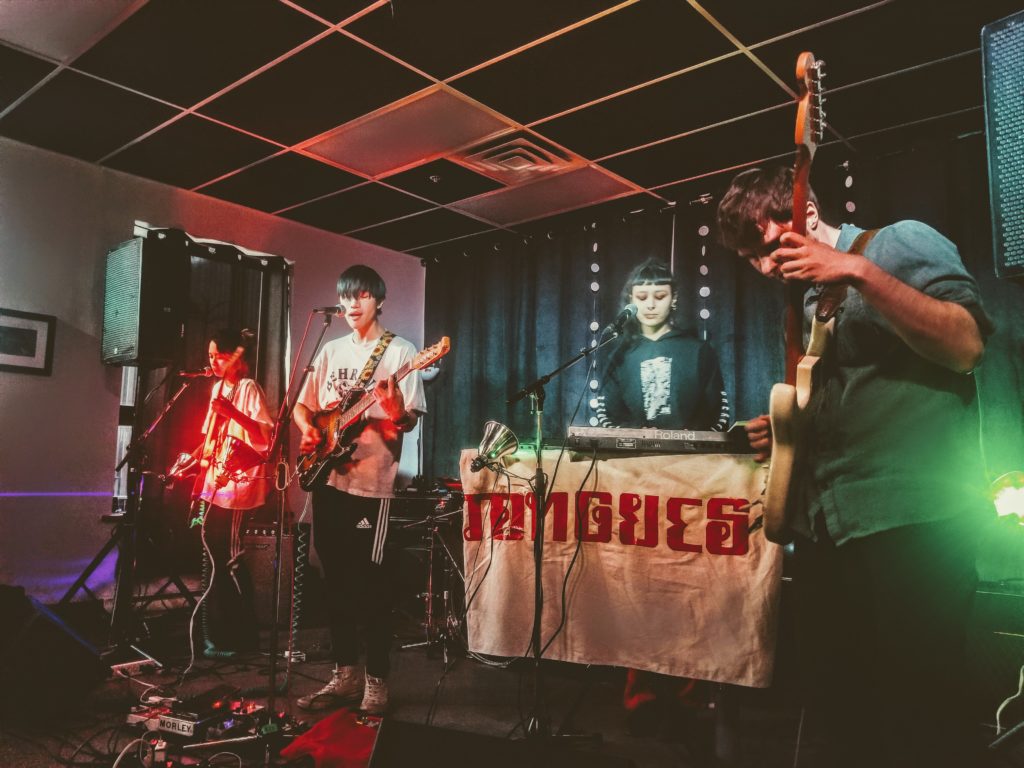 Next up was Toronto psych group Mother Tongues. Last week was a big one for the band, as it was announced that they'd be joining Buzz Records—one of the best labels in Canada (for my money). Having heard the news, I was excited to check out Mother Tongues for the first time.
Mother Tongues is a quintet that includes members of Hooded Fang, Luna Li and Mimico, and not surprisingly, have a pretty disparate sonic palette from which to work. Sometimes their style reminds me of Tame Impala, other times it reminds me of The Pixies or Black Lips. In any case, this group put their work on full display and had fun throughout their set. I was impressed with the precision and ease at which lead vocalist and guitarist Lukas Cheung executed his guitar parts. The group clearly has a chemistry, and their sound came together beautifully on stage. The band soared through mountainous peaks of energy, and then reeled it in lower to float through the valleys. Their set was one to remember, and it won't soon be forgotten.
Last up at Vimy was Toronto dream-pop outfit Tallies. Lead singer Sarah Cogan is originally from Ottawa, and I recall her talents as founding member of Thrifty Kids back in the day. Her presence on stage is undeniable, as she scoops up the crowd in her gaze and vocal prowess. The packed house at Vimy was transfixed as Cogan commanded the room, and she increasingly elevated the performance as the afternoon closed out. Dylan Franklin's jangly guitar work was precise and intricate, weaving notes over basslines and percussion with poise. Fans of Alvvays, The Smiths, MBV, or anything along those lines needs to keep an ear out for Tallies, because they're just getting started.
The group was in their comfort zone, and rode out the set with confidence. Tallies are a band to look out for in 2019, as their self-titled debut has been getting rave reviews. They're also planning on touring the US, UK, and Europe this year including SXSW, Focus Wales, among others.