Night Lovell's Raucous Hometown Show at Algonquin Commons Theatre
Photo by Kevin Daly – Algonquin Commons Theatre
The first thing I noticed when I arrived at the Algonquin Commons Theatre was that Night Lovell fans are incredibly fashionable. I felt underdressed standing next to teens draped in Balenciaga and Supreme. The second thing I noticed was that the energy in the lobby of the West-Ottawa venue was infectious. People trickled around the building, all waiting for the moment they would get to see Night Lovell, the 22 year-old born-and-bred Ottawa rapper who's bass-heavy music would shake the walls of this quaint college theatre in only a couple of hours.
Lovell first came into prominence around 2014, with the single "Dark Light." Though he had been producing for a few years under the name KLNV, providing cloudy production work for Memphis rapper Chris Travis, "Dark Light" was the first time he ever stepped up to a track vocally. Since then, he's released three albums (Concept Vague, Red Teenage Melody, Goodnight Lovell) and built up a dedicated fan base who identify with his music. Themes of loneliness and isolation pervade his discography. Vague references to mental health and feelings of alienation are placed delicately among truck-rattling 808 basslines. He's relatable, but more importantly, he's likeable.
Around 7:30, the doors opened. As we filed into the 800 seat theatre, a proverbial "who's who" of Spotify's Rap Caviar playlist boomed over the speakers. Fans filled the floor seating area, where the majority of the action would take place. Night Lovell shows are known for their chaotic energy, so it was only a matter of time before this venue would be turned into what can only be described as a basement punk show of scaled-up proportions.
The show opened with Vancouver rapper Illyminiachi, who's melodic trap vibes won over a significant portion of the crowd before the first song was even over. His energy was palpable, and his brash confidence was entertaining. His crowd control was also impressive. He spurred fans into mosh pits and successfully had the theatre lit up by cell phone flashlights by the end of his set.
Following Illyminiachi was Toronto rapper Lil Darklord. Darklord served as a bit of a juxtaposition to Illy's turned-up sensibilities. The sound was more menacing, the stage presence more subdued. He sauntered around like Jason Voorhees of Friday the 13th, as slow bangers like "Power" enchanted the crowd into a sway. At certain points, he failed to captivate the crowd the same way that Illyminiachi did. His experimental style was certainly more interesting, in some regards, but it didn't make for as compelling of a performance.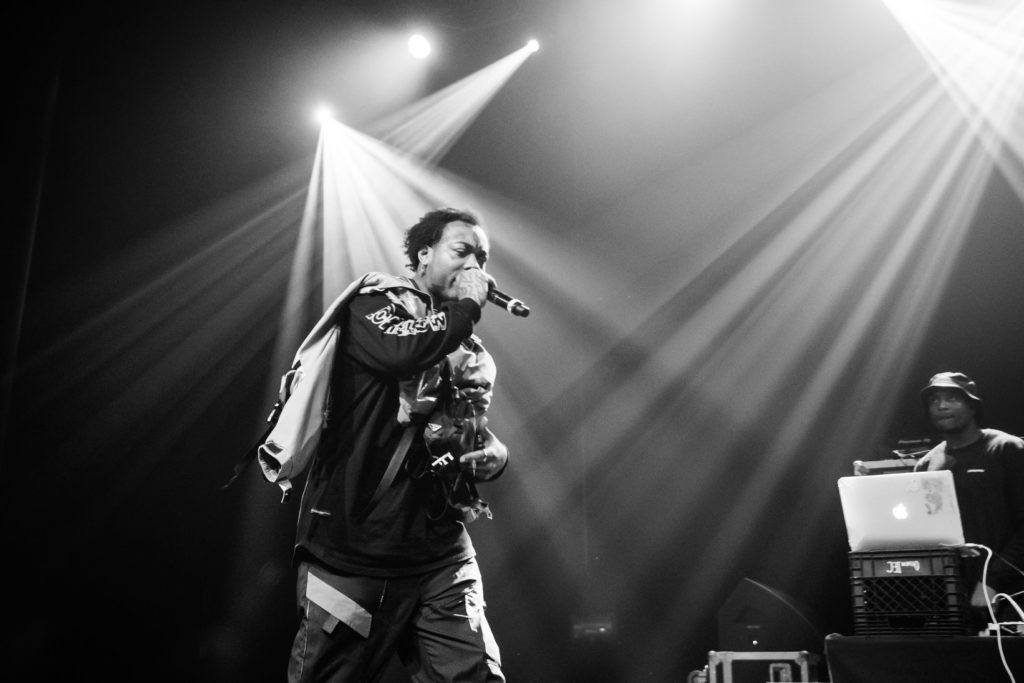 As Lovell's arrival became imminent, the tension in the theatre began to grow. Fans milled in and out of the room excitedly. Some got kicked out for hopping the barrier between the floor and the seated sections. By 9:30 PM chants of "613! 613! 613!" began to permeate. "It's lit" and its derivatives were used incessantly. The hype continued further when Lovell's longtime DJ Shaq France took the stage to hype the crowd up with some music, capturing the attention of the audience with Soundcloud rap mainstays from Lil Pump and 6ix9ine.
Just as Shaq finished out his set, "Mary Jane," the opening track from Night Lovell's latest album Goodnight Lovell began to play out over the speakers. Lovell took the stage. Adorned in a North Face vest, a do-rag, and baggy cargo pants, he looked like a G-Unit member who went on to become a nu-metal vocalist. It sounds crazy, but he makes it work.
The songs were excellently paced, as Lovell transitioned from surging power-trap bangers like "I'm Okay" and "Contraband" to shadowy slow jams like "Dark Light" and "Where's My Money", the audience moved right along with him. "Bad Kid", a faster cut from "Goodnight Lovell", was a surprising fan favourite. He even went as far as to play it twice, returning to the track near the end of his set – a move that is always appreciated when it works. For the duration of his set, he had the crowd in the palm of his hand. If he said "jump", they said "how high". At one point, Lovell ventured into the crowd, walking confidently into the seated section. He climbed on top of a barrier and the crowd immediately rushed to him, hands outstretched, hoping for a single moment of connection. The rapper towered over his fans, like a devilish pastor whipping his congregation into a frenzy.
Tracks from all three of his albums peppered the setlist, as well as collaborations with South Florida's $uicideBoy$ and Pouya. About two thirds of the way through the show, Lovell told the audience to yell out which song they wanted to hear next. "Contraband", an uptempo track from 2016's Red Teenage Melody was heard loudly over all other requests. The song leaked out from the speakers and the crowd immediately went wild. The fan favourites were clearly defined, but Lovell can command a room no matter what song he's playing. One minute he's launching the crowd into chaotic mosh pits, and the next he's slowing things down while fans rap along to "Jamie's Sin." He's an example of an artist whose live show is just as impressive as their recorded work.

One of the most integral aspects of Night Lovell's music and performance is his love for the city of Ottawa. The rapper has "1855" emblazoned in a tattoo across his chest, serving as a reference to the year the city was first incorporated. This love for his hometown was entrenched in his performance, with Lovell stopping the show every so often to emphasize how excited he was to be performing to a large crowd in the city where he grew up.
The show's most memorable moment came near the end. A fight broke out in the pit, and Lovell quickly stopped the music. "Ay, yo! Ain't no fighting in this bitch," he called out as the fight continued, despite the best efforts of security. Just as the instigator was about to be thrown out, Lovell asked security to let him stay. "You two: Here's what's gonna happen," he said. The crowd was tensely silent. "You're gonna shake each others hands and have a good time."
In a way, a wholesome moment amongst a night of brooding trap music sort of represents what Night Lovell is all about. He wraps himself up in dark shadows and etches his voice into harrowing beats, but what shines through is a type of earnestness that can only come from a kid who grew up in a government town – a humility that allows a young artist to travel the world and still have a heart only for home.