Voodoo Glow Skulls show Ottawa what ska legends are made of
The Voodoo Glow Skulls showed us all that even after 27 years, they still have what it takes to make people dance and mosh a Saturday night away.
The kings of ska-core from Riverside, California took to the stage led by singer Frank Casillas rocking a luchador wrestling mask and a ton of energy from a band nearing almost the three decade mark. They got people moving and singing right away starting off with "Insubordination," setting the tone for the night. Their fast paced brand punk riffs and beats topped off with blasting brass section and energetic leader Casillas is so great to witness live. The pit was never dull as it ebbed and flowed from moshing to thrashing to circle pits to a skanking dance party.
I was beyond delighted to hear them play older tracks like "El Co Cool" and "Drunk Tank." Another interesting aspect of the Glow Skulls is that they sing in Spanish. It was great that they didn't keep shy away from their heritage, and in some cases their mother tongue, and played their Spanish songs. As the set ended the crowd chanted "Voodoo Fuck You," lyrics from the song "Voodoo Anthem," non-stop to get a band back on stage for an encore. They did return and did not disappoint, closing out with the always entertaining "Fat Randy," which has a little bit of everything for all types of ska lovers.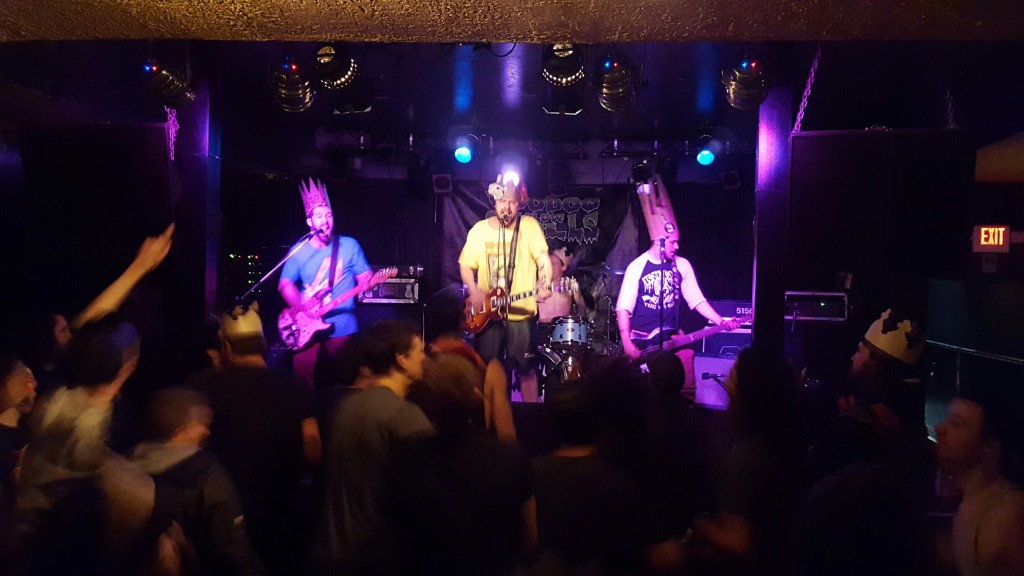 Before Voodoo cast their spell on us, we were in the court of The Cardboard Crowns. The local area favourites were clearly among friends considering the amount of attendees rocking crowns of their own. These boys really know how to have a great time and always look like they are having a blast. They may not have the brass of typical ska bands, but don't discount them or count them out of the ska family. They mix in elements of ska, reggae, punk and folk into a high energy sound and performance. And as much fun as they have, they do not fear covering important issues of facing the planet such as the environment, political participation, and global citizenship.
The band played a great mix of tracks off their debut album and their new recently released album Hold On, covered MGMT's "Kids," and played songs in both English and French. I loved when the lead singer Joel said, "Nous autres on parles en Franglais, so dirty." One thing that has grown to be one of my favourite parts of a Cardboard Crowns show is their awesome punk ska rendition of the old school Robin Hood theme song. The band was joined by the brass ensemble of  Late Night Munchies, the opening band I unfortunately missed, to add some extra pizazz to the Crowns' hit "Global Citizen." I am certainly not alone when I say what a great addition the horns were to the Crowns.
The first band I saw on Saturday was Les Conards à l'Orange from Sherbrooke, QC. Les Conards sang their entire set in French and it was great to see some most excellent French ska for the first time. I truly enjoyed their set and would certainly see them again. Their lead singer was full of charisma and cracking jokes, even if many of the people in attendance may not understand what he was saying. A prime example of this was when he took the time to introduce the band, and introduced every member as Gill Côté. Two songs from their set really stuck with me, "Ah! Si nous étions tous des vedettes!" and "Le Numéro de ta sœur."
The super fun night featured songs in three different languages (English, French and Spanish), almost thirty years of history and singing, dancing and loving the wonderful variety of ska. Big shutout to Rude Mekanicals Productions for organizing their first show outside of Quebec.