Bluesfest Day 3: Preoccupations, Earl Sweatshirt, Tor Miller, & Yusso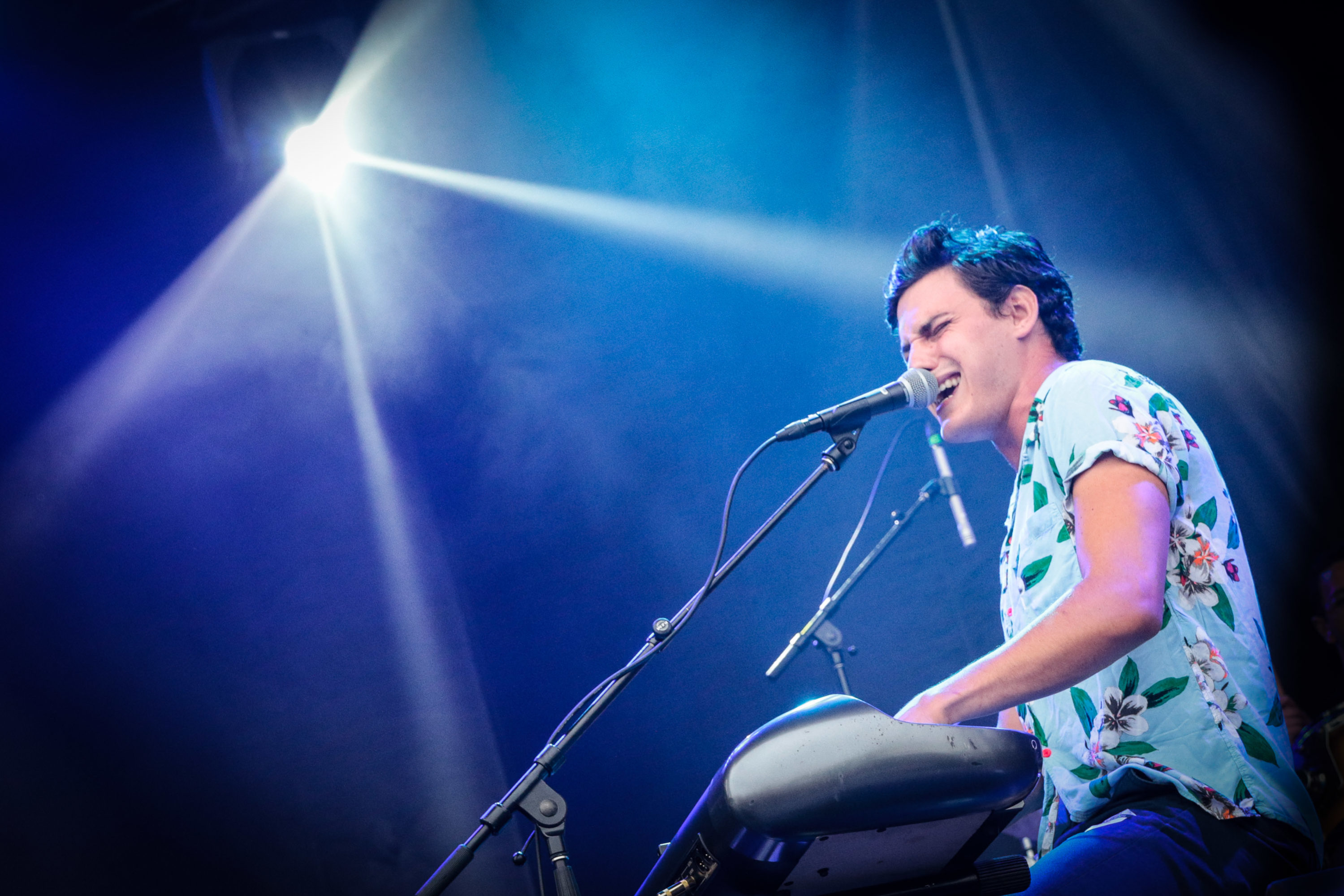 Though the rain clouds held out for the earlier days of Bluesfest, they decided to let it pour on Day 3. While the weather dampened the crowds at various points in the evening, the gaps in a surprisingly sparse Bluesfest
Saturday
certainly didn't help. That said, there were highlights to be had with some patience and a poncho.
---
Yusso
Ottawa's
Yusso
hit the stage with subwoofers tuned so loud that you could see the pools of water above them vibrating in the air. And that's a good thing. The young crowd looking for a lit show was bouncing to the production, while Yusso's star power was on full display. His flow over production with trap elements sounded like Shad crossed with Jazz Cartier. With shout outs to Gatineau and Heatherington, Yusso's a local act who got a spot on stage at only his second Bluesfest (after watching Kanye last year). With that kind of growth, who knows what next year will bring?
Tor Miller
I hadn't heard much from New York's
Tor Miller
before he and his band took the stage, but it was clear from the get-go that he's a man on a mission. Picture Hozier-like passion paired with a baby faced charm (a la Dave Franco) and you'll understand why the crowd steadily grew as the set went on. Highlights like "Baby Blue" and "Carter & Cash" showcased a smooth indie pop sound that is bound to find a home on the charts if the stars align.
Earl Sweatshirt
My previous experiences watching
Earl Sweatshirt
(aka Earl) did not give me a huge sense of anticipation. His deadpan flow is a welcome contrast to Odd Future's theatrics but it doesn't seem to mesh well with large stages. And that's a shame. Most would argue that he's the best lyricist of the Odd Future collective. Despite a crowd chock-full of sweatshirts that literally said "Sweatshirt," my fears were realized. It felt like something was missing the entire set. Perhaps it's the style of production, perhaps it's his energy (or lack thereof), or perhaps his album title "I don't like shit, I don't go outside" is accurate. I like his music enough to keep trying, but I'll be aiming for intimate venues from now on.
Preoccupations
Preoccupations took the Blacksheep Stage to end the night in front of a small, soaked crowd that was continuing to get rained on. No one seemed to notice as their blistering form of post-punk took over. Their set included a few songs off their upcoming
September 16th
self-titled release and their Polaris-shortlisted debut's hits sounded even better live. "Continental Shelf" inspired a polite Ottawa mosh-pit, "March of Progress" slow build redefined foreplay and their closer of "Death" was an explosion of energy that felt unstoppable, even when guitarist Daniel Christiansen had to switch to a keyboard due to technical difficulties. Despite the ominous melodies and themes, the invigorated crowd left looking more alive than at any other point of the night.