Review: Basia Bulat at CityFolk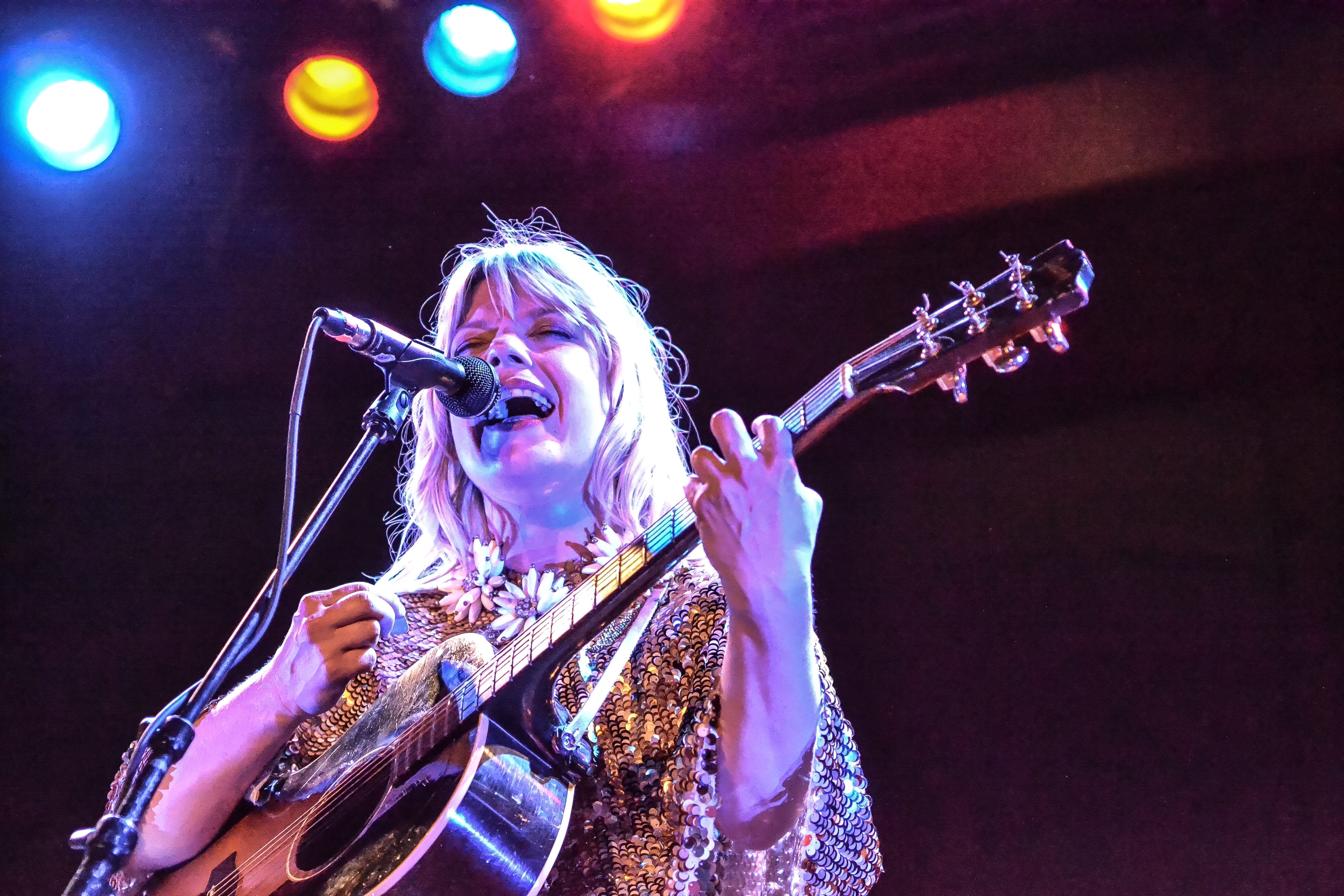 Photo of Basia Bulat in NYC earlier this year by Elizabeth Durnford (Ottawa Showbox)
As I sat looking out at the grey, wet and cold Glebe, I considered just staying in the car and driving home.  My Saturday had not been going as planned, and the idea of standing out in the rain for a few hours at a festival was pretty close to the bottom of the list of things I wanted to do. Basia's latest album, Good Advice, was playing as I watched the rain hit the windshield and I knew that my Saturday would probably only get worse if added the regret of missing Basia Bulat, so I shut off the engine, threw up my hood and stepped out in to the rain.
I got to the main grounds area to be greeted by a sea of ponchos and umbrellas. People had been there for the long-haul of the day, seeing The New Pornographer's set that preceded Basia, leaving the stage with high energy and smiles. I was ready.
This wasn't the first time I had seen Basia live. My first experience was seeing her opening at the Bronson Centre in 2014. She stole the entire show for me, rocking the autoharp and charango, and I've followed her ever since. My most recent encounter with her was when I had the chance to see her do her birthday show at the Bowery Ballroom in New York. The combination of rain and CityFolk policy made it so I wasn't able to take in more then my phone for a camera. So I've included pictures from that show, because her majestic AF stage presence needs to be recognized and appreciated.
Basia has a combination of detailed lyrics, unique instruments, which set her out from other musicians, and of course, that stage presence that warmed up the freezing and soaked crowd. Putting herself on the very edge of the stage just so she could be with us in the pouring rain, she was appreciative of the crowd sticking around, checking in and thanking us multiple times.  She sadly left the charango and auto harp out of this set, and one can only assume it was because fear of water damage, which is fair. Regardless, her set was unreal and everyone was more then happy to stand in the rain to hear her.
I've been describing the show as a musical cleanse. Basia's sound and lyrics, mixed with the downpours that happened throughout the set, combined with the fact that I ended up going solo, meant that the set hit the soul, and man did it feel good.
Basia Bulat is on the short list for the Polaris Prize that is being announced tomorrow (Monday Sept 19th) in Toronto. As well she hinted that she would be back to play Ottawa at the National Arts Centre next year, though no set date could be found in my research. More to come on both of these items as things get announced.