Mushy Gushy, No Aloha, & Casa Lagarto at Black Squirrel
Last weekend was stacked with good shows. No matter what I chose to do there was an equally solid show happening elsewhere. One of the options was Mushy Gushy, No Aloha, and Casa Lagarto at Black Squirrel—and there are no regrets.
The night started off with friends hugging and smiles abound. It's always nice to see a lineup where the bands know each other or have worked together in the past. The weather was warm and soggy, but the sky was clear and folks began to trickle in as local garage-psyche marvels Casa Lagarto took the stage.
Casa Lagarto is a mashup of well-seasoned artists in the community, including Jonny Yuma (formerly of The Yips), Arturo Portocarrero (Lost To The River), Grant McNeil (Tropical Country), Jason Barkhouse (Black Lab Studios), and Jonathan Pearce (Winchester Warm/Mushy Gushy) filling in for Travis Kinnear who just recently celebrated the birth of his first daughter. Their set was tight and their arrangements came through crisply into our ears.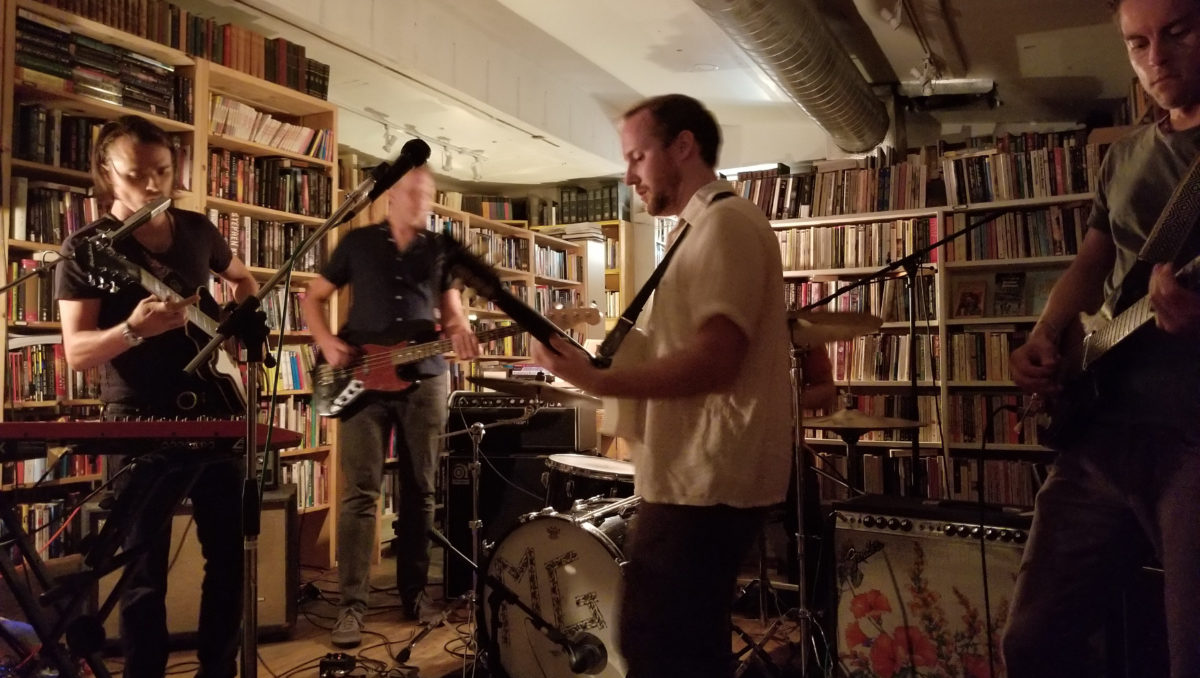 I've said it before and I'll say it again—Casa Lagarto's music could be the soundtrack to a Hunter S. Thompson novel. I mean that in the best way possible. I feel like their music would fit perfectly into an acid trip on a desert highway in Nevada somewhere. Casa's sound is clearly influenced by psych and rockabilly, taking elements from various styles and making them their own. Johnny Yuma's low, brooding vocals enthralled the audience and his exquisite clean guitar tone could give you goosebumps. Jon Pearce filled in perfectly, and somehow knew the songs like the back of his hand. Some key tracks they played were "Lights Out" and "Scarecrow," and I highly recommend you go dive deep into Casa's albums on Bandcamp. The group layered their sound well in the live setting, using the intimacy of the bookstore to enhance their individual instruments to create a warm and rich atmosphere for us all to enjoy the show.
Next on deck was No Aloha, a summer-friendly garage rock group from Montreal that has some loving fans here in Ottawa. As an aside, we presented No Aloha at Mugshots back in 2015 along with Bonnie Doon and Nightshades and it still remains one of the funnest shows we've ever done to date. They are fresh off the release of their new EP Cigarettes for Optimists and rocked the house at Black Squirrel.
This group may seem like a bunch of slacker rock dudes, with their long hair and rarely-groomed faces. However, they're anything but. This band is well-rehearsed and have a chemistry that is instantly noticeable when they hit the stage and start playing together. With flying guitar riffs, impactful percussion, and Ben Griffiths' smooth vocals, this group injected some energy into the room. They dug into their impressive  catalogue from the past few years throughout the set and pleased the audience and got some bodies moving. Black Squirrel is a versatile venue for all kinds of shows, and the place was perfect for the diverse sounds of this lineup. Lets hope these dudes come back to Ottawa soon, because they're a party.
Last up was Mushy Gushy, an Ottawa "butt-rock" band that takes a fun spin on rock and roll. While it's hard to imagine these guys ever not having fun, this night was bittersweet. Kyle Woods, the original drummer and founding member of the band has recently moved to Toronto and got a job there (congrats to him!). But the show must go on. Thus, this show was to be his last as he moves on to new journeys. While this kind of mutual parting is difficult for friends and band mates, it was clear that the sweet outweighed the bitter. Kyle was radiating smiles and hugs, and obviously this was to be a memorable night for him and the band as they decidedly wanted to end his tenure with a bang.
Mushy Gushy consists of more music scene veterans here in Ottawa—bassist Jon Pearce (Winchester Warm), drummer Kyle Woods (fmr. Kalle Mattson), guitarist Cory Lefebvre (fmr. Baberaham Lincoln), and vocalist Dave Gervais (fmr. The Gallop). But more than anything, this group of buds just wants to have fun, and that is evident in their compositions. They don't take themselves too seriously, and that's refreshing.
The 'Gush have released two excellent EPs so far since coming together in 2016—Tight Snake and More Butter. I just can't wait to hear what their third release will be called with titles like that. We presented their tape release party at Bar Robo a few years back, and let me tell you—it was a time. Kyle carried the whole set through, and he played the drums more fervent than ever. His rhythm was flawless and his beard was flying to-and-fro to the uptempo rock and roll his group performs. Cory's fluttering guitar riffs flew over Jon's steady bass lines as the tracks kept the crowd energized and engaged. They had the crowd singing the irresistible catchy "Oh Oh Ohs" in "Heartbreak Motel" and had booties shaking during "Summer Lusting." Closer to the end of their set they played their most well-known jam, "Schemestress," at which point the night hit its climax. The song is a feel-good summer tune, and the hook will grab you and hold on tight. David Gervais' songwriting is on point, and his vocals add the finishing touch to their part pop, part-garage rock sound with just enough catchiness and grit to go around. All in all, it was a night of good vibes and good memories were made.