Ottawa Explosion: Day 4 — June 20
All watermarked photos by Stephen McGill Photography
If there was one day that Ottawa Explosion Weekend really kicked into high gear this year, it was Saturday, June 20. The weather cooperated for most of the weekend, minus a pretty heavy rainfall on Friday. But Saturday dawned on us with clear blue skies, a nice breeze, and huge Explosion lineup happening all day and night. What more could you ask for?
I arrived a little late in order to sleep in and catch up on real life obligations, like dishes and tidying up the ol' apartment. Once the battery recharge was complete, I caught most of Earth Girls' set at Club SAW. Earth Girls are a garage/power pop band from Chicago, one of many excellent bands that made the trip to Ottawa from the Windy City. I've always heard of how good the punk community and music scene are in Chicago, and the bands that played OXW really illustrated this fact. One of the most exciting parts of a festival like this is that as a concert-goer, you aren't expected to know all bands or all the songs. Earth Girls were new to me, but I was locked in right away once I heard them start playing. They had straight-forward, fast and fuzzy instrumentation reminiscent of '70s garage and punk bands mixed with the '90s alt-rock influenced clean melodies of singer Liz Panella. I could hear those melodies from the parking lot and they drew me right in.
Once Earth Girls finished up, it was time for Nato Coles & the Blue Diamond Band in the SAW courtyard. Right away he expressed appreciation for being at the festival, one stop on their North American tour all the way from their hometown of Minneapolis – the hometown of greats such as Prince and The Replacements. It's so nice to see a band be so positive and amped to be on tour, the whole crowd could feel Coles' energy and enthusiasm. That energy translated into some excellent punk rock blaring out of the PA, with the crowd moving more and more as the set went on. Although the band has been around since 2010, they played with the same pep in their step as if it were the band's first time on the road. As the sun beat down on the courtyard mid-set, Nato Coles said, "This is way too hot for Canada — so I'm going to cool you down," and launched into another tune.
His music reminded me of Bruce Springsteen's approach to songwriting — deep storytelling, anthemic arrangements, and songs that hit you right in the heart. It's the kind of music that drew me into The Gaslight Anthem back in the day, and it happened all over again with Nato Coles. One of my favourite tracks was "Rudes & Cheats", one that many people in the crowd sang along with. The band ended the set with the first song called "See Some Lights" on their latest album Promises To Deliver.
Another great thing about festivals like Explosion is that you meet some pretty interesting folks. I went out to the sidewalk where a few of my friends were smoking and saw that they were talking to a guy I had never seen around Ottawa before. Well, there's a perfectly good explanation for that. He was from Manchester, England, and had flown all the way to Ottawa just to come to Ottawa Explosion. He explained that he was at the original Gaga Weekend back in '08 and that it was one of the best things he had been to in a long time. Pretty neat to hear someone outside the scene be so stoked to come all the way to Ottawa for this!
Up next in the SAW courtyard was what I consider the highlight of Ottawa Explosion for me. The Underground Railroad to Candyland is a band that hails from L.A., and founded by Todd Congelliere who also happens to be a member of Toys That Kill (another great band that played OXW that I, unfortunately, missed). Congelliere has been around since the late '80s, playing in various projects including F.Y.P. (a previous incarnation of Toys That Kill), and is the founder of Recess Records with whom URTC resides. It all started with me seeing a guy walking down the street in a tiger costume. I figured that it must have been a fan of New Swears who played later on, since those guys always have something up their sleeve. But no, that was not the case. URTC got up on stage, one member wearing the aforementioned tiger costume, another in a shark onesie, and another wearing a superwoman-style Canadian flag as a cape. Did I mention that Congelliere was wearing a sweet Chippendales shirt? The blistering heat outside was cooking us, I don't quite know how they managed to pull off such a great set with all that attire.
URTC is unlike band I've ever heard. Part punk, part jangle pop, part melodic rock — but all party. Their latest release is The People Are Home, from what I could tell, the latest release from the band and tour LP. They played some songs such as "Yer Not the Only One" from that album, but mostly played tracks from their 2014 LP Bird Roughs. Songs like "Square Ball", "No Way! Miss U.S.A.!", and ending perfectly with "Body of the Bird". The band even had three drummers going at times, making their songs really powerful and unforgettable. So many in the crowd were singing along, and even OXW organizer Emmanuel Sayer jumped in and took a break from his duties to raise a fist and let loose with the band. What a perfect segue into the ultimate party punks, New Swears.
New Swears need little introduction here in Ottawa. They are an all-out good time in any situation, but especially when they're given instruments to play and a rambunctious crowd to play for. Scru Bar, Sammy Scorpian, Beej Eh, and Nick NoFun don't hold back when performing, and always have something up their sleeve to make each of their sets unique and memorable. Last time at the Warehouse Party presented by Arboretum Festival, they doused the crowd in silly string (a common occurrence) and made a body bridge for Beej Eh to play on. Sometimes there are no pants. Sometimes there is whipped cream or shaving cream. Sometimes they are dressed up in white plastic bags with blow up toys thrown out into the crowd (OXW 2013 – see here). Needless to say, there is very little that this band won't do  – and that's why we love them.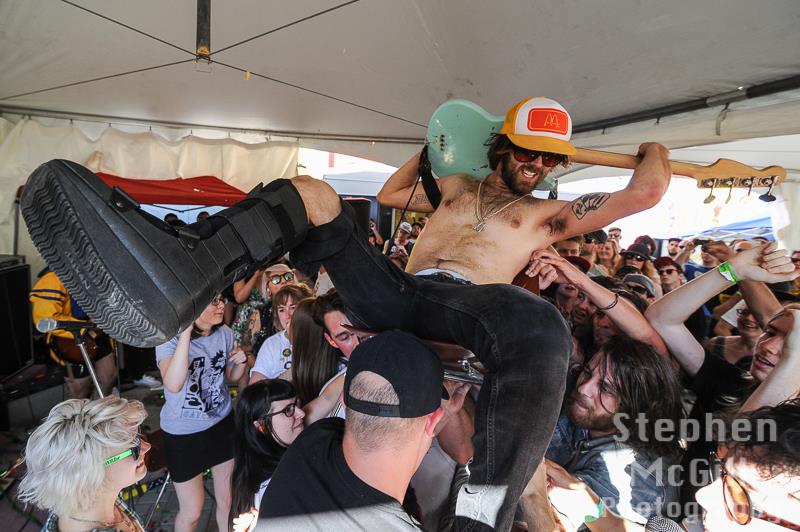 This time around, it included one of their close friends dressed up as a cop on his upper body and as a baby on his lower body. Or, should I say, a guy dressed up as a cop wearing diapers. Because why not? Most of us wouldn't do that if you paid us, however he did it just in the spirit of New Swears fun. That's dedication. New Swears played the usual hits which of course made the crowd go feral. Bodies went flying, crowd surfers dove into the sea of sweaty bodies, and one brave individual even crowd skated (see featured photo up top). Yes, she stayed up on a skateboard while being held up by multiple people in the crowd and stayed there for a couple minutes. Everyone couldn't help but smile and look at each other in awe. Even more incredible was the fact that Sammy Scorpian jumped out into the crowd while sitting on a chair with a broken foot. In all fairness, that brace looks pretty impenetrable, so he didn't seem to worried about his own well-being. Just another New Swears show. The band played some classics such as "Rather Be Dead" and "See You In Hull" off their 2013 LP Funny Isn't Real, as well as some newer tunes such as "No Fun" and "Stay Gold" off of last year's Junkfood Forever, Bedtime Whatever. They also had a "Summer of '69" and Billy Talent interlude, which was random and fun.
Next up was a secret band, and rumours were cycling that the ultimate Ottawa punk supergroup Sedatives (R.I.P.) were going to play a set. This is a band that existed from 2008-2012, with members Ian Manhire (White Wires/Voicemail), Emmanuel Sayer (Crusades), Steve Adamyk (SAB), and Dave Monomania (Crusades/Black Tower). Alas, our hopes were dashed as another band Statues hit the stage, but everyone was really excited about them. Unfortunately I missed out because my brother called from Vancouver. I heard from many people that they had a really solid set. Sorry Statues!
I hung up just in time to catch Big Dick's set out in the SAW courtyard. Big Dick are a two-piece bass and drum band from Ottawa that absolutely shred, bursting eardrums every time they play. Singer and bassist Johnny O was right on point with his vocals, having dusted any imperfections in the performance of their newer songs from their latest LP Disappointment. They were well-rehearsed, and much stronger than the last couple of times I had seen them. Drummer Dave Sec had veins popping out of his forehead and neck, giving everything he had during the set. Their vocal harmonies sounded great and the sound was right on. Some memorable tunes were "Medic" and "Let Down", and they showed any newcomers to the band's live performance exactly why they have garnered such positive attention over the years.
Cincinnati fuzzy punk rockers Vacation were next on the bill, and although I had heard of them before, I wasn't very familiar with their music. They definitely lived up to the hype. The energy that the band exuded was incredible, particularly for a three-piece. My favourite song they played was "Horny Politicians", a fitting title for a government town. Although I'm not entirely convinced that they make the best of friends. But who knows? Vacation's short and punchy songs made their set feel like it went by really fast, but they fit quite a few songs in there. Since Explosion, I've listened to their album Candy Waves a few times and highly recommend it to anyone into fuzzy garage punk – it's a must-have.
I ventured over to the Mugshots courtyard for the first time all day after Vacation, as Halifax post-punk/psych rockers Moon were getting set to play. My friend Briggins of Mixtape Magazine, who was visiting Ottawa from Halifax, said that this was a must-see band and one of his favourites out east at the moment. I couldn't pass that up. Right away, Moon differentiated themselves from all other acts of Explosion. Their ethereal and atmospheric sound was tempered by mathy, somewhat disjointed guitar riffs and bass lines, a combination that worked really well. I came into their show not knowing what to expect or without any idea what they were like. There wasn't a song they played that I didn't love. Even with a few members missing and being replaced by friends, the band was incredibly tight and sounded great. The courtyard stone walls and dark surroundings offered a perfect feel for the music that Moon played. There was also a steady dose of melodic vocals and instrumentals, mixing it up and keeping the crowd guessing. To me, a band that can show how talented they are without staying within the confines of one genre or "sound" is the most exciting to watch and listen to. Moon even covered two completely different songs – "Big Me" by Foo Fighters and the classic "In Between Days" by The Cure. The lead singer also said "We've never played in Ottawa before, but I love prison so this is really great!" I guess not all cities have music venues in former jails. An all-around great band, and one that I hope comes back to Ottawa really soon.
Back to the SAW Courtyard, Steve Adamyk Band got off to a quick start and railed through some of their best tunes, including "Had a Heartattack", "Katacombs" off of 2013's Third, as well as "Careless" and a few others from their latest LP Dialtone. The Steve Adamyk Band had a slightly different lineup on Saturday night, as Max Deharnais of Sonic Avenues joined them on stage, replacing regular bassist Davey Quesnel on stage. The two bands are very close and on the same label (Dirtnap), so it makes sense that they know how to play each other's songs. The band sounded strong as ever, showing the crowd at OXW why they are still veterans of the scene and still one of the best punk bands in the region. Dave Monomania also joined the band on stage for a song, and everyone seemed to be making the most of it and having fun. Finally Davey Quesnel joined his band on stage for "Satellite", and with three guitars going Steve Adamyk Band pumped their full-sounding brand of power pop all over the streets of downtown Ottawa. Their music reels in fans young and old, offering something a little different each record that comes out.
The final band of the night for me was Needles//Pins, a Vancouver garage/punk band that was my most anticipated act of the festival. I wrote a little preview of my top pick for Mixtape Magazine, which you can check out here. I have this band's records basically spinning on the turntable non-stop, but had never seen them live before. The inside of Club SAW was packed to the brim and sweaty as hell, which is what you'd expect on a Saturday night at Explosion. From a technical point of view, the night started off a little rough for the band. The bass tuning was wrong when they went to start the first song, and they figured it out after a could false starts. The crowd cheered them on, and they looked a little frustrated. But they kept spirits light and powered through. One bereaved fan screamed, "I'm missing Teenanger for this!" – a band that was playing down the street at the same time. We all laughed it off as Needles//Pins exploded into their "powertrash" punk rock.
The mood changed from frustrated to high energy back to frustrated really quick as one of the amps started to smoke. The band just couldn't catch a break, but after Steve Adamyk rushed in with another amp, they quickly plugged in and regained the crowd quickly. Bassist/vocalist Tony X said, "You've seen us before, you know what to expect," after all the difficulties, lightening the mood a bit. The band was in full force as they powered through their set, pulling no punches and giving it their all. They played a bunch of songs from their 12:34 and Shamebirds LPs, including "Drop It", "I Don't Mind" and ended with "Shamebirds". Tony X ensured everyone in the room that the organizers of OXW were making one of the best festivals in North America happen every year, and everyone cheered in agreement. To our surprise, they busted out into a cover of The Replacements' song "Beer For Breakfast" as an encore. This made several die hard Replacements fans go even more crazy, including our very own Eric Scharf.
All in all, Day 4 was the funnest and wildest day of OXW and it left no prisoners. Even though many of us were dead tired, hung over, and probably lacking vitamins, so many people stayed out until the early hours of the morning to take in as much as we could.