Ottawa Bluesfest 2016 Lineup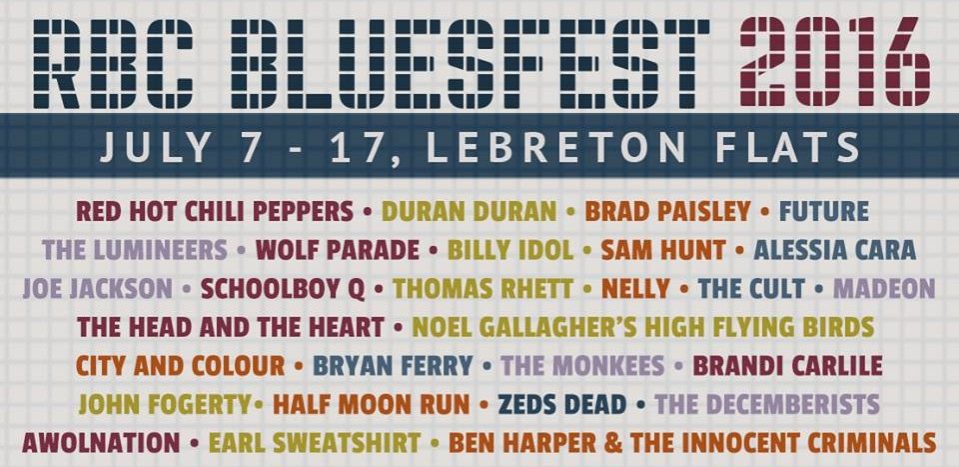 Another year, another RBC Ottawa Bluesfest announcement – and it came a little bit earlier than expected this year. The festival will be happening July 7 – 17 at the usual LeBreton Flats location, just before two other giant music festivals take place in Toronto and Montreal – WAYHOME & Osheaga, respectively. The Bluesfest organizers have chosen a diverse group of artists this year (around 75 in total with more likely to come), including big names such as The Red Hot Chili Peppers, Billy Idol, Duran Duran, John Fogerty, and Brad Paisley. However, the talent sure goes a lot deeper than that. We've included the full lineup with some videos of artists you may or may not know for you to check out below.
What do you think of this year's Bluesfest lineup?
For ticket information and purchasing, click here. 
---
– JULY 7 –
SUITS 'N TOQUES
SCATTERED CLOUDS
LOST TO THE RIVER
FRAYD
THE FLAVA FACTORY
JOE JACKSON
DAVID GOGO
BOY & BEAR BOY & BEAR
TYLER KEALEY
DJ ACRO
SON LITTLE
SCHOOLBOY Q
THE HEAD AND THE HEART
DAVID GOGO
PETER BJORN AND JOHN
BILLY IDOL
SKRATCH BASTID
– JULY 8 –
TINA WALLACE
FIRE ANTLERS FIRE ANTLERS
THE LUCAS HANEMAN EXPRESS
THE HEAVY MEDICINE BAND
FRAYD
THE FLAVA FACTORY
HARRISON SWEETTASTE KENNEDY
COEUR DE PIRATE
PANDALÉON
THE REVIVALISTS
BEN HARPER & THE INNOCENT CRIMINALS
TAL WILKENFELD
THE TALLEST MAN ON EARTH
ALL-STAR BLUES REVUE HOSTED BY THE SPLIT WITH SPECIAL GUESTS
NOEL GALLAGHER'S HIGH FLYING BIRDS
JOHN NÉMETH
– JULY 9 –
KELSEY HAYES
CHRIS PAGE
YOUTH OTTAWA SHOWCASE
MEHDI CAYENNE
GRACE LACHANCE
SHE'S THE ONE
TREASURE DUB QUARTET
THE FLAVA FACTORY
THE LONDON SOULS
ARCHER ARCHER
YUSSO
JOHN CAMPBELL
TOR MILLER
SILVER CREEK
DJ SOULCIAL
KIRBY SEWELL
EARL SWEATSHIRT
GRACE LACHANCE
JILL ZMUD
BSOMA AMATEUR COMEDY NIGHT – WINNER
BRANDI CARLILE
THE CULT
JEFF ROSS
ALL-STAR BLUES REVUE HOSTED BY THE SPLIT WITH SPECIAL GUESTS
PREOCCUPATIONS
THE LUMINEERS
AMANDA RHEAUME
– JULY 10 –
JILLIAN KERR
GRAND RIVER RAMBLERS
YOUTH OTTAWA SHOWCASE
THE RAMBLIN' VALLEY BAND
JORDAN MCINTOSH
ADULT CHILDREN
THE JIMMY TRI-TONE BAND
BAHARI
DEBAUCHE
THRUST
CARSON DOWNEY BAND
BELLY
ARCHER
STEAMERS
DJ SOULCIAL
STEVE HILL
TJ WHEELER
JD MCPHERSON
WILD CHILD
THOMAS RHETT
GINKGOA
THE TEXAS HORNS
YUKON BLONDE
JOHN FOGERTY
SAN FERMIN
MADEON
– JULY 13 –
PIERRE KWENDERS
KELLY PRESCOTT
JACK BROADBENT
DANIELLE ALLARD
MISTER PARKER
ALESSIA CARA
CARLO
SAMANTHA MARTIN & DELTA SUGAR
HER HARBOUR
THE DECEMBERISTS
DJ LTP
XXYYXX
CRAIG CARDIFF
IAN SIEGAL
BRAD PAISLEY
HALF MOON RUN
MADELINE MERLO
– JULY 14 –
THE JESSE GREENE BAND
PUP
MEGHAN PATRICK
DJ CALKUTA
THE MONKEES
THE PAUL DESLAURIERS BAND
REBELLE
LINDSEY STIRLING
COLIN LINDEN
DJ MAGNIFICENT
CASHTRO CROSBY & DJ MES
AWOLNATION
FREDDIE GIBBS
SAM HUNT
ALL-STAR BLUES REVUE HOSTED BY MONKEYJUNK WITH SPECIAL GUESTS
CHAMPION AND HIS G-STRINGS
– JULY 15 –
DYLAN PHILLIPS
TRAINING SEASON
THE CHOCOLATE HOT POCKETS
THE YIPS
DJ CALKUTA
LINDSAY FERGUSON
JACK DE KEYZER
STEVE ADAMYK BAND
JEFF LANG
COLEMAN HELL
THE RED RAILS
DESTRUCTO
ALL-STAR BLUES REVUE HOSTED BY MONKEYJUNK WITH SPECIAL GUESTS –
RED HOT CHILI PEPPERS
– JULY 16 –
THE RIFLE & THE WRITER
NOUSHKA
YOUTH OTTAWA SHOWCASE
DUBÉ
DANNY ALBERT
PITH AND THE PARENCHYMAS
THE FLAVA FACTORY
JUST POETS
THE WICKED MERCY
FUTURE
PIPAHAUNTAS
KENNY "BLUES BOSS" WAYNE
THE PAPER KITES
DJ MAGNIFICENT
THE FLAVA FACTORY
PAUL JAMES
LERA LYNN
THE LIONYLS
DZ DEATHRAYS
NELLY
HOLY FUCK
GARRETT KLAHN
WOLF PARADE
DURAN DURAN: PAPER GODS TOUR
CASHMERE CAT
ALL-STAR BLUES REVUE HOSTED BY MONKEYJUNK WITH SPECIAL GUESTS
– JULY 17 –
MARK FOSSEN
BONNIE DOON
YOUTH OTTAWA SHOWCASE
THE FLAVA FACTORY
BLUESFEST COMMUNITY CHOIR
BLUES IN THE SCHOOLS SHOWCASE
THE PEPTIDES
THE SLOW CENTURY
BE IN THE BAND SHOWCASE
WOTTS
BOMBINO
TJ WHEELER
AMOS THE TRANSPARENT
THE POWERGOATS
MERGANZER
LEMEOW
DJ MAGNIFICENT
BARRY AND THE BLASTERS
MONDAY I RETIRE
ROCK U SHOWCASE
THE ZOLAS
BROCK ZEMAN
SCARY BEAR SOUNDTRACK
BE IN THE BAND INSTRUCTORS' PRESENTATION
BRYAN FERRY
ALL-STAR BLUES REVUE HOSTED BY MONKEYJUNK WITH SPECIAL GUESTS
JAMES MCMURTRY
MAX GOMEZ
CITY AND COLOUR