B.A. Johnston, Steve Adamyk Band, Telecomo, & R!E!! at TARG
House of TARG is one of those unique places that makes you feel at home when you walk down the dingy basement stairs. The room was probably about a billion times hotter than it should be and only got worse through the night. That being said, it didn't discourage people from having a party.
"How does one make a punk show out to be a party?" one asks. Well, the answer to that is simple, booze, good tunes, and lively bands that either know what they're doing or have no idea what they're doing but do it well. That's exactly what went down on the 7th April, and of course, continued until the early morning of the 8th.
When my best friend and I walked in, we were greeted by Matias who then introduced us to a long-term Showbox writer, Eric. He also introduced us to Eric's girlfriend, and both were exceptionally kind to the two of us. After some conversation, we headed to find a table and patiently await the show to start.
Robots! Everywhere! was the first to perform and he put on an acoustic set which reminded me very much of a band by the name of AJJ. He sang about sports, going to the park with his daughter, and terrible dates. Phil does not take himself very seriously, which is something that you don't see very often in the music scene, and much less in a punk music scene. He embraces forgetting the words to a song with no shame and jokes around with the crowd, even looking at a notebook he placed on the floor to remind himself of what songs to perform. Through the night, with friends there to support him, a smile did not leave his face. He even performed a song that he doesn't perform live and he let us in on a little secret; it's because his girlfriend is typically at shows and well, the song is called "Call Me Some, If You Are Looking for a Time". The song consists of the lyrics "If you are ever bored and you want to get married… call me." And yet he is not. He brought forth an energetic show, one that would remind you of summer camp where you'd gather around the fire and sing together, just way better and with a little more yelling. Seeing Phil live is well worth your money if you don't take yourself too seriously, or even if you do, you can't help finding his music infectious.
I wish I had the time to talk to Phil after his set, however, Telecomo took the stage immediately after and who was I to complain? Telecomo brought a more serious vibe to the bar, opening with brand songs that I couldn't find anywhere on the internet yet. They completely shifted the mood. Not only did they make it feel like they belonged playing in bars due to their sound, but they made you feel like you were in your friend's garage, watching their band go at it with heart. I found every song infectious and the composition was incredibly well done. I have also never in my life seen a bassist move around as much as Gary did. His basslines shook the floor with its power. I have always deeply admired strong basslines, and Gary's blew me away. It's something that really added to the songs and the experience.
The third last song Telecomo played was "I Met You." It reminds me so much of a song from my childhood and yet I can't for the life of me figure out which one. This is probably one of the reasons that I have a strong love for that song. They played their last two songs, "For Sale" and "Lipstick" then began to pack up after their very heartfelt thank you. Their drummer and friend, Pat Johnson, was revealed to be working double time because he was also the drumming for Steve Adamyk Band that night. He seemed very modest and began to shake his head when a round of applause was asked to be given for him.
I managed to talk to Adam and Gary after they performed, who were both incredibly sweet people. They even talked to me about my photography and Gary mentioned how he tried to "muck it up" for me, and hoped I got some good shots. They were very genuine people and even asked for my social media. After that I went to find Phil, which Matias kindly directed me to, and I managed to exchange some info with him. Phil, if you manage to talk to him, is a sweetheart. Not only did he make sure everything was alright, but he kept checking in with my best friend to see if she was enjoying the show and if she was okay. This wasn't something we asked for, but it was certainly much appreciated. His friend chimed in and even told us that we had very nice smiles and that although we occupied the table that he had been eyeing all night, he couldn't be mad at us for it.
Telecomo will be releasing their debut LP For Sale in June, it is a must-have and will be available on vinyl as well.
As things began to settle down, Steve Adamyk Band began to set up. I was pretty excited to hear them live for the second time because their recorded stuff doesn't do this band justice. When do CD's, LP's, or cassette tapes ever do a band justice though? They opened with "Through My Fingers" and really threw themselves into the music. Pat was going at the drums with every ounce of energy that he had within him. Later that night I learned that he had broken something close to sixteen drumsticks, and two kick pedals because that's how rock and roll works. I even managed to snag a photo where his drumstick is breaking. Their sound is pop punk with a dash of fuzz added to it. Their energy got people on their feet and dancing, and got me bobbing my head to the fast pace of their songs. Unfortunately, on this night they were a trio as opposed to their usual foursome but their delivery was still spot-on despite this fact. They talked to the crowd and all in all were incredibly friendly people. If you want to listen to a song of theirs that will for sure get you on your feet I highly recommend "False Teeth." It's a little gloomy sounding at first, but it picks up fast and gets you moving with a strong baseline that draws the song together.
Talking to Steve was a pleasure. Not only was he thankful for the photos I was taking, he spoke to me about how he loves talking to people who were born and raised in Ottawa and even talked some about how Ottawa is a home to many bands they're friends with, officially and unofficially. We spoke briefly, but in that time we spoke of the local music scene. These guys have a passion for music that's so clearly written on their faces, in performance, and in conversation. After thanking Steve for the time he gave me, I headed over to Matias as I got very excited about a photo of Steve Adamyk Band that I took. It is by far my favourite photograph of the night and I knew I could not wait to send him the photo. I needed to show him there and then.
There was a wait period between Steve Adamyk and B.A. Johnston. The whole vibe suddenly shifted, whether it was because it was the opening act or because a significant amount of people immediately flooded towards the front, I don't know. All I really knew about B.A. was that he makes a joke out of everything and anything, and that in his shows he includes a performance art component to it which most people don't actually consider an art. Watching this man perform was incredibly absurd. Not that it was bad by any means, it was just incredibly strange. I'd never seen anything like it in my life. Not only did he wear three sweatshirts, but at the very beginning of the show, he ripped a pair of Velcro pants off. His humour consisted of not understanding how an iPhone 5c (his Walkman) worked, and writing songs with very oddly specific names. He had even written a song about GST cheques. Besides that, his humour gave off the vibe of Hamilton, Ontario (so he claims), which is where he's from. He went around the crowd belting out lyrics in his hoarse voice and crushing beer cans on his head whenever he was handed one.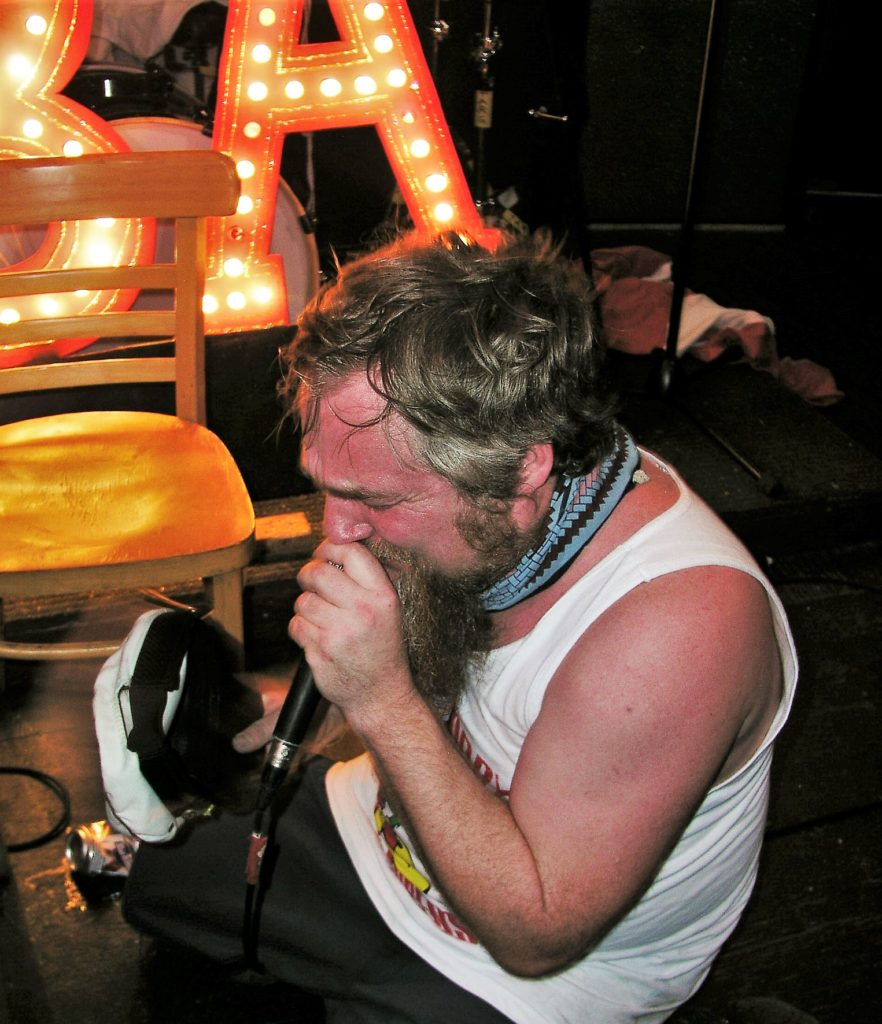 His sound can only be described as something you'd hear from video games from the 80's, with a mix of pre-programmed beats, synthesizer, and a few acoustic songs. His guitar is a clear indication of the type of act he puts on. A modge-podge of various bits and pieces stuck on, and stickers littering the old thing. There were even carvings in the face of his guitar, and even a metal pick guard somehow stuck on to it. If you paid close enough attention, you could see his feet floating above the ground from time to time as he played. He later claimed to be "a forty five year old man whose only pleasure is forcing people to drink Sourpuss".
His act went on well past 1 a.m. and although I didn't stay for the last few songs, I guarantee that there was a lot more drinking, dancing, and singing going on as the show came to an end. I got a cab home and Matias made sure my friend and I stayed safe, walking out in front of TARG with us.
The night was overall filled with great people, fantastic music, and most of the vibes were incredibly positive. Everyone was incredibly friendly and grateful, no matter how drunk or tipsy they were. The live music allowed the room to surge with energy, and as soon as the bands played everyone crowded around TARG's stage.
If you're looking for lazy punk, garage punk, punk with some fuzz to it, or folk punk with a side of comedy, this was the lineup for you. And if you want and incredibly wild night with no regrets (except for that headache you'll be sporting), come on down to see these incredibly talented artists next time they play.
[Best_Wordpress_Gallery id="39″ gal_title="BA Johnston"]