Black Squirrel Books
Mushy Gushy, No Aloha, & Casa Lagarto at Black Squirrel
Last weekend was stacked with good shows. No matter what I chose to do there was an equally solid show happening elsewhere. One of the options was Mushy Gushy, No Aloha, and Casa Lagarto at Black Squirrel—and there are no regrets.
The night started off with friends hugging and smiles abound. It's always nice to see a lineup where the bands know each other or have worked together in the past. The weather was warm and soggy, but the sky was clear and folks began to trickle in as local garage-psyche marvels Casa Lagarto took the stage.
Casa Lagarto is a mashup of well-seasoned artists in the community, including Jonny Yuma (formerly of The Yips), Arturo Portocarrero (Lost To The River), Grant McNeil (Tropical Country), Jason Barkhouse (Black Lab Studios), and Jonathan Pearce (Winchester Warm/Mushy Gushy) filling in for Travis Kinnear who just recently celebrated the birth of his first daughter. Their set was tight and their arrangements came through crisply into our ears.
I've said it before and I'll say it again—Casa Lagarto's music could be the soundtrack to a Hunter S. Thompson novel. I mean that in the best way possible. I feel like their music would fit perfectly into an acid trip on a desert highway in Nevada somewhere. Casa's sound is clearly influenced by psych and rockabilly, taking elements from various styles and making them their own. Johnny Yuma's low, brooding vocals enthralled the audience and his exquisite clean guitar tone could give you goosebumps. Jon Pearce filled in perfectly, and somehow knew the songs like the back of his hand. Some key tracks they played were "Lights Out" and "Scarecrow," and I highly recommend you go dive deep into Casa's albums on Bandcamp. The group layered their sound well in the live setting, using the intimacy of the bookstore to enhance their individual instruments to create a warm and rich atmosphere for us all to enjoy the show.
Next on deck was No Aloha, a summer-friendly garage rock group from Montreal that has some loving fans here in Ottawa. As an aside, we presented No Aloha at Mugshots back in 2015 along with Bonnie Doon and Nightshades and it still remains one of the funnest shows we've ever done to date. They are fresh off the release of their new EP Cigarettes for Optimists and rocked the house at Black Squirrel.
This group may seem like a bunch of slacker rock dudes, with their long hair and rarely-groomed faces. However, they're anything but. This band is well-rehearsed and have a chemistry that is instantly noticeable when they hit the stage and start playing together. With flying guitar riffs, impactful percussion, and Ben Griffiths' smooth vocals, this group injected some energy into the room. They dug into their impressive  catalogue from the past few years throughout the set and pleased the audience and got some bodies moving. Black Squirrel is a versatile venue for all kinds of shows, and the place was perfect for the diverse sounds of this lineup. Lets hope these dudes come back to Ottawa soon, because they're a party.
Last up was Mushy Gushy, an Ottawa "butt-rock" band that takes a fun spin on rock and roll. While it's hard to imagine these guys ever not having fun, this night was bittersweet. Kyle Woods, the original drummer and founding member of the band has recently moved to Toronto and got a job there (congrats to him!). But the show must go on. Thus, this show was to be his last as he moves on to new journeys. While this kind of mutual parting is difficult for friends and band mates, it was clear that the sweet outweighed the bitter. Kyle was radiating smiles and hugs, and obviously this was to be a memorable night for him and the band as they decidedly wanted to end his tenure with a bang.
Mushy Gushy consists of more music scene veterans here in Ottawa—bassist Jon Pearce (Winchester Warm), drummer Kyle Woods (fmr. Kalle Mattson), guitarist Cory Lefebvre (fmr. Baberaham Lincoln), and vocalist Dave Gervais (fmr. The Gallop). But more than anything, this group of buds just wants to have fun, and that is evident in their compositions. They don't take themselves too seriously, and that's refreshing.
The 'Gush have released two excellent EPs so far since coming together in 2016—Tight Snake and More Butter. I just can't wait to hear what their third release will be called with titles like that. We presented their tape release party at Bar Robo a few years back, and let me tell you—it was a time. Kyle carried the whole set through, and he played the drums more fervent than ever. His rhythm was flawless and his beard was flying to-and-fro to the uptempo rock and roll his group performs. Cory's fluttering guitar riffs flew over Jon's steady bass lines as the tracks kept the crowd energized and engaged. They had the crowd singing the irresistible catchy "Oh Oh Ohs" in "Heartbreak Motel" and had booties shaking during "Summer Lusting." Closer to the end of their set they played their most well-known jam, "Schemestress," at which point the night hit its climax. The song is a feel-good summer tune, and the hook will grab you and hold on tight. David Gervais' songwriting is on point, and his vocals add the finishing touch to their part pop, part-garage rock sound with just enough catchiness and grit to go around. All in all, it was a night of good vibes and good memories were made.
OXW 2018: Day 4 – Steve Adamyk Band, Deathsticks, Mallwalker
Ev has synesthesia, and they incorporate their sensory experiences into music reviews. Synesthesia is a condition in which the brain links a person's senses together in a rare manner, prompting unusual sensory responses to stimuli. People with synesthesia, for example, might see a certain color in response to a certain letter of the alphabet. Those who experience synesthesia "hear colors, feel sounds, and taste shapes" in a remarkably consistent fashion.
---
Ottawa Explosion day four was one of the craziest days of the weekend and yet it was packed with astounding bands and insane talent.
At Babylon, Mallwalker was first to take the stage. They came in with ferocious energy and could have torn the floorboards out with it had they wanted to. The vocals bellowed out and created the enraged tone for the set while having added bursts of angry and vivid yellows. They often smoothed out and became ragged, speckled with lilac and orange. The guitar grumbled on and added maroon to the mix. Muddled and dirty, it ripped through the crowd. The bass grumbled in the background with a deep red. Prominent but not dominant, it created a structure to the songs and held it up, having created a contrast to the wild drumming. The drumming was cold and unruly. It maintained a shallow sound while it completed each song, making them feel full.
These Baltimore punks who know how to kick it despite losing their voices under a bridge at 3 am the night before—they're worth seeing. They pack a punch in their music and do not let down by any means.
Next, I ran down a little more than two kilometres to Black Squirrel to catch Deathsticks. The duo never disappoints and always finds new ways to impress. Loud and proud, the way the band played was second nature to them. The guitar playing was so controlled and yet so absolutely wild. Crazy distorted and pedals used for many artistic purposes. The warm and shallow drumming added a variety of shades of yellow, dipping into orange. It was quick and each beat rolled into the next heavily. The guitar, on the other hand, roared and squealed, dripping electric and murky greens into the scene. The duo screamed over the unruly instrumentals and packed a punch with the vocals. The managed to paint in vivid bursts of pink and deep yet harsh blues. Deathsticks are a power duo that is a must see by my books. Their use of nothing but two instruments and their vocals to create the effect of a full-blown band falls nothing short of impressive.
The last band I saw that night was Steve Adamyk Band who played at The Dominion Tavern almost five kilometres s away.  Steve's vocals cut through the feedback and rumbling of the guitars. His vocals paint this vivid and atomic yellow, fluctuations adding either orange or green. His guitar playing turns the soundscape green and aquamarine with the chords and the solos turned it around to yellow due to the pitch. True garage grit without remorse. The basslines are concealed yet you felt them rattle in your chest, painting the room the colour of your heartbeat. Not dominant but present, the bassline shook the ground and got the crowd moving. The drumming added to the powerful shake of the rest of the instruments. It was cold but full and produced a variety of purples and blues that would swim around. The succession of each beat came quickly after the last and the fills were practically flawless in their timing.
Steve Adamyk Band is the ultimate garage punk that you can dance to easily. They're the pick-me-up you didn't know you needed at four in the morning and they're the band whose lyrics you will find yourself screaming back at them when you see them live, whether it is your first time or your tenth time
Ottawa's Soul Festival: Bangers & Mash Fest
Music festivals don't just grow on trees. Whether it's a small-scale boutique festival like Sappyfest or a large-scale behemoth such as Osheaga, festivals are the end product of a whole lot of teamwork, labour hours logged, blood, sweat – and sometimes tears.
When Garett Bass decided to move forward with a new music festival called Bangers & Mash, he knew it wouldn't be a simple undertaking. His first rodeo was 2015's FOLK IT ALL Festival, a packed night-long event at The Rainbow which saw a number of heavier folk and country acts hit the stage, including headliners The Jerry Cans. But 2017 offered a new opportunity to bring together musicians that share a common funky thread – soul music.
"After seeing momentum build this past year, I feel like it's a now-or-never moment to put these bands in the spotlight and help people realize the level of talent we have here," explains Bass. "I felt like it was time to do something similar to FOLK IT ALL for the soul music scene here, which I've been in entrenched in for the better part of the last decade."
The idea took form last year when Bass and his wife went to Blakdenim's CD release at Mavericks, where a number of bands and DJs were showcased in a small amount of time. They did short and punchy sets, all acts shared the backline, there was an MC handing out prizes in between, and afterwards they reveled in how incredible and efficient it was.
"So I decided to do a soul festival where bands play their 'bangers' – I thought, 'let's get as many acts as we can into one night with the simple rule of playing only their best songs and then getting off stage as quickly as humanly possible."
As a member of Ottawa's own Slack Bridges, and a past member of bands such as Steamers, Tea For the Voyage, and Mackenzie Rhythm Section, Bass is no stranger to the stage. However, organizing is a different beast altogether, so he made sure to gather a team of dedicated organizers to help him from the start.
One crucial member of the team is Ed Lister, a musician himself and founder of London Gentleman Records. Lister is a member of Chocolate Hot Pockets, Thrust, Eru-Era and an impressive Chaka Khan tribute act, and has joined forces with existing bands such as The Hornettes and The Split.
"I chose Ed to run his own stage, because he's been the number one instigator of action and collaboration in our soul scene," Bass says. "Ed moved here from the UK a few years ago, he plays in more acts than I can count and has helped encourage collaboration between artists all over Ottawa."
While there are some collaborations occurring in town, it's difficult to define a particular soul music "community" in Ottawa. There are festivals such as Ottawa Explosion, Arboretum Festival, and Megaphono that act as a crucial hub for musicians to coalesce. However, there has been a gap between the soul music fans and the musicians themselves – a gap which Bass means to fill.
"Just look at The Souljazz Orchestra shows, which have been sold out and for years. People trust anything those guys put out. The Jazz Fest late night series has been a huge success for people who love to dance to live rhythms such as Snarky Puppy, Dirty Dozen Brass Band and Tennyson. Sharon Jones played here over half a dozen times to crowds of intense fans. Our most successful local nights are generally funky DJ nights such as Double Barrel or Timekode where people can go dance to DJs spinning soul music in its most authentic form – the 45 record."

"Places like Irene's and Bar Robo have picked up and have started weekly/monthly nights of funk jazz, and Mike Mikkelsen has been using his connections to host lots of local live and mixed soul music at Kinki's Kitchen. Yet, I find the weird thing is that some of these bands still don't know one another, there's little collaborating within a genre that is historically built on collaboration." All that to say, it's clear that there's no shortage of love for soul music in the capital.
Bangers and Mash will take place on the evening of March 18, and have two stages at two adjacent venues – Black Squirrel Books & Coffee and House of TARG – that will operate simultaneously. Live music and DJ sets will be staggered between each, giving concert-goers the option for either.
The impressive local lineup includes Mackenzie Rhythm Section, The Hornettes, Slack Bridges, Tropikombo, DJ Magnificent and DJ Zattar at House of TARG, while Chocolate Hot Pockets, Mack & Ben, Blast From the Sun, DJ Jas Nasty and The Full Time Groove hold the fort at Black Squirrel Books & Coffee.
"Basically anytime there's a DJ on at Black Squirrel, there's a band playing at House of TARG, and then it flips," Bass clarifies. "We're going to recommend that people plan their night well, as there may be times when one of the two venues is at capacity. Fortunately, there's lots of amazing stuff to see!"
---
Bangers & Mash will take place on March 18, ticketing and event information can be found at www.bangersmashfest.com. This article appears in the March Edition of Ottawa Beat newsprint in the OSBX column. 
Spotlight Series: Black Squirrel Books & Espresso Bar
Some of the best things come unexpectedly, and grow to hold an importance you wouldn't have expected. That's how I feel about Black Squirrel Books and Espresso Bar, and I think the owners of the all-encompassing arts hub would agree with me. Started in 2011 by two recent graduates, the shop has gone from a few packed shelves to a two-floor, boundless collection of literature, as well as being one of the city's most treasured independent music venues.
I first came across Black Squirrel when it was nestled at Bank and Arlington Street, and wasn't much more than four walls. Nonetheless, it boasted an impressive collection of academic writing, as well as graphic novels, classic literature and modern non-fiction. This location was actually its second – Black Squirrel began as Bibliocracy in Chinatown, in what co-owner Vaughn MacDonald calls "the smallest, cheapest piece of real estate that we could find."
Evidently, the shop has gone through a number of changes, all which seemed to happen organically- one being its shift to a music and arts venue. MacDonald explains they started to host shows "here and there, by request by local bands." Over time they became more frequent, and the shop now hosts a few events each month, ranging from concerts of all genres to book signings and community art projects. The store also has work from local artists on display at all times. "We never really made any systematic effort to make it part of our business plan," says MacDonald. "It just sort of came our way. It's flattering to have someone want to play in your space."
Not long after its debut on Bank street, Black Squirrel's tiny space could no longer contain its expanding business. The store relocated, again, to an expansive location at Bank and Sunnyside, in the warm neighbourhood of Old Ottawa South. Soon after, the store's cafe extension was introduced, offering local coffee, tea, and baked goods (courtesy of Equator Coffee and Strawberry Blonde Bakery, among others). They also debuted a modest line of merch, including mugs and tote bags featuring the store's simple black and white logo – a sign of budding popularity and customer loyalty for the shop.
The increased space allowed for more comfortable concerts and provided more daytime seating for shoppers, creating a unique ambiance that no other local bookstore can claim. Vintage and antique furnishings snug between bookshelves provide a space that maintains the warmth of a used bookstore within the practicality of a coffee shop. Gary Franks, who overlooks the cafe, cites Ottawa's growing "coffee culture" as an important aspect he'll be tapping into as the shop's cafe continues to expand.
Black Squirrel's versatile model is a perfect example of the unique, multitasking venues appearing in Ottawa. Most are cafes (such as Cafe Alt, Bar Robo, Pressed, and Cafe Nostalgica), offering an inexpensive and approachable alternative for small bands. To Franks, a local musician, these low-pressure venues are necessary to support up-and-coming artists and to maintain growth in the local scene.
"A lot of bars stopped wanting live music," he says, attributing this to a preference for DJ performances instead. "The bands and artists have to look into other places. For a while, the popular thing was house shows, and then cafes saw the opening."
MacDonald agrees that the cafe-venue model in Ottawa has proven to be successful for both artists and venue owners. "Daily Grind proved you could do really small scale, intimate shows, and do it consistently," he says, "and that there was an unending reservoir of talent out there that you can fill it up with. I think if we're getting more and more small venues, that's a great thing. It's artistic supply and demand."
A crucial aspect of the new cafe-venue hybrid is the opportunity to provide all-ages show in a city that has a history of systematically excluding young audiences. Franks praises the more open approach small venues have taken by incorporating more all-ages shows: "Either having a [serving] licence or not, suddenly you had this birth of people who'd go see a show that didn't have to be at a house," he says. "Everything that would be happening at a conventional bar that anyone 18 and under couldnt go to." As well as create a space for wider audiences, all-age venues provide opportunities for young bands to play. "I've personally seen so many new bands that seem like kids to me, which is amazing," he says. "It's an intense energy."
MacDonald agrees that providing all-ages shows is an important element to Black Squirrel. "As a bookstore, we already appeal to people of all ages. Its great to be able to invite anyone to come to our shows… being able to welcome anyone. We'll always be all ages, which I think is key for opening up the city."
As a venue, Black Squirrel has already proven its versatility. While local artists and low-tech sets seem to be most common, the store has also brought in musicians from across the globe, varying in genre from punk to jazz. "We deal with all kinds of different music," says MacDonald. "We've been very lucky with the talent we've been able to draw."
For the future, growth is expected for all aspects of Black Squirrel. The store recently introduced the addition of a basement level, featuring thousands of more books varying in content. They've also secured a liquor license, an aspect they plan to expand on slowly, as they continue to curate both floors of the space in the future. "They'll be very different beasts," says MacDonald. "Upstairs will be targeted towards the cafe experience," with the basement providing a more "conventional" evening space. For now, the basement provides an extensive collection of literature in genres much more detailed than before, as well as additions to the store's graphic novels, comics, and French literature.
Black Squirrel's community involvement in the arts scene has also grown exponentially. The store supported Ottawa's Rock Camp for Girls, was a part of CityFolk's Marvest and Ottawa Explosion, and hopes to remain involved with other local events.
As a venue and supporter of local artists, they've provided an accessible space to promote one's work. Their growing clientele, which is mainly university students, are an important part of the equation. Not only are students purchasing books, they also sell them back to Black Squirrel, frequent their cafe space, and attend their concerts and art events. The shop has become a beneficial cycle for all; supporting the students and young adults of Ottawa, their favourite musicians, and the Black Squirrel team. The shop's south-central location has also helped to secure a wide customer demographic, with their extensive collection attracting fans of all genres of literature.  
Despite Black Squirrel's almost accidental success in the music scene, it is both well deserved for its owners and embraced by its customers. Its multifaceted, ever-growing business model is refreshing; providing a space that welcomes art in its many forms and remains genuinely independent in a corporate city. It's clear that Black Squirrel is a business that gives back to its customers, growing alongside its clientele and strengthening as a store, music venue, and community space. When asked about the future of Black Squirrel, MacDonald only proves this, saying: "We'd love to support a lot more local groups and foster talent, in any way possible. And get people reading more books."
Merival, Her Harbour & Trails @ Black Squirrel Books
The sun was out on March 26th, the Saturday that Trails, Her Harbour and Merival were set to play at Black Squirrel Books for a much-anticipated all ages show. The crowd filled in the coffee shop fairly quickly, and the venue had an intimate and comfy atmosphere. Chairs were spread out across the floor and low lights shone on the performers. The audience chatted while the acts were setting up.
At around 8 o'clock, the first act Trails took the stage. They had started their set with a beautiful rendition of Imogen Heap's 'Hide and Seek,' immediately cuing the crowd to hush and listen. Their guitar and voice looped and echoed throughout their whole set, sending out waves of psychedelia that entranced us all. The intricate use of pedals and melodies coupled with Allie's soft voice stand them out among Ottawa's young musicians.
The second performer was Her Harbour, a local musician named Gabrielle Giguere that has established herself as one of the leading singer-songwriters in the city. Gabrielle's hauntingly beautiful voice accompanied her delicate autoharp technique perfectly. She enchanted the audience with a passionate performance with her lyrics and vocal abilities. The uniqueness of the autoharp nicely complimented the soft songs. The crowd fell silent during their show, applauding loudly after each mesmerizing song.
Toronto's Merival played next. Merival, the moniker of singer-songwriter Anna Horvath, charmed the crowd with her tender voice and guitar. Horvath dazzled the audience with fragile flutters in their voice to booming ballads that date back to when she was a teenager. The crowd certainly got caught up in the emotional songs, ones that fans of Feist would without a doubt adore. To me, it's the type of music you'd listen to while drinking tea and doing something creative. Merival's music fosters creativity for me and probably many others!
Weekend Music Roundup: Nov.12 – 15
Ottawa event listings: Looking for live music this long weekend? Ottawa Showbox has you covered this weekend with the Weekend Music Roundup.
---
Thursday, Nov. 12
Punk Rock Night @ The Dom w/ FREEWAY + The Goatboys (BC)
Open Mic at Café Nostalgica | Scène Ouverte au Café Nostalgica
Friday, Nov. 13
Current Swell + Philip Sayce + Autumns Cannon At Mavericks
CKCU Presents: No Fly List EP Release Party – Both Sides – A @ Irene's
The Lucas Haneman Express Fundraising Show @ The Blacksheep Inn
David Gogo @ The Rainbow
---
Saturday, Nov. 14
A night of classic House on vinyl all night with Trevor Walker and DJ Magnificent @ Mercury Lounge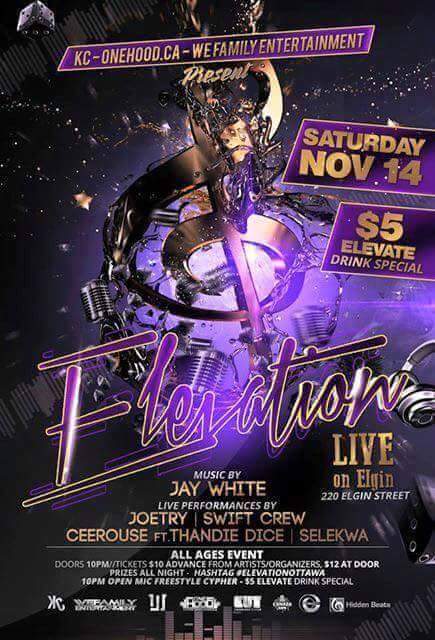 JAKE CHISHOLM @ The Rainbow
Autumn Still w/ Arms of the Girl, Jad Hammoud @ Avant-Garde Bar
The Woodshed Orchestra w/ Bumpin Binary & Amanda Balsys @ Irene's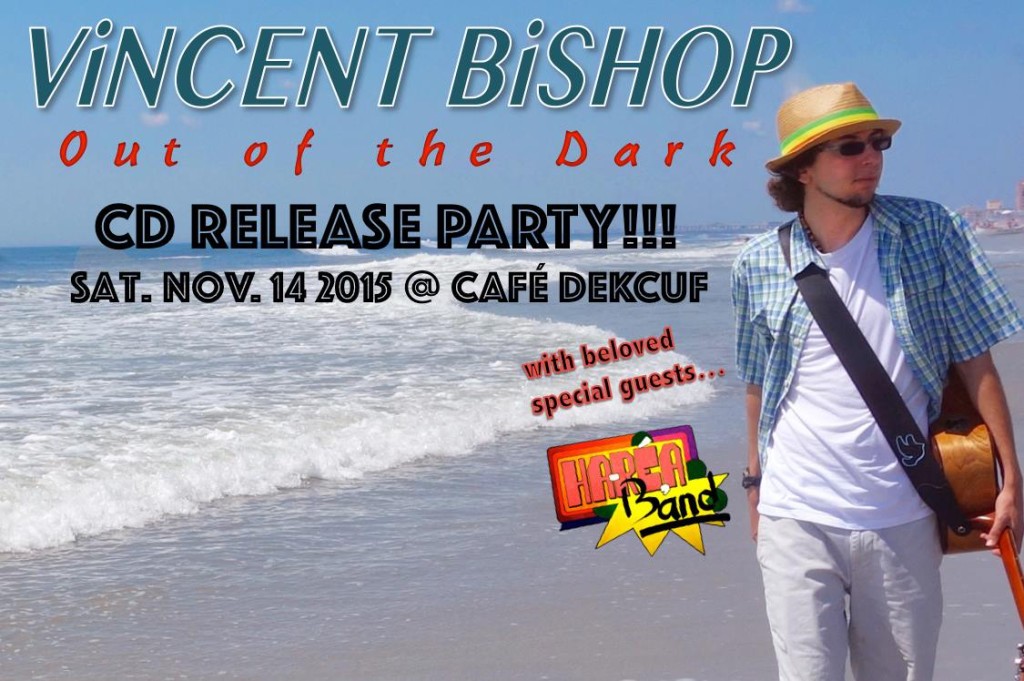 ---
Sunday, Nov. 15
Sunday Serenade ft. Amanda Cottreau
Esmerine + The Visit @ Blacksheep Inn
November 15 – IMOO #130: Adam Saikaley @ Black Squirrel Books
"I will tell the audient void…" ZVI + CETACEA + TOPON DAS + MARK MOLNAR @ Black Squirrel Books
Set against the tumult of Arboretum Festival's closing night, Ottawa's underground revealed a single, luring grain of occult temptation at Black Squirrel Books this past Saturday. While the show succeeded in scaring off some unsuspecting stragglers and left a loud impression on some movie-goers across the street at the Mayfair, it delivered a generous dose of dark, industrial metal drone for the intimate audience that collected around each solo performer.
The night's lineup included experimental cellist Mark Molnar (Ottawa), guitarist Topon Das (Ottawa), vocalist and guitarist Cetacea (Toronto), and guitarist Ron Varod (New York). The arrangement of performance order proved to be stylistically consistent and created room to interpret narrative development over the entire show. And despite the uniform sound shared by all of the musicians that night, the diversity of each of the performer's individual projects and musical influences would have made the show appealing to fans of a range of metal cult icons: the avant-garde metal compositions of Kayo Dot, the grindcore assault of Fuck the Facts, the lunatic brooding of Sunn O))), and the feral improvisation of Keiji Haino.
MARK MOLNAR 
Ottawa-based experimental cellist and mastermind of local label Black Bough Records, Mark Molnar is a regular solo performer at Black Squirrel and was the first musician to take the spotlight. Manipulating the cello's thick sound through an incomprehensible array of pedals and switches, Molnar delivered a palette of sounds that would blur from emulating peaceful, throaty woodwind to the shrieking demon of a possessed synth. Molnar's distorted cello reveals a consistent exploration of the physicality of sound: every movement of the bow would resonate through the body and left a very tangible impression.
It is evident when Molnar performs that he does not necessarily work with a single narrative throughout an individual track. This makes sense when considering the influence of free-jazz and improvisation on his other projects, including participating in the Improvising Musicians of Ottawa/Outaouais (IMOO). The compositions instead weave together visual fragments, ideas of scenes which manifest through tone that is heavy with symbol. These subtle images might appear as the shadow of a prayer call from the parapet of a shrine, the rumbling undertow of a black hole, or even a gentle reference to the cello's classical voice. There is even an abstracted allusion to rhythm in Molnar's use of repetition and suspension, creating a palpable experience of time.
While Molnar's cello set was filled with the usual tinges of distorted woodwind and possessed synth that would be familiar to anyone who had seen his previous performances, there was a noticeable difference to the ambiance and progression of his performance on this particular night. This may have been a result of being limited to a single track — Molnar's sets usually develop with patience over two or three tracks — or for the sake of atmospheric continuity with the other featured performers. Having recently performed at Montréal's Casa del Popolo as one third of improvisational, jazz-noise intersecting trio, 1/4 tonne overhaul, Molnar may have also been channeling the remnants of a more nihilistic direction embraced by that particular show at Casa del Popolo.
Since Molnar's tracks can sound different at every performance (his improvisation as well as the potential for the listener to experience the sounds in completely new ways), it was difficult to immediately tell if the track he performed was the usual instrumental with which he would close most solo performances. Regardless, it had a noticeably more aggressive character and development, with a thicker, more metallic sound that served as an appropriate prelude to the rest of the performers.
TOPON DAS
As Topon Das prepared for his set, it was interesting to consider recurring comments on the acoustic space of Black Squirrel Books. An unusual venue for any band, the space posed especially unique challenges for creating the dark ambiance of the night's performers; these were musicians who rely on atmosphere as an integral part of extending their music and the listener's experience. In this regard, the bookshop was not effective in creating the tension necessary to fully appreciate the hypnotic and disturbing elements of each musician's performance. It seemed however, that the opposite effect of intimacy and warmth in the room served an equally important purpose that changed what may have been the intended coldness of everyone's sets.
First there was a strong contrast between the harsh noise of the instrumentals against the wood and paper of the room — maybe an insignificant detail, but it felt like the space absorbed many layers of sound. Noise from outside — a stray voice or the rumble of a motor — in turn amplified the feeling of seclusion and intensity. In this way, a different aspect of the evening's show became a point of focus: the introverted quality of each musician's performance.
Topon Das is known to the Ottawa and Gatineau region as the long-standing guitarist of local grindcore band Fuck the Facts. My first ever legitimate, completely-in-context moshpit was at a Fuck the Facts concert (a proud night), and the subdued character of Topon Das' performance was completely unexpected. This itself heightened the feeling of anticipation throughout his set. The explosive nature of Topon Das' repertoire with FTF was overturned into what felt like a voyeuristic invasion of someone's private moments in composition. Crouching over the blinking switch-boards for almost his entire set, Topon Das would pluck a few notes into his guitar, and then fiddle with the pedals strewn around him. This made for a grotesque contrast between the restraint of his process and the crushing, static-drenched behemoth of industrial drone that came from the haphazard wall of amps behind him.
If there is any way to describe what Topon Das was summoning, it would be the dysmorphic limbs of sound being pulled through a meat-grinder and stretched into and through themselves like an unrelenting Möbius strip. He played with some cyclical structure,  his subtle variations evoking the eerie effect of a music-box. The show's volume became all the more apparent; it was ugly, physically painful, emotionally disturbing. And yet, through this onslaught, he would occasionally reveal the familiar sound of the guitar (unexpectedly sounding for some fleeting seconds like the trill of a flute), which now seemed nostalgic and simple against the crackle of noise. Offering slight comfort just before hitting the midway point of Topon Das' set, even this identifiable instrumental presence was soon overtaken by a sonic beast that rumbled, snarled and growled like a military helicopter.
BRYAN W. BRAY // CETACEA
The introverted quality of process that became especially apparent during Topon Das' set was aptly picked up by Toronto-based guitarist Bryan W. Bray, who performs as Cetacea. With a moniker that refers to the mammal order of whales, dolphins, and porpoises, including the great blue whale, Cetacea's performance seemed to draw a subtle but present analogy to the quiet sorrow of intelligence and the anguish of defiance.
Cetacea introduced his narrative with a montage of reverberating, hymnal vocals. For a few minutes, he sat facing the audience in what was until that point, the only direct address to the audience. It was impossible to break attention in this confessional position. After the torrent of dehumanizing, machine-controlled noise, to hear the human voice again felt almost sacred. It was as though the entire show had been destroying every sense of familiar sound, dissociating the ear and the mind from understanding what was occurring.
Again, that semblance of simplicity felt oddly appropriate. Having been socialized to think of melodic composition as intricate, it was humbling to experience the complete reverse, where the anarchic nature of noise made its complexity all the more apparent. The faint "normalcy" of Molnar's cello, Topon Das' guitar and Cetacea's voice felt almost comical against an encompassing sound that could not really be explained, let alone entirely controlled.
But again, the peace that was momentarily created by Cetacea's vocalizing was overwhelmed by a disturbing, certain tide. The static would come sure as a gravity, pulsing low and ominous. Escalating the narrative that had been started through his vocalization, Cetacea switched to his guitar. The textures he scraped out of the strings were shaped by animosity, a spite against the deity that had just been evoked by the choral voice. The anxiety of dark noise returned, preparing the audience for the culminating act.
RON VAROD // ZVI
(Image courtesy of Ron Varod // Somewhere on along the Canadian tour, but not at Black Squirrel.)
New York based multi-instrumentalist Ron Varod is a recent addition to the ever-changing roster of musicians that have passed through Brooklyn's avant-garde metal band, Kayo Dot. First appearing on the band's most recently released album Hubardo, Varod will also be appearing on the upcoming album Coffins on Io. It was this association with the constantly reincarnating, experimenting, challenging band that enticed me to see this concert, and which provided some narrative parallels for interpreting ZVI.
In a conclusive manner, Varod revisited every sonic and bodily element of the previous sets. There was of course, some superficial similarity in the grinding, fragmented noise that would again overwhelm the human voice and instrumental musicality, yet the emotional unraveling throughout Zvi was characteristically unique. The brief melody that peered through a haze of static built up a deceptively calm introduction. As Varod crumbled through fatalistic and increasingly distorted riffs, it was clear that the audience was once again being removed from the comforts of recognizable composition. Here, however, there was no assurance of return.
The term "anti-music" was uttered by someone in a break between sets, and now returned in full context as Varod was determined to break all musical structure. It was the final heaving attempt of logic against chaos. For some moments, there was the kind of beauty that could be attributed to structure, to clearly identified notes and progression. Varod finally erupted, a beast wailing against the order, a creature angered and betrayed by the divinity raised by Cetacea. The amps screamed so that the audience was visibly uncertain how far the sense of hearing can be exhausted. Varod's rage erupted as the primal human cry, shattering through the mic that swung from a metal hook below the ceiling… and yet, his voice was lost in the sonic explosion.
Beyond just being physically painful to experience the concert, the jarring emotional element has only just become possible to fully process. It was almost necessary to become separated from the experience in order to grasp the more delicate undertones of the musicians' collective performance. Varod's voice disappearing against the power of an unbearable, wild and inhuman noise amplifies the anxiety and the urgency of his music. Without the pain and confusion of listening to something that cannot ever make complete sense, without experiencing the real effects of decaying sound on the body, without seeing someone ripping their being out of a guttural scream for affirmation only to be consumed into an intolerably loud silence, it would be impossible to see the faint beauty in creating despite the imminence of absurdity.
WHITE CUBE + H. de HEUTZ + MARK MOLNAR: Alien Creatures in Discord with Existence @ Pressed Café
"I'm against the colonization of space." – Aaron Vansintjan
Rarely do so many weird and wonderous creatures of the corrupted ether unite in one local concert. Montreal-based dada-pop-drone band White Cube were accompanied by Ottawa's experimental cellist Mark Molnar and Ottawa/Gatineau's deconstructed math-synth-punk duo, H. de Heutz.  The excitement of performance was shared by all of the musicians, showing a unity and respect for each other's conceptual foundations, and ultimately building the anticipation at the threshold of Ottawa's underground. An alien was conceived in Mark Molnar's set. At the hands of H. de Heutz, this being began to speak. Through the magick of White Cube, the creature began to reason, question, descend into lunacy, and emerge into the same absurdity from which it originated.
* * *
The experience of spatial relationships formed the focal point for the night's first performer, cellist Mark Molnar (founder of local experimental label Black Bough Records) who performed a solo set that evaded the traditional model of linear progression. Molnar delved into the occult expanses of sound, though he maintained a humble approach to the alchemical effects of sound on a room, on the body, and in the audience's interpretation. Over the seemingly timeless span of his set, Molnar deconstructed the melodic nature of the cello. In heightening tension, he approached a kind of anti-musicality without losing the logic of intentional composition.
Molnar's vast compositions relied on expressions of texture equally in the character of sound as in the process. The vast sonic poems emphasized the physicality of sound, his suspended resonance reminding of the behaviour of atomic particles; reminding of how instrumental sound originates from nuanced movement and touch. This tactile character in Molnar's work insinuates a critical perspective on how audiences are often accustomed to a disembodiment of sound, where the experience of music has little or no intimate association with the instrument and the gesture that incites its presence. Molnar responds to this crisis with a visceral approach to sound, creating an experience for the audience that lies just before musicality: before the intention of melody and the formulas of rhythm.
It is best to experience Molnar performing in proximity, where it is possible to see the hairs of the bow breathing against metal strings, echoing the patterns of microscopic rust, and to hear the barely audible click of switches and pedals that warp the cello's sound beyond any acoustic capabilities. With each stroke, Molnar manipulates the spaces inside and outside of audible space, so that what the audience perceives is alternately the skin and the pith of sound. In close reach of the instrument's deep vibrations, Molnar's sound flakes like charcoal, each verse pulsing with darkness. There are moments when romantic motifs are revealed, but these undertones soon swell into sonic chimeras, beginning as ships and inevitably crushing into the oblivion of oceanic drone. When the cello surrenders to its final vibrations, Molnar navigates the audience's attention to the ambient sound outside of his composition, incident forming an integral part of the performance.
Continuing in the tangent of exploring sonic textures, Ottawa/Gatineau-based duo H. de Heutz took the stage after Mark Molnar. Bassist Nathan Medema and percussionist Olivier Fairfield imploded with industrial, militant aggression. Out of the hallucinatory loops and reverb, H. de Heutz constructed geometric patterns, and affected the audience with their characteristically startling contrasts. The interruption and isolation of sounds that H. de Heutz featured prominently in their set left a palpable, bodily effect. Against Fairfield's hyper-controlled, sharp percussion, Medema's bass reverberated into a haze, created agitation even when it seemed like songs might have a hook to find some comfort in. This undertow of distress was intermittently punctuated by an unidentifiable presence of what alternately seemed like a hovering chant, and a mystical drone, emerging from the chaos like the low hum revealed by acid.
Unlike Molnar, H. de Heutz explored non-musical elements not so much in the spaces around sound, but rather in the discovery of voice within anarchic sonic collage. Medema and Fairfield alternated between singing and speech, making the human voice seem displaced. Later after the show, Medema remarked on the conspicuousness of one of the only audible lyrics,that being the urge for "a fist through a wall" against the subtly sensual track "Of little or loss".
The radical roots of Fairfield and Medema came through in fragments of apocalyptic imagery and social commentary, "the future comes remorseless, urgent". Ambient drone transformed into the beating blades of a helicopter, forboding and reflecting the imminence of a violence. In a more direct approach to social criticism, the duo expect to release an album in September featuring field recordings from protests on Parliament Hill and recordings of conversations with RCMP officers.
Parallel to H. de Heutz' disorienting compositions, Montreal trio White Cube emerged in a pastiche of dissonant keyboards, bass, and saxophone. With keyboardist and vocalist Grace Brooks about to depart for Barcelona, the evening's performance was likely the only chance to see White Cube play in Ottawa, at least for the foreseeable future. Brooks had previously performed in Ottawa, without bassist and percussionist Aaron Vansintjan, or saxophonist and vocalist Micah Langer.
In a brief pre-show interview, the members of White Cube mentioned some of the concepts that they consciously implement into their music. For Langer, the ambient qualities of White Cube reveal the importance of "remembering to be small". The ethical issues behind the human colonization of space were a concern for Vansintjan, who later made a dedication in solidarity with those forced to be behind fences and prison walls. Brooks referenced the importance of conscious embodiment, and the importance of looking upon others with empathy,"nourishing those around you," as she says, in the presence of unavoidable creaturely habits.
White Cube painted with the images of a disturbed dream; the sounds they emitted took the shapes of what might be seen in a dreamworld, after the unconscious mind has begun to recognize recurring places and faces. Langer performed something akin to beatboxing on his saxophone. Vansintjan scraped the guitar strings to make them rustle with metallic angst. Voices collaging in eerie purring and hissing. Semblances of melody would occasionally break through the heavily textured arrangements.
"Everything is coming through clear now," came the desperate but harmonic cries of Brooks and Langer, rapidly communicating against extraterrestrial synth. "Can you hear me?" she demands. "I hear you."
The band's fascination with temporality and atmosphere, a characteristic shared by all of the night's performers, was evident in the changing bodies of instrumental sound and vocals. Non-musical qualities of voice were once again a prominent theme, disembodied against an electronic drone that alluded to a greater, more sinister void. This disquiet unfolded through the use of what Brooks described as encountered sound, in a mantra proclaiming, "I saw twelve roses for $19.99." The absurd, abandoned, alien fragments of what might have easily been speech collected out of the streets, gave significance to the useless.
"What do I do with that?"
"I saw 12 roses."
"What do I do with that?"
"I saw 12 roses for…"
"What do I…"
"12 roses…"
"…do I do…"
"12 roses for $19.99."
"What do I do with that?"
"Don't lose your nerve."
"…"
"What is it we've been saying?"
In the farthest recesses of habitual awareness — those unsettling terrains avoided, distracted from, at all costs until some extraneous force draws them out of the periphery —  there is a relentless anxiety that demands validation. The deranged urgency that White Cube invokes through the human element of their music questions not only the substance of the lyrics, or the sometimes improvised compositions, but also the experience and role of the audience in giving meaning to what is heard. Against the confusion inflicted on the audience, Brooks' voice sought reassurance for its existence.
All of the artists who performed at Pressed that evening were concerned with presenting sound in ways that we are not often socialized to think about, whether this was in the space that encompassed emitted sound, the dismemberment of the human voice, or the absurdity of process in making and listening to sound. The audience was inspired to consider the significance of noise and silence, the purposeful and the incidental, order and dissonance, and perhaps extent their interpretations beyond the impressions of a concert, and into the daily saturation of sound, silence, and vibration.
 * * *
Featured image at top:  White Cube Mason's Yard, Courtesy White Cube. Curated by Adriano Pedrosa, White Cube Mason's Yard, London 2013.